03 December,2022
Rice harvesting season often brings traffic accidents in rural areas, as farmers have little choice but to use roads to dry their paddy.
November 22, 2022
BANGKOK – Farmers in the northeastern province of Yasothon province are drying their rice harvest on an abandoned Royal Thai Army airbase runway in a bid to prevent road accidents.
At least 100 farmers from Loeng Nok Tha district are turning up each day at the disused airstrip with loads of freshly cut rice.
Rice harvesting season often brings traffic accidents in rural areas as farmers have little choice but to use roads to dry their paddy.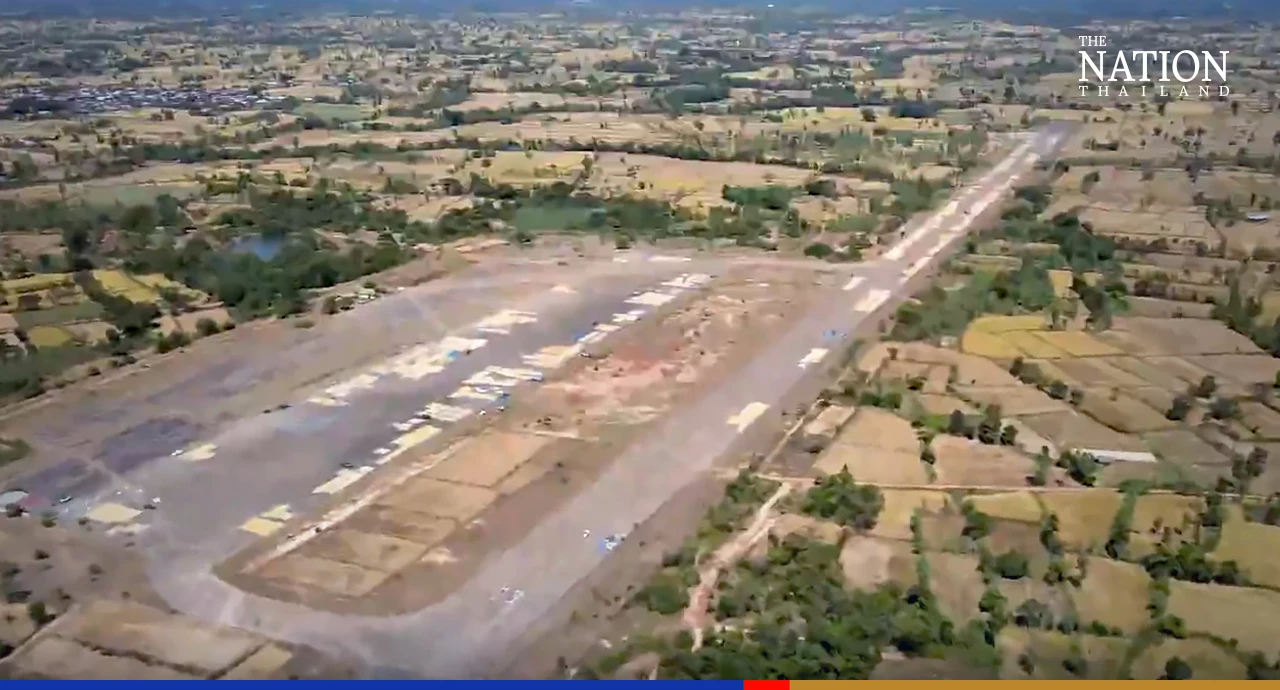 Farmers at the old airbase are reportedly guarding their drying paddy at night to prevent it from being stolen.
Prayad Samerphak, head of Ban Khok Samran village, said farmers in Loeng Nok Tha district were lucky to have an old airbase in the area.
The Loeng Nok Tha airbase was built with the help of the British in 1967 as Cold War tensions mounted in Southeast Asia.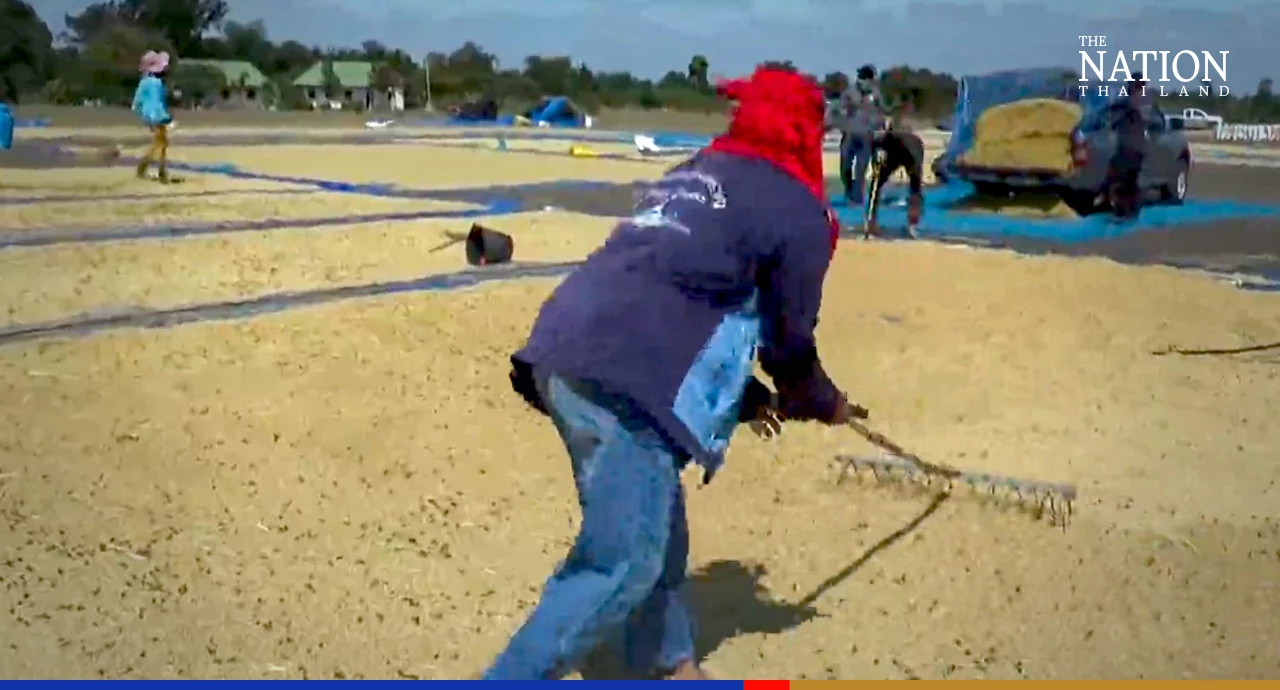 "Many farmers gather at the airport to dry their paddy during harvest season every year," she said.
She also thanked soldiers at the airport for allowing them to dry their rice crop for free.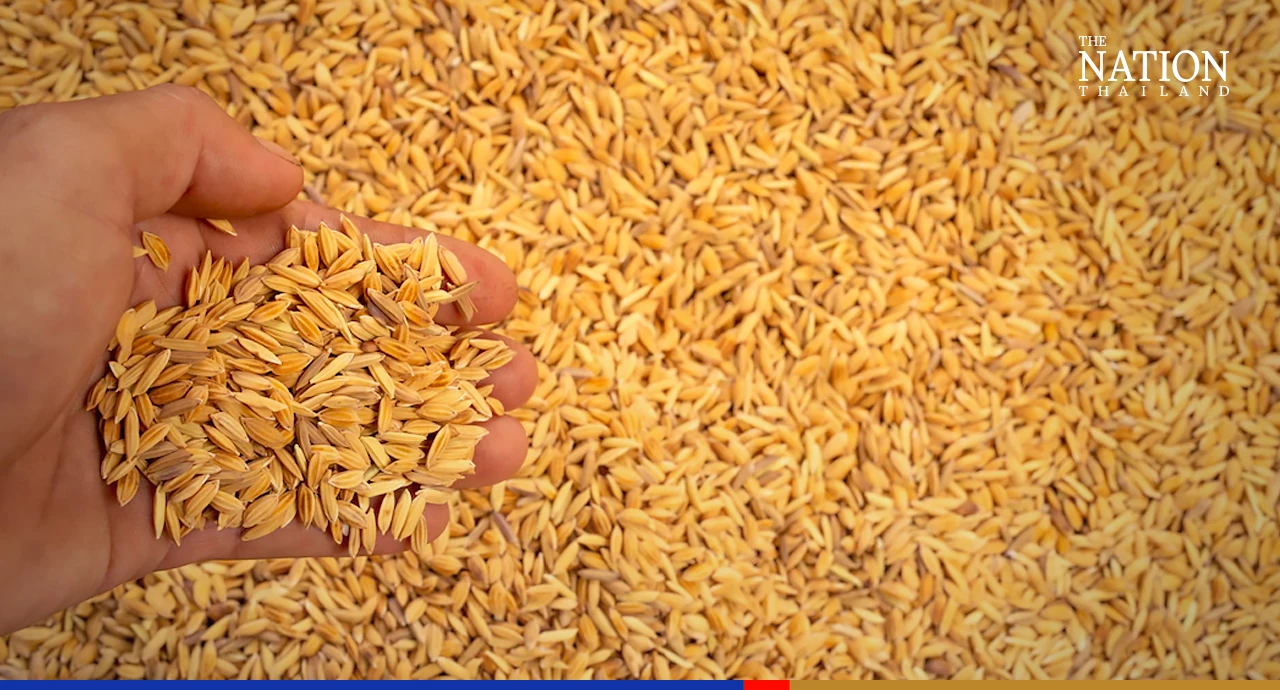 Dusit Hotels and Resorts is the first hotel chain in Thailand to offer 100 per cent organic rice across its entire portfolio of properties nationwide, aligning with the company's 'Farm-to-Table' concept.
While benefiting guests, customers, and employees, this also provides sustainable income gains and life-changing developments to agricultural communities in the kingdom's Thung Kula Rong Hai area, specifically Surin and Sisaket provinces.
The initiative sees Dusit work directly with farm collectives and provide all the support they need – from quality control, training, packaging to distribution – to deliver well-packaged, high-quality organic Jasmine rice to its hotel, restaurant, and catering businesses.
Four farming communities were carefully selected to work with Dusit based on their passion for high-quality produce and eagerness to co-develop and enhance their agricultural offerings – these include farming collectives in Surin Province's Cor Ko and Nhong Pai subdistricts, and Sisaket Province's Huai Thap Than and Nong Khae subdistricts.
Siradej Donavanik, vice president – hotel business development, Dusit International, and chairman of Dusit's sustainability committee, said that the organic rice initiative is part of the company's strategy to optimise its culinary offerings: "Jasmine rice from Thung Kula Rong Hai is known around the world for its strong aroma, soft texture, and slender grain – the long-grain white rice we source is among the finest of its kind.
"As a business, our organic rice model helps to optimise quality and overall costs within the group, so it's truly a win-win."
Dusit is also working closely with the farms to help enhance their output so they can reach more customers and grow their business, ultimately driving sustainable development with long-term benefits for all farmers involved. Some examples are purchasing new rice mills to help speed up production and enhance their capacity to generate more sales, selling the rice on online channels, and using the rice in the culinary offerings of other business units.
Other subsidiaries under Dusit International that are using the organic Jasmine rice in Thailand include Le Cordon Bleu Dusit Culinary School, and Epicure Catering, the leading provider of quality food services to the educational sector in Thailand, which Dusit acquired in 2019. More business units are expected to follow next year.
Thai farmers raced their water buffaloes at a muddy annual race on Sunday to mark the beginning of the new rice growing season at the start of the monsoon weather, in a tradition dating back to the 1800s which celebrates the beasts of burden. Scores of spectators watched the racing on a 200 meter-long dirt track in the seaside province of Chonburi, some 80 km (50 miles) southeast of the capital, Bangkok. The race, which sometimes takes place at the end of the monsoon, was paused during the coronavirus pandemic but returned last year. Most Thai farmers no longer use water buffalo for farming but many are still keen to keep the animals. "Today, it doesn't matter for for me if I win or lose. I wanted to preserve this tradition," said Somchai Kamchab, 58, who owns a buffalo competing in the race.
KOTA BARU: The Kelantan State Assembly was told that Thai rice has become a popular choice as a daily basic food among Kelantanese.
State Agriculture, Agro-based Industry, Biotechnology, Green Technology and Environment Committee chairman Tuan Mohd Saripudin Tuan Ismail said as a state which was located close to Thailand, it had attracted many locals to eat Thai rice.
Despite their interest in the rice coming from the neighbouring country, Saripudin said they were also encouraged to consume local rice.
"Being situated close with Thailand, is an advantage for Kelantanese and they now have the choice either to eat local rice or rice for their daily meals.
"But the state government always carries out various campaigns to attract them to eat local rice so they realise that local rice is more nutritious," he said when replying to an additional question from Datuk Dr Ramli Mamat (Pas-Bunut Payung) at the Kelantan Assembly today. 
Saripudin said due to the continuous efforts by the state government, local rice has slowly gained popularity among locals.
"Our campaign in distributing local rice to the people in every state constituency received good response as the number of recipients increased every time we organised the drive, from 200 people previously to 300," he said.
Earlier when replying to another question from Rohani Ibrahim (Pas-Tanjong Mas), Saripudin said Kelantan would not face a shortage in food should a food crisis hit the country as there was enough supply of rice, fruits and goats in the state.
"Our stocks on these three basic foods exceeds the subsistence level of the state's population and the state government has taken proactive action by setting up the State Food Security committee chaired by Menteri Besar Datuk Ahmad Yakob," he said.
He added other steps taken by the state government to ensure food security was the implementation of semi-auto chicken meat farms and integration cattle farming in oil palm plantations.
"The government has allocated about RM10 million for these projects," he added.
The early morning sun peaks over the leafy Thai hillside as a crew of 20 migrant workers toss fresh rice seedlings into the soaked paddy fields, signifying the start of the rice season in northern Thailand's Chiang Mai Province.
Speed and agility are the driving forces for the group of male and female laborers, mostly from neighboring Myanmar, who get paid by the hectare to plant the crop, earning as much as $35 a day, but working dusk to dawn.
The men and women have crossed into Thailand - some illegally - to earn a higher-than-average wage as word of rising rice production in the country translates into added days in the field.
Amid concerns about wheat shortages in Russia and Ukraine, Thai economists say demand for rice is set to rise this year, driven by the war in Ukraine and its impact on global commodity prices.
For Thailand, as the world's third highest exporter of the crop - behind India and Vietnam - there is hope of added benefits for the workers.
While analysts predict Europe's wheat shortage will help increase profits for rice producers as a substitute crop, many in the labor force face other obstacles.
"I want the government to help us farmers more, not just help the middleman, because we're investing more money into this business than they are. Fertilizers are expensive, the cost of workers is high, and it's not worth it," says farmer Prajuk Kantiya, who oversees the work crew.
A weak Thai baht currency has helped make rice export prices more attractive but the long-term sustainability of increased rice production raises questions.
Economist Nisit Panthamit, a professor at Chiang Mai University, points out the need for a balanced plan and better technology that will encourage and support the next generation of farmers in Thailand beyond Ukraine's crisis.
"The income of the farmer should be better and going up in the long run, but the productivity, how can you reduce the risk and reduce the cost of production that will be a sustainable way for farmers to gain on the world levels?"
Government research centers are exploring new technology to cut costs for Thailand's agricultural sector.
"We are trying to incorporate newer techniques in farming in our "Young Smart Farmer" project, such as by using drones and other equipment that can lower the cost of farming and make it more convenient for farmers to plant their crops," explains Nipon Boonmee, a director at the Chiang Mai Rice Research Center.
"We also have another project that focuses on experimenting with the environment's effects on different rice strains. For instance, we're analyzing which species of rice can adapt the best to environmental changes and which days are the most suitable for planting because we understand that the world is changing," Boonmee tells VOA.
While the plans sound good for the long term, local farmers currently face more pressing issues.
Added expenses, like rising fuel and fertilizer prices as a result of Russia's invasion, along with the fallout from trade restrictions and price hikes have hit farmers' wallets.
"As the price of the rice goes up, the amount of money we use to invest in supplies, like gas and fertilizer, will also increase, which it has. A bag of fertilizer used to cost 600 baht ($20) now it's 1,000 baht.($30) It's no surprise that the cost of buying rice has increased," Boonmee adds.
Last month, Thailand's prime minister, Prayuth Chan-ocha, announced plans to talk with Vietnam to discuss the possibilities of a joint global price increase on rice, though questions remain as to who will benefit.
"Even if the price goes up today, we cannot just immediately produce additional supplies," explains economist Panthamit. "To make things that work in a sustainable way in the long term, we have to make sure to balance the supply and demand."
Still, Thailand's rice exports are benefiting from a rebound in global demand as the coronavirus pandemic eases. That means for workers like Kantiya, who was unemployed because of the COVID-19 lockdown, the future looks brighter.
"Even after my quarantine period, my post-symptoms made it hard for me to work," Kantiya explains to VOA, as he rests at the edge of a newly planted field.
"I think there will be a higher demand for rice supplies because of all the war that's going on and I'd be grateful if I could get a good price on rice."
A Bangkok-based trader said prices dropped because the baht was weaker and will fluctuate along with the exchange rate as demand drops.
Thai rice export prices fell this week on subdued demand and a slide in the domestic baht currency.
Thailand's 5% broken rice prices fell to US$430-440 per ton from $450-460 last week.
A Bangkok-based trader said prices dropped because the baht was weaker and will fluctuate along with the exchange rate as demand drops.
The baht hit a more than five-year trough last week, translating into weaker export prices in U.S. dollar terms.
Another trader said supply remains ample with new crops expected late next month. (NNT)

Various kinds of Thai rice are being promoted and publicised at Thaifex-Anuga Asia 2022 until May 28 at Impact Muang Thong Thani, Nonthaburi, in a bid to gain the confidence of consumers, the Department of Foreign Trade said on Wednesday.
The move also aims to create awareness about the quality and standards of Thai jasmine rice, as well as the country's rice strategy between 2020 and 2024, said department director-general Pitak Udomwichaiwat.
He expects rice sales to increase this year in response to some positive factors, such as improvement in the Covid-19 situation, confidence in Thai rice quality and a weakening baht, resulting in competitiveness in the international market.
"The move is in line with our strategy to promote marketing and expand export opportunities for Thai rice, which will help generate revenue for the country and improve rice farmers' quality of life," he said.
He added that the publicising of Thai rice at the fair is an important step in the promotion of Thailand as a leader in rice production and marketing.
On May 9 H.E. Georg Schmidt, Ambassador of Germany to Thailand and Varawut Silpa-Archa, Minister of Natural Resources and Environment (MoNRE), together with Lioba Donner, Policy Officer for Thailand, Division International Climate Initiative (IKI), General Issues of Bilateral Cooperation, the German Federal Ministry for Economic Affairs and Climate Action (BMWK), visited the pilot areas of the Thai Rice NAMA (Nationally Appropriate Mitigation Action) project in Doem Bang Nang Buat district of Suphan Buri province where innovative low-emission farming techniques have been introduced to reduce greenhouse gas emissions from rice production while increasing production efficiency.
In an exchange with local farmers, the delegation discussed how sustainable farming can help increase rice productivity and farmers' income while contributing to greenhouse gas mitigation and adapting to the impacts of climate change.
The visit was joined by Natthapat Suwanprateep, Suphan Buri Governor, Phirun Saiyasitpanich, the Secretary-General of the Office of Natural Resources and Environmental Policy and Planning (ONEP) and Apichart Pongsrihadulchai, Advisor to the Director-General of the Rice Department.
Rice is important as it is cultivated on roughly half of all agricultural land in Thailand and accounts for nearly 55% of Greenhouse Gas (GHG) emissions from agriculture. Thailand is the world's fourth-largest emitter of rice-related greenhouse gases. Therefore, the Rice Department focuses on developing a sustainable rice strategy and promoting the '3 Increases, 3 Decreases' campaign. Rice smallholders and agripreneurs are encouraged to adopt farming techniques and innovations to increase rice yields, rice quality and revenue while decreasing production costs, water consumption and ultimately GHG emissions to improve quality of life and livelihoods while preserving the environment vulnerable to global warming.
The delegation visited a demonstration of the Laser Land Leveling (LLL) Technique which is one of four techniques in sustainable farming, which comprise LLL technology, Alternate Wetting and Drying, Site Specific Nutrient Management, and Straw and Stubble Management. The LLL technology is one of the key evidence-based approaches that help farmers increase rice yields and save water while reducing soil surface depletion and GHG emissions.
The approaches of sustainable, low-emission farming are also in line with the Glasgow Climate Pact of the 26th United Nations Climate Change conference (COP26), held in Glasgow, Scotland last year and will support Thailand's announcement at COP26 of reaching carbon neutrality by 2050 and aiming for net-zero GHG emissions by 2065.
The Thai Rice NAMA project is funded by the NAMA Facility with the Governments of Germany and United Kingdom as main donors. The project is implemented by the Rice Department (RD) on behalf of the Ministry of Agriculture and Cooperatives (MoAC), the Bank for Agriculture and Agricultural Cooperatives (BAAC), the Office of Natural Resources and Environmental Policy and Planning (ONEP), the Deutsche Gesellschaft für Internationale Zusammenarbeit (GIZ) GmbH and other partner agencies. The objective is to support Thai rice farmers in 6 provinces in Central Thailand, namely Chai Nat, Sing Buri, Ang Thong, Ayutthaya, Pathum Thani and Suphan Buri, amounting to 100,000 farmer households, to have access to farming technology to increase the efficiency of rice production and shift to low-emission rice production. The project has a five-year period of implementation from August 2018 - August 2023.
The Thai Government has urged relevant agencies to step up the promotion of organic rice to raise the income of farmers and create sustainability in the agricultural sector.
Bangkok (VNA) - The Thai Government has urged relevant agencies to step up the promotion of organic rice to raise the income of farmers and create sustainability in the agricultural sector.
According to Boonyarit Kalayanamit, permanent secretary of the Ministry of Commerce, Prime Minister Prayut Chan-o-cha, as Chairman of the National Rice Policy Committee, recently ordered related agencies to rev up promotion of the second phase of the organic price promotion plans for 2022-25.
The PM also assigned responsible agencies to focus more on research, plant breeding and rice technology to upgrade farmers' income and quality of life, while the government should be able to lower its financial burden for the price guarantee scheme over the long term, Boonyarit said.
There is 700,000 rai of organic rice, mainly planted in the Northeast (a rai equal to 1,600 square metres).
In a related development, the National Rice Policy Committee approved 146 million baht (4.2 million USD) to support organic rice farming this year.
April 28 (Reuters) - Prices of rice exported from Thailand rose this week on increased demand from Middle Eastern markets, while Indian and Vietnamese rates were unchanged.
Thailand's 5% broken rice prices were quoted at $432-$435 per tonnes, up from $410-$414 last week.
"There has been an uptick in demand from markets like Iraq and Iran and also due to improved relations with Saudi Arabia," a Bangkok-based trader said.
Freighter costs, a major challenge for Thai rice export, has also been sidestepped because Middle Eastern buyers have sent their own freight for rice purchases, traders said.
A weaker Baht against the U.S. dollar also contributed to the rise in rice prices this week, they added.
Top exporter India's 5% broken parboiled variety was quoted at $361 to $365 per tonne, unchanged from the last week.
"Domestic supplies are comfortable as government is distributing a lot of rice to poor people at free of cost or at nominal rate," said an exporter based at Kakinada in the southern state of Andhra Pradesh.
Vietnam's 5% broken rice were offered at $415 per tonne on Thursday, unchanged from last week.
However, prices could rise in the coming weeks as supplies were running low with the winter-spring harvest almost over, a trader based in Ho Chi Minh City said.
"Traders are hesitant to sign new export contracts, waiting for prices to go up higher," the trader added.
Preliminary shipping data showed 300,990 tonnes of rice is to be loaded at Ho Chi Minh City port in April, and 40,000 tonnes during the first week of May, with most of the rice heading to the Philippines, Africa and Cuba.
Meanwhile, government in Bangladesh raised the price it will pay to farmers for the current season's rice to 40 taka ($0.48) a kilogram, up from 36 taka a year ago, food minister Sadhan Chandra Majumder said.
The government will buy a total of 1.8 million tonnes of summer variety of rice and paddy from local farmers starting from May 7, he added. The move is crucial for the south Asian nation to feed its poor and keep domestic prices stable.
War has severely disrupted Russian exports of crop nutrients
Farmers dealing with inflated costs and subdued rice prices
Soaring fertilizer costs have rice farmers across Asia scaling back their use, a move that threatens harvests of a staple that feeds half of humanity and could lead to a full-blown food crisis if prices aren't curbed.
From India to Vietnam and the Philippines, prices of crop nutrients crucial to boosting food production have doubled or tripled in the past year alone. Lower fertilizer use may mean a smaller crop. The International Rice Research Institute predicts that yields could drop 10% in the next season, translating to a loss of 36 million tons of rice, or the equivalent of feeding 500 million people. 
That's a "very conservative estimate," said Humnath Bhandari, a senior agricultural economist at the institute, adding that the impact could be far more severe should the war in Ukraine continue. 
Fertilizer prices have been rising globally due to supply snags, production woes, and more recently the war, which has disrupted trade with Russia, a big supplier of every major type of crop nutrient. The surge in fertilizer costs is threatening to stoke food inflation assuming farmers continue to cut back and crop yields suffer. If that happens, global supply chains are likely to take a major hit: Practically every plate of food makes it to the dinner table with the help of fertilizers.
Rice farmers are particularly vulnerable. Unlike wheat and corn, which have seen prices skyrocket as the war jeopardizes one of the world's major breadbaskets, rice prices have been subdued due to ample production and existing stockpiles. That means rice growers are having to deal with inflated costs while also not getting more money for their grains.
Nguyen Binh Phong, the owner of a fertilizer and pesticide store in Vietnam's Kien Giang province, said the cost of a 50-kilogram sack of urea -- a form of nitrogen fertilizer -- has jumped three-fold over the past year. He said some farmers have slashed fertilizer use by 10% to 20% because of soaring prices, leading to a lower output.
"When the farmers cut fertilizer use, they accept that they will get lower profit," he said.
Diverging Fortunes
Rice prices have fallen in the past year unlike other major crops Governments in Asia, where much of the world's rice is harvested, are keen to avoid this scenario. Keeping prices under control is important for politicians, given rice's importance as a staple for hundreds of millions of people, especially lower income groups. Many nations provide fertilizer subsidies to increase yields of improved varieties of cereal crops. 
The fertilizer rally is increasing their fiscal burden. India, which relies heavily on fertilizer imports, is set to spend about $20 billion to shield farmers from higher prices, up from about $14 billion budgeted in February. The South Asian nation is the world's second-biggest producer of rice and exports to countries like Saudi Arabia, Iran, Nepal and Bangladesh. 
Somashekhar Rao, 57, a farmer who grows rice on a 25-acre plot in Telangana, in southern India, said he's struggling with the increased cost of fertilizer. He expects yields to fall by 5-10% for his winter-sown crop because of the delay in securing enough supplies. Fertilizer is most effective when used on plants at their peak growing cycle.
The crunch is not all bad. Overuse of chemical fertilizers is rife in the region. The surge in prices is incentivizing farmers to use resources more efficiently, according to the International Rice Research Institute, which is working with growers to achieve optimal results. Solutions include utilizing a combination of chemical and organic inputs to maintain yields while improving soil health.
Still, these steps will take time to implement. And as the war in Ukraine continues to disrupt economies across the world, farmers and the rice institute say the hardest days are perhaps yet to come.
"If this continues, then it's inevitable" that prices will go up, Bhandari said. "It has to be reflected somewhere."
The Thai Rice Exporters Association said recently that the Russia-Ukraine war has not shaken rice exports yet, though rising oil prices may affect the situation in the long run.
Chookiat Ophaswongse, the association's honorary president, said Thailand exported some 6,000 tonnes of rice to Russia and about 2,000 tonnes to Ukraine last year.
However, he said, the situation may change because wheat exports from Russia have been banned, which may result in pushing up the price of rice and other grains. This may impact orders from potential buyers. Chookiat added that the sea route from Thailand to key markets in Europe, especially France, and Africa have not been affected because it does not pass Russia or Ukraine. However, the cost of shipping may spike if the price of oil rises above US$100 per barrel. Then, he said, countries may choose to purchase rice from countries that are closer and cheaper than Thailand. Yet, he said, Thailand may still achieve the goal of exporting 7 million tonnes of rice this year thanks to the Middle East, where each country exports at least 1 million tonnes of rice every year. Though the Middle East market had slowed down, it began picking up again from the end of 2021. Meanwhile, Pitak Udomwichaiwat, director-general of the Department of Foreign Trade (DFT), said the department is adjusting its publicity strategy for rice in line with the current situation. It is planning to launch online campaigns to raise awareness about Thai rice and boost its popularity. DFT plans to focus on strengthening trade ties with China, Hong Kong, Japan, the Philippines, Malaysia and Singapore. Apart from holding virtual meetings with potential buyers, the department will also look for ways to deal with Vietnam – Thailand's No 1 competitor in rice exports. He added that Thailand's export sector should do well this year because the container shortage problem is easing, though the cost of shipping is still high. Plus, he said, the price of Thai rice is still competitive thanks to the exchange rate and will remain so if the currency does not get stronger. DFT is planning to join international exhibitions and is eyeing the Saudi Arabian market. It has asked Thai diplomats to survey the demand and develop links with key rice exporters in Saudi Arabia. Pitak said once the Covid-19 situation eases, DFT will take Thai exporters to negotiate deals. As for government-to-government deals, DFT is waiting to sign a memorandum of understanding with Iraq even though the private sector is already exporting rice to the country.
Thai rice prices are expected to increase by 5% in the second quarter, pushed up by the war in Ukraine's effect on surging global commodity prices, says veteran trader Chookiat Ophaswongse. Mr Chookiat, an honorary president of the Thai Rice Exporters Association, said there was growing concern about a wheat shortage as Russia and Ukraine are the main producers of the crop, while rising oil prices are likely to drive up overall commodity prices. "Thai rice is expected to see just a 5% increase in prices in the second quarter because there are relatively high rice stocks in India, while rice production is expected to increase this year both in Vietnam and Thailand," said Mr Chookiat. The 5% white rice price in the domestic market is now quoted at 12 baht per kilogramme, down from 16 baht per kg in the same period last year. The free-on-board price of 5% Thai white rice is quoted at US$400 a tonne, higher than Indian white rice, which stands at $355 a tonne, and Vietnam's similar grains at $390 per tonne. For the 2021/2022 harvest season, the association expects Thailand's rice production to increase to 30-32 million tonnes of paddy rice, or 20 million of milled rice, up from 27-28 million tonnes of paddy rice, or 17 million tonnes of milled rice, in the 2020/2021 season. Widespread drought is unlikely this year, said the association, as happened two years ago. Given the ample water supply, second-crop rice production is also expected to increase. He said the war is unlikely to affect Thailand's overall rice exports because shipments to Russia and Ukraine stood at only 6,000 tonnes and 3,000 tonnes, respectively, last year. "It is fortunate export markets in the Middle East, such as Iraq, Iran and Saudi Arabia, will be back this year," Mr Chookiat said. "These countries are net rice importers with a combined million tonnes each year." Thailand shipped 6.11 million tonnes of rice last year, up 6.68% from 5.73 million tonnes in 2020, with exports valued at 108 billion baht, down by 7.14% from 116 billion baht in 2020. The 2021 shipments comprised 2.35 million tonnes of white rice (up 18.9%), 1.4 million tonnes of Thai hom mali rice (down 1.7%), 1.4 million tonnes of parboiled rice (up 1.6%), 550,574 tonnes of aromatic rice (down 4.1%), and 310,878 tonnes of glutinous rice (up 12.4%). The association projects exports rising 14.8% this year to 7 million tonnes, driven by ample water supply. Higher demand is likely thanks to a global economic recovery and a favourable exchange rate.
BENGALURU/HANOI/ BANGKOK/MUMBAI/DHAKA: Rice export prices in Thailand fell to an over 1-1/2 month low this week due to a weaker baht, while an uptick in overseas buying boosted rates in leading exporter India.
Thailand's 5% broken rice prices were quoted at $400 per tonne this week, down from $410-$420 a week ago. The baht weakened to 32.68 against the US dollar on Thursday, or by nearly 1.6% from a week ago and 1.3% from Wednesday, following Russia's invasion of Ukraine. "Prices eased in line with the baht weakening, which is an effect of Russia's invasion," a Bangkok-based trader said, adding that domestic rice prices still remained stable. India's 5% broken parboiled variety was quoted at $370 to $376 per tonne this week, up from the last week's $368 to $374. "Despite the depreciation in rupee, exports prices are moving higher. Demand is good from African and Asian buyers," said an exporter based at Kakinada in southern state of Andhra Pradesh. Indian farmers are likely to harvest a record 127.93 million tonnes of rice against 124.37 million tonnes produced the year before. In neighbouring Bangladesh, domestic rice prices stayed elevated despite good crops and reserves, officials said. The country's rice stock at government warehouses surged to 1.7 million tonnes this month, according to the data from the food ministry. Vietnam's 5% broken rice were offered at $395-$400 per tonne, compared with $400 per tonne a week ago. "Importers are buying moderately, waiting for prices to fall when the winter-spring harvest peaks," said a trader based in Ho Chi Minh City. "Exports will increase from next month, with the key markets being the Philippines and Africa," the trader said. Preliminary shipping data showed 219,000 tonnes of rice is to be loaded at Ho Chi Minh City port in February, with most of the rice heading to the Philippines.
Thailand plans to develop 12 new commercial rice varieties by 2024 to boost rice export competitiveness. Speaking after an award ceremony for new commercial rice varieties, Commerce Minister Jurin Laksanawisit said the ministry set up a war room to accelerate Thai rice development and increase exports, for both existing and new markets. Of the 12 new varieties, Mr Jurin said four are hard-texture grains, four are soft texture, two are Thai fragrant rice and two are high-nutrition types. These varieties are in high demand among global consumers, he said.
A first shipment 1,000 tonnes of Thai rice has been delivered using the Lao-Chinese railway to Chongqing, marking a new chapter in exports to China, the Agriculture and Cooperatives Ministry announced on Thursday. Exports of other farm products using the new rail link would follow, Alongkorn Polabutr, adviser to the agriculture minister, said. He said the initial shipment of rice was carried in 20 carriages and had already reached Chongqing. More would follow. The railway, which commenced service early last month, opened the possibility of extending export routes to other Chinese provinces and farther, to Central Asia, East Asia, the Middle East, Russia and Europe. The government was looking into exporting fruit, orchids, rubber, cassava, palm oil and fishery and livestock products on the new railway, Mr Alongkorn said. Thai fruit could reach Chongqing in 1-2 days, retaining freshness thanks to the railway. This would enable expansion to markets in China, he said.
Thailand's geographical features - soil, air and water - help cultivate produce with inherent characteristics. Thai rice with a geographic indication (GI) is unique in its flavour and other amazing attributes.
There are currently nine strains of Thai GI rice.
1. Kam Rice of Lanna
Cancer-preventing, nutritious black-grain glutinous rice.
2. Luem Phua Rice of Phetchabun
Fragrant, tender, delicious and nutritious black-grain rice.
3. Jek Choei Rice of Sao Hai
Fluffy, shape-retaining rice that doesn't spoil easily
4. Pathiu Yellow Rice of Chumphon
Quick to cook, fluffy and shape-retaining long-grain rice. Perfect for street food.
5. Sang Yod Rice of Phatthalung
Red-tinted long-grain rice with a chewy texture and a mild fragrance. Rich in antioxidants.
6. Thung Kula Rong Hai Hom Mali Rice
Thailand's best Hom Mali long-grain white rice. Deliciously supple and aromatic.
7. Surin Hom Mali Rice
Long-grain white rice with a glossy exterior. Pleasantly soft and moist when cooked.
8. Hang Hom Sakonthawapi Rice
Slender-grain golden brown rice. Highly nutritious.
9. Khao Wong Glutinous Rice of Kalasin
Soft but not mushy, this fragrant glutinous rice remains palatably tender for a long time. Think Rice , Think Thailand
Hundreds Show Support for Former Thai PM as Rice Scheme Trial Nears an End
By Amy Sawitta Lefevre and Aukkarapon Niyomyat
BANGKOK (Reuters) - Thailand's former prime minister Yingluck Shinawatra arrived at a Bangkok court to shouts of encouragement from her supporters on Friday, two weeks before the final stages of a case about her involvement in a ruinously expensive state rice subsidy scheme.
Yingluck, whose government was ousted in a 2014 military coup, faces up to 10 years in prison if she is found guilty of negligence over her role in the scheme, which proved popular with rural voters but was a disaster for state coffers.
The former prime minister and opposition say the trial is politically motivated and is aimed at undermining the populist movement that has won every election since 2001. The movement is opposed by Thailand's powerful military and conservative elite.
Around 500 supporters showed up outside the court on Friday, police said, the largest turnout in many months. One wrote "Love the prime minister" on his hand, while others shouted: "fight, fight". Yingluck has denied the charges against her.
The military has said it will deploy troops to maintain security on July 21, when a final hearing in the case is expected.
Yingluck's critics see the rice case as a litmus test of the junta's sincerity in tackling corruption in politics, one of its promises after it seized power in 2014.
Closing statements in the case will be delivered within 30 days of the final hearing, court officials said.
"I'm confident in the witnesses we've presented," Yingluck told crowds outside the court.
"The encouragement I've been given is still good ... this is a strong characteristic of the Thai people," she said.
STREET PROTESTS
Successive Thai governments have supported farmers since the 1980s, but none of the schemes has proved as popular with rural voters as the rice programs pioneered by Yingluck's brother, ousted former prime minister Thaksin Shinawatra.
Yingluck's government went a step further, promising to buy rice from farmers at some 50 percent above the market price.
The scheme helped her to sail to victory in a 2011 general election, making her the country's first female prime minister.
However, public losses from the scheme fueled street protests against Yingluck that eventually saw her removed from power just weeks before the 2014 coup.
The scheme also saw Thailand lose its crown as the world's top rice exporter as other countries, notably Vietnam and India, filled the void when Thailand held back rice stocks it had bought from farmers.
The military government has managed to sell off most of about 18 million tonnes of rice accumulated during the rice scheme, some of it for industrial purposes, according to the commerce ministry.
Yingluck said on Friday she was not sure when she would deliver her closing statement.
(Additional reporting by Panarat Thepgumpanat; Writing by Amy Sawitta Lefevre; Editing by Paul Tait)
Bangkok (VNA) –
Thailand's rice insurance scheme for this year's first crop began on July 3 after it was approved by the cabinet last week. The programme, worth 2 billion THB (around 58.84 million USD), will be run by the Bank for Agriculture and Agricultural Cooperatives (BAAC). It is expected to be applied on 25-30 million rai (40.000- 48.000 square kilometres) of rice farmland and cover insurance for natural disasters, including floods, droughts, storms, cold, hail and fires. Farmers will receive compensation of 1,260 THB (37.07 USD) a rai (equivalent to 1,600 square metres) this year, up from 1,111 THB (32.69 USD) per rai offered in 2016, in case of crops damage by natural disasters and 630 THB (18.53 USD) a rai in the event of pests and diseases, up from last year's 555 THB (16.33 USD). [
Thailand announces new loan schemes for rice farmers]
This year's insurance premium is scheduled at 97.37 THB (2.86 USD) per rai, down from 107.42 THB (3.16 USD) per rai last year for farmers with less than 25 million rai and 108.07 THB (3.18 USD) per rai for those with more than 25 million rai. The government is expected to pay 61.37 THB (1.81 USD) a rai in compensation this year. The insurance scheme is planned to run from June to August 31 for farmers living in different parts of the country, except for the southern provinces, where it will last until December 15. Data released by the Office of Agricultural Economics shows Thailand has 58.7 million rai (93.920 square kilometers) of rice fields in total. The Ministry of Finance is studying whether to expand the insurance programme to cover off-season rice and corn.-VNA
Thai Prime Minister Prayuth Chan-ocha addresses the opening ceremony of Thailand Rice Convention 2017 in Bangkok, Thailand, May 29, 2017. Beginning on Monday, the three-day event aims to set the stage for world rice consumers and producers to brainstorm about new visions for sustainable industrial development. (Xinhua/Thai Government House)
Read more
Welcome to Rice News Today!
The access to our website is free and will remain free always for most of the contents.
However, you need to create a new account to access the website. It will not take much of your time to create a new account and you will have an access to your favorite website to browse rice news, quick stats, latest stats on basmati, downloads and a lot more at one-place!
Thanks & have nice rice news today exploring!
Login here