27 September,2023
Nod to herbicide-tolerant basmati rice varieties
To reduce water use, labour cost & GHG emission substantially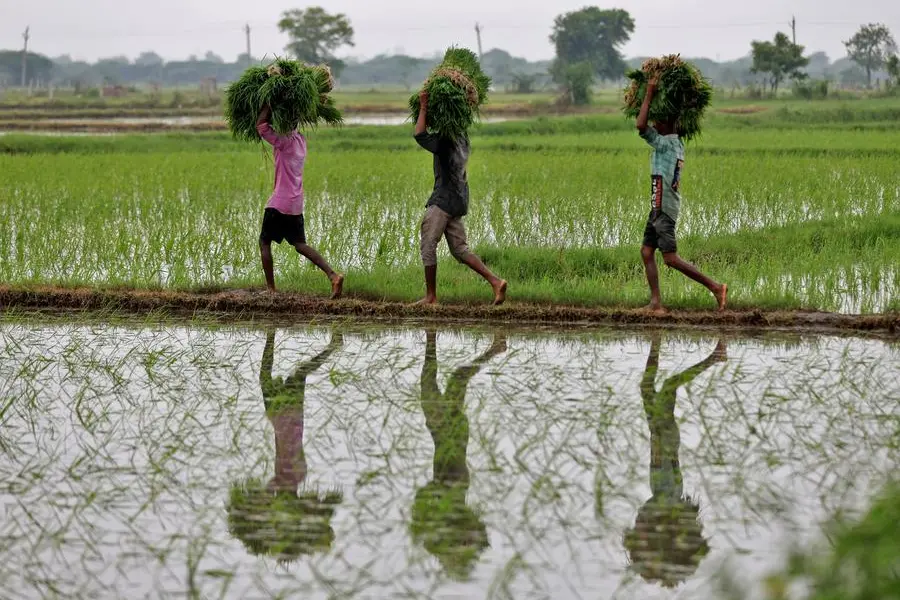 The country's first herbicide-tolerant rice varieties will be available for large-scale commercial cultivation next year after the agriculture ministry accorded approval to these.
The new varieties of basmati rice have been developed by the Indian Agricultural Research Institute (IARI), affiliated to the Indian Council for Agricultural Research.
Two rice varieties–Pusa basmati (PB) 1979 and PB 1985–can be grown using direct seeding of rice (DSR) method, which significantly reduces water and labour use compared with traditional transplantation methods.
"We have submitted a dossier on the new rice varieties to the Central Insecticides Board and Registration Committee for allowing the use of herbicide, which had been prohibited in the rice cultivation," Ashok Kumar Singh, director of the IARI, told FE.
The approval for the use of herbicides in these rice varieties is expected shortly.
He said these two varieties will promote the DSR method, which will help farmers reduce water usage by 30%, greenhouse emission and labour cost in the key water-deficit basmati rice growing regions of Punjab, Haryana and western Uttar Pradesh.
Scientists say the DSR method of rice cultivation has not been popular because of issues associated with weeds. "New varieties will allow the direct application of herbicides such as Imazethapyr, which eradicates a range of weeds," Singh said.
In the case of conventional methods of paddy transplantation, herbicides are not directly applied as they can't distinguish between a plant and weeds. Thus, paddy seeds are first raised as young plants in nurseries before being planted in the fields after three to four weeks.
Two approved herbicide-tolerant varieties are the improved version of PB1121 and PB1509, which have a share of more than 60% in the total aromatic long-grain rice cultivation of the country. Along with the two varieties, PB 1692 and PB1401, also developed by the IARI, have more than 95% share in the country's aromatic and long-grained rice cultivation.
Exporters say with the cost of cultivation expected to reduce because of lesser use of water and labour cost, farmers' income is expected to get a boost.
India exported 4.5 million tonnes of basmati rice worth $ 4.78 billion in 2022-23. Shipments to top 10 countries — Iran, Saudi Arabia, Iraq, the United Arab Emirates, the US, Yemen, Kuwait, the UK, Oman and Qatar—constituted more than 82% of India's volume of exports.
In the global trade of basmati rice, India has a share of around 85% while the rest is with Pakistan.
According to an analysis by the IARI, Rs 1.66 trillion worth of export earnings between 2010 and 2019 were from the shipments of PB1121 and PB1509 rice varieties, while domestic sales were to the tune of Rs 51,501 crore in the same period.
After deducting the cost of production, the IARI assessment has stated that Rs 1.34 trillion has been accrued as earnings to an estimated 1 million farmers in Punjab, Haryana, Himachal Pradesh, Uttarakhand, parts of Uttar Pradesh and Jammu & Kashmir, who grow two varieties of aromatic and long-grained rice.
Date: 19-Jul-2023
https://www.financialexpress.com/economy/nod-to-herbicide-tolerant-basmati-rice-varieties/3176979/
Welcome to Rice News Today!
The access to our website is free and will remain free always for most of the contents.
However, you need to create a new account to access the website. It will not take much of your time to create a new account and you will have an access to your favorite website to browse rice news, quick stats, latest stats on basmati, downloads and a lot more at one-place!
Thanks & have nice rice news today exploring!
Login here