Bayer to introduce its direct-seeded rice system in the Philippines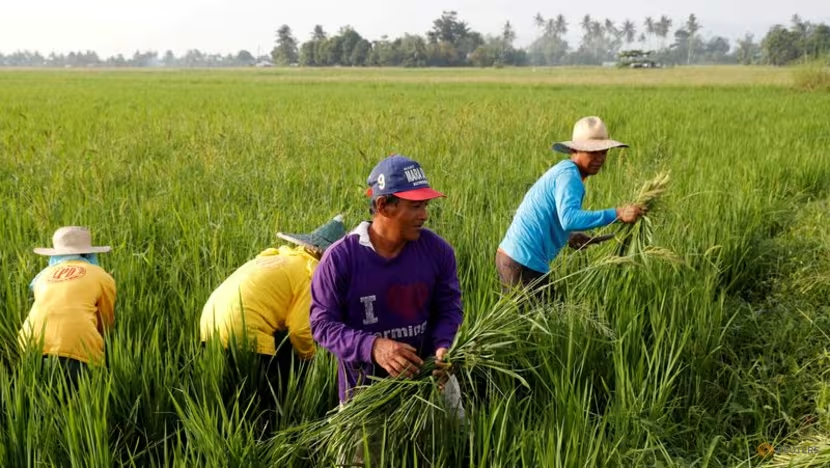 FILE PHOTO: Farmers remove weeds growing alongside with ride stalks at a ricefield in Naujan, Oriental Mindoro in Philippines, August 27, 2018. Picture taken August 27, 2018. REUTERS/Erik De Castro/File Photo
MANILA : Bayer AG said on Monday it plans to bring its direct-seeded rice programme to the Philippines in 2024, offering farmers an alternative cultivation method touted to be more climate-friendly.
Bayer launched the system in India this year and says it can help reduce water use by up to 40 per cent, greenhouse gas emissions by up to 45 per cent, and manual labour costs by up to 50 per cent.
Rice farmers traditionally first grow seedlings in nurseries before transplanting them in flooded paddy fields, a practice used on about 80 per cent of the world's rice crop currently. Bayer said its system involves rice hybrids that can be sown directly in the soil.
The Philippines is among the world's top 10 rice producers, but its output remains insufficient to meet domestic demand, while India is the world's largest exporter of the staple grain.
Bayer made its announcement at the start of a four-day international rice conference in Manila organised by the Philippines-based International Rice Research Institute (IRRI).
Separately, IRRI announced that its scientists have identified genes in rice with low and ultra-low glycaemic index (GI), which it considered a breakthrough in efforts to help curb rising cases of diabetes globally.
At present, many cultivated rice varieties have a GI level not considered healthy for people with diabetes, IRRI said.
"IRRI's latest discovery offers the opportunity to develop rice varieties with low GI, and for the first time ever, ultra-low GI levels, to meet the health needs and dietary preferences of consumers," said Dr. Nese Sreenivasulu, head of IRRI's grain quality and nutrition research unit.
Source: Reuters
https://www.channelnewsasia.com/business/bayer-introduce-its-direct-seeded-rice-system-philippines-3849271
Published Date: October 16, 2023
More Farmers Place