60000 Farmers In Balochistan To Receive Rice Seed By May, 31: Secretary Umaid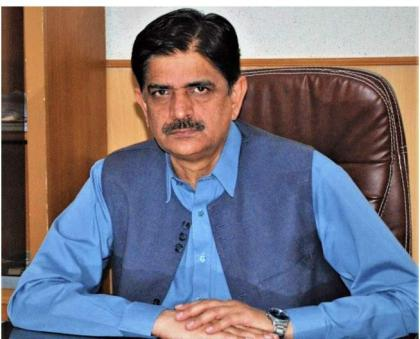 Balochistan Agriculture Secretary Umaid Ali Khokhar said that the supply of free rice seeds to the farmers in four districts of Balochistan has been commenced and 60 thousand farmers will be provided with the best rice seeds till May 31
QUETTA, (APP – UrduPoint / Pakistan Point News – 16th May, 2023 ):Balochistan Agriculture Secretary Umaid Ali Khokhar said that the supply of free rice seeds to the farmers in four districts of Balochistan has been commenced and 60 thousand farmers will be provided with the best rice seeds till May 31.
"Farmers should also increase production by adopting modern methods of agriculture," he said while addressing a ceremony to provide free rice seeds to farmers with the help of Asian Development Bank and FAO in Naseerabad Division on Tuesday.
DG Agriculture Irfan Ali Bakhtiari, FAO Balochistan Chief Waleed Mehdi, Asian Development Bank Pakistan Banaras Khan, Deputy Commissioner Naseerabad Ayesha Zehri, FAO Project Officer Waheed Anwar, Spokesman Agriculture Department Abdul Karim Jafar were also present.
Secretary Agriculture Umaid Ali Khokhar thanked the officers of FAO, the Asian Development Bank, the District Administration, and the agriculture department who worked hard day and night to bring this effort to the final stages of successful completion in this project.
He said that after last year's floods, the Balochistan government distributed the best wheat seeds worth 2.2 billion rupees to the entire province for free. "By the grace of Allah, it was found that for the first time in history, Balochistan has produced about one lakh metric tons of wheat more than its requirement as Balochistan requires 15 lakh metric tons of wheat.
He further said that after achieving self-sufficiency in wheat, the Department of Agriculture is starting a project for the entire Balochistan with the support of the Asian Development Bank to provide solar tube wells and solar panels through the on-farm water management department.
"The best rice seeds are being provided in time in the four districts of Jafarabad, Naseerabad, Awsta Muhammad and Sahabpur and this work will be completed before May 31," he maintained.
He said that last year due to floods and heavy rains, farmers and cultivators had to face heavy losses, adding that the provision of free rice seeds to the farmers by the Agriculture Department would help the farmers to stand on their feet again.
Addressing the event, Waleed Mehdi, International Program Coordinator FAO Balochistan said that FAO is working globally with member countries and resource partners to end hunger, food insecurity and malnutrition.
FAO in close coordination with the Government of Balochistan, Japan Fund for Prosperous and Resilient Asia and the Pacific (JFPR) working for the food security project for the flood-affected population in the four districts of Naseerabad, Jafarabad, Awsta Mohammad and Sahabatpur.
Deputy Commissioner Naseerabad Ayesha Zehri and Director General Agriculture Extension Mr. Irfan Ali Bakhtiari also spoke on the occasion.
https://www.urdupoint.com/en/pakistan/60000-farmers-in-balochistan-to-receive-rice-1692561.html
Published Date: May 18, 2023
More Farmers Place