Tk 108 crore incentive for high-yield rice growers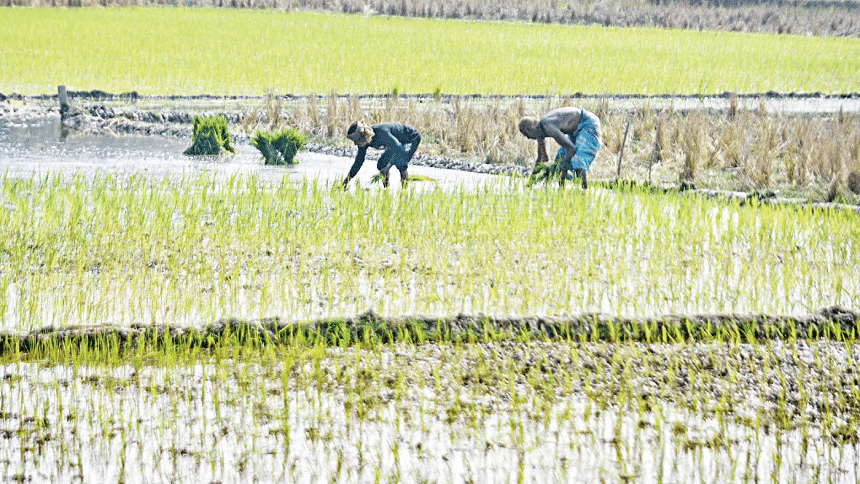 The government plans to provide farmers with nearly Tk 108 crore incentive to encourage them to increase cultivation of high-yielding varieties of rice and produce more grains to meet the growing demand for the staple.
The incentive will be provided in the form of seeds and non-urea fertiliser to 15 lakh small and marginal farmers, the agriculture ministry said in a statement today.
Each grower will get 5 kilogrammes (kg) of seeds of the rice variety, 10 kgs of diammonium phosphate and muriate of potash for free for cultivation on each bigha of land, the ministry said.
"The distribution activity will start soon at the field level," according to the statement signed by Md Kamrul Islam Buyan, senior information officer at the agriculture ministry.
The announcement came just before the start of boro cultivation season, which provides 55 percent of rice to the annual rice production basket.
Farmers usually begin to make seedbeds for boro paddy in November-December period of a year to harvest the crop beginning from the end of April.
Earlier, the agriculture ministry also declared Tk 90 crore incentive for farmers to promote hybrid rice cultivation in the coming boro season. The stimulus is under distribution, it said.
With the latest incentive, the government provides nearly Tk 200 crore to encourage boro rice cultivation.
During the period, acreage of local rice varieties declined by half to 9 percent of the total rice area.
Farmers bagged 2.07 crore tonnes of the staple grain during the boro season in fiscal year 2022-23, up 3 percent year-on-year.
In FY23, total rice production grew 2.5 percent year-on-year to 3.91 crore tonnes, a new record, said the Bangladesh Bureau of Statistics.
The government's decision to provide incentive comes at a time when the farmers are slowly shifting from cultivation of local varieties of rice.
Data from the BBS showed that area under the high-yielding varieties of rice seeds in all crop seasons combined grew to 81 percent of the total rice acreage in FY23, up from 73 percent in FY10.
Likewise, area under hybrid rice, which provides higher yields than the high-yielding variety and local seed varieties, soared from 6 percent in FY10 to 10 percent in FY23.
https://www.thedailystar.net/business/news/tk-108-crore-incentive-high-yield-rice-growers-3468721
Published Date: November 13, 2023
More Farmers Place