Sulaimani rice farmers harvest bumper crop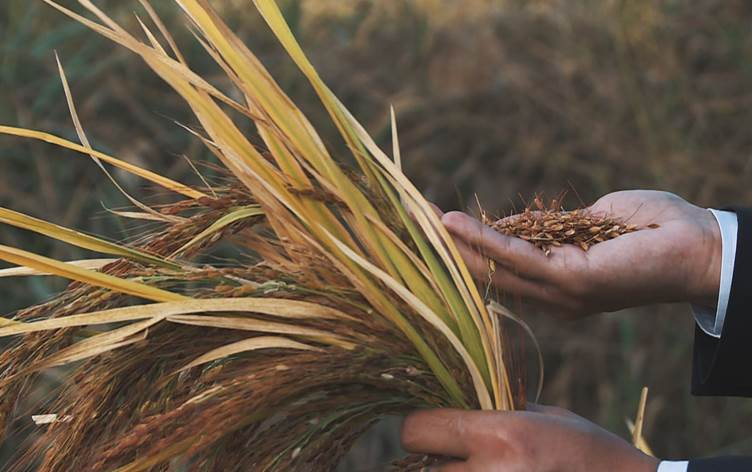 SULAIMANI, Kurdistan Region – Rice farmers in Sulaimani province's Piramagrun are hard at work picking this year's crop, which after a rainy winter, yielded a bumper harvest forcing farmers to use both traditional sickles and combine harvesters in the process.
Rice is planted between April and May. The harvest season usually begins in mid-October every year.
When there is enough rainwater, farmers in the village of Chalakh turn about 200 dunams of land into paddy fields.
"In April, we begin plowing our paddy fields, and around the 20th of the same month, we start sowing the seeds. Then we maintain the crops until October when we begin the harvesting process," said Faraidoon Karim, a member of the Chalakh Village Council.
"Most of our rice buyers come directly to the village. Those who are familiar with us request our rice, and we make sure to deliver it to them. The demand is substantial, and typically, we sell all our rice within a span of 10 to 15 days," Karim added.
The satisfied rice farmers told Rudaw that this year they are dealing with a bumper harvest, an expression used to describe an unusually productive harvest.
"There are many varieties of rice, but what is grown in our village is mostly yellow, red, and green," said Sabir Ahmad, a rice farmer.
The 15 farmers working on the paddy start their work in the early hours of the day.
"Part of our paddy field has been damaged by rain, windstorm, and lightning, so we have to sow it with a scythe, otherwise we would have harvested it with a combine harvester and it would have been easier," said Bakhtiar Ali, another rice farmer.
In recent years, the amount of agricultural land dedicated to rice production in the Suleimani province increased significantly.
A total of 358 dunams of land were devoted to growing rice in 2021, rising to 556 dunams in 2022, and 793 dunams in 2023, according to data from the General Directorate of Agriculture of Sulaimani.
This year, the expected production of rice in Sulaimani province is between 360 and 400 tons, with the price per kilogram varying from 3,000 to 5,000 dinars depending on the rice type and where it was grown.
Kurdish rice is typically associated with Akre, a small town in Duhok province 60 kilometers north of Erbil.
https://www.rudaw.net/english/kurdistan/251020231
Published Date: October 25, 2023
More Farmers Place