Albay town farmers to get rice seeds from gov't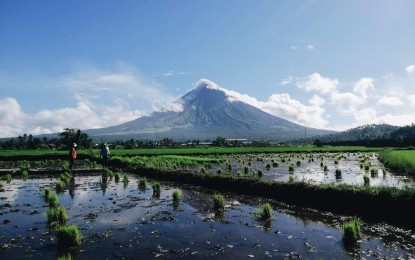 A rice farm in Camalig, Albay. (Photo courtesy of Camalig PIO)
LEGAZPI CITY – Some 720 rice farmers in Camalig, Albay are set to receive rice seed varieties under the agriculture development program of the local government unit (LGU) with the support of the Department of Agriculture's (DA) National Rice Program.
In an interview on Tuesday, Tim Florece, information officer of the LGU, said about 550 sacks of hybrid and certified rice seeds were received by their Municipal Agriculture Office (MAO) on Monday from DA-Bicol.
"The rice seed varieties will be distributed to the rice farmers to increase farm productivity and boost their income. This will also help the farmers cope with the high cost of agricultural inputs especially during dry cropping seasons. Ensuring rice farmers' welfare is among the priority programs of Mayor Carlos Irwin Baldo," Florece said.
He said the rice seeds would be distributed mostly to irrigated rice areas, particularly in 14 barangays.
"Our MAO will schedule the distribution of the rice seeds to the qualified beneficiaries. The rice farmers will receive depending if they are plowing irrigated or rain-fed rice areas. For the irrigated areas, each farmer will get 15 kg. of hybrid rice per hectare, and for the rain-fed areas, each farmer will receive 40 kg. of certified seeds per hectare," Florece said.
All 720 recipients are enlisted with the DA's Registry System for Basic Sectors in Agriculture, an online database of farmers, fisherfolk and farm laborers that acts as a tool for the identification of beneficiaries for different agriculture-related programs and services of the government. (PNA)
https://www.pna.gov.ph/articles/1212379
Published Date: October 24, 2023
More Farmers Place