27 September,2023
The World Has a Rice Problem, But Farmers Can Solve It
Rice is the most commonly eaten food in the world, but conventional rice production has a hefty environmental impact. Growing rice is incredibly water-intensive, and flooded fields are ideal growing conditions for methane-emitting bacteria. 
For Jim Whitaker, proprietor of Whitaker Farms and a fifth-generation Arkansas rice farmer, the environmental challenges of conventional rice production were also economic concerns. "I grew up farming," Whitaker said. "My dad struggled through a historic drought in the '80s. I remember coming home on my dad's birthday, and he had gotten a foreclosure letter from the bank and was going to lose the farm. I was 16 years old, and I could not get that out of my brain."
When Whitaker and his brother Sam started farming, they began again from scratch with a new plot of land and a loan from the U.S. Farm Service Agency. "We had a beginning farmer FSA loan and the worst piece of ground, but we knew that we had to adapt and change. Doing things the old way was not going to work," he said.
The brothers decided to add irrigation to their land and level it off, which vastly improves water efficiency and reduces methane emissions. "We got lucky out of the gate," Whitaker remembered. With a good crop and some income, they were able to further develop their land and rent another farm, which they also leveled.
"We went zero-grade and leveled the rice field completely flat. At the time, it is the gold standard for water conservation and greenhouse gas emissions reduction," Whitaker explained. Over time, the brothers acquired more and more farmland and transitioned it to regenerative and water-smart practices — growing their operation from 90 acres in 1993 to as many as 9,000 acres today.
Scaling up sustainable rice production
In 2010, Whitaker attended the Rice Leadership Development Program, where he met a rice buyer for Mars, Incorporated. "We became great friends, and that started the journey of Whitaker Farms growing rice for the Ben's Original brand," Whitaker said. Today, Whitaker Farms produces over a third of the rice that Mars uses in Ben's Original Ready-to-Heat pouches in the U.S. and Canada. 
Whitaker Farms has also built up its sustainable rice practices over the years and now uses water sensors to monitor in field water levels. This allows them to conserve water through precision irrigation, providing water to fields at just the right times and in just the right amounts, and maximize yield at the same time.
Whitaker also uses a third-party verifier to track and monitor greenhouse gas emissions. The farm specializes in a technique called "alternate wetting and drying," which means they allow rice fields to dry out before irrigating, a method which is making major waves in an industry that has long relied on perpetually flooded fields. 
The wetting and drying method not only saves water and emissions, but it also has financial benefits: By adopting these methods, Whitaker Farms has been able to reduce their fertilizer input by 20 percent and irrigation by 50 percent. They have even been able to sell carbon credits to other companies for reducing emissions through regenerative practices.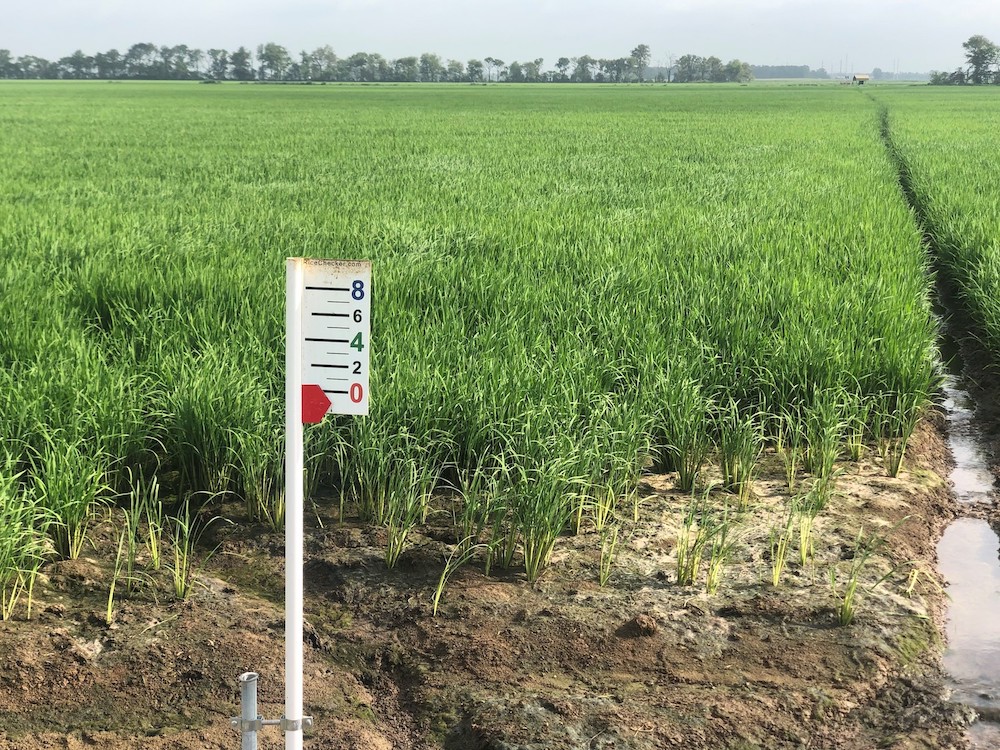 A longstanding supplier relationship opens doors for sustainable rice practices
Whitaker said the relationship with Mars is critical to the farm's sustainable rice success story. "Rice is a unique market," he told us. "It is highly controlled globally, and there isn't a mechanism that allows farmers to trade in the market in the U.S. Our contract with Mars is a good relationship, because it gives me the ability to plan. I know how many acres to work and the budget to work within." 
Mars is committed to sourcing 100 percent of its rice from farmers working toward more sustainable and climate-smart rice production practices, aimed at reducing GHG emissions, reducing unsustainable water use and increasing profitability for farmers. Mars is also a member of the Sustainable Rice Platform (SRP), a global alliance dedicated to helping small farmers grow rice sustainably and increase their resilience to climate change. 
Mars is the first company in the consumer goods industry to commit to sourcing 100 percent of its rice from farmers working toward the SRP. It's also helping other farmers learn about the environmental and economic benefits of wetting and drying rice production.
"We don't have a lot of choice as farmers," Whitaker said. "The equipment is getting bigger and more expensive every year. As the farms get bigger, underserved farmers are getting left behind. There is a huge opportunity for the government to provide tax incentives to retiring farmers to transition their farms to new, historically underserved farmers, through a transition period and an apprenticeship. Historically underserved farmers can't get into regenerative agriculture if they can't make ends meet. We need to meet them where they are."
Kristen Campos, VP of corporate affairs at Mars Food North America, said the company is eager to keep this conversation going. "Ben's Original mission to create opportunities that give everyone a seat at the table," she said. "So we are looking at different ways and pursuing partnerships to support underserved farmers and bring more people into the farming profession."
A slow but steady move toward sustainable rice production
Whitaker reflected on his early career, noting that the buzzwords he heard around sustainability planted a seed in his mind. "I could sense the industry was moving in this direction and there was a demand for it," he said. "People want to do business with folks who are doing the right thing."
He now realizes that doing the right thing was good for his land as well as his business. Whitaker Farms uses 50 percent less water than the mid-South average and emits 50 percent less methane through alternate wetting and drying, compared to farms of equivalent size using flooding methods. The farm also has 20 percent higher land use efficiency, with yields 20 percent higher than the average for the area.
But Whitaker doesn't want to stop at the environmental and economic impacts. "From a social standpoint, we are trying to make farming halfway fun," he said. "It wasn't fun when I grew up. Nobody aspired to be a farmer." He now strives to make his farm a place where people want to work and foster a more creative and inviting agricultural industry that will attract "sharp young people" looking for a career.
"We hope to train other farmers, and we want to make a difference in their operations," he concluded. "When it comes to regenerative or climate-smart practices, well, folks need to realize that farmers only get one chance a year to make a mistake. If we plant the wrong variety or put out the wrong fertilizer, we mess up the crop. So, these practices can be scary if they've never done it. If we can help people use less water and farm a few more acres economically, then perhaps there is a social benefit to that."
This article series is sponsored by Mars and produced by the TriplePundit editorial team.
Date: 15-May-2023
https://www.triplepundit.com/story/2023/sustainable-rice-united-states/774276
Welcome to Rice News Today!
The access to our website is free and will remain free always for most of the contents.
However, you need to create a new account to access the website. It will not take much of your time to create a new account and you will have an access to your favorite website to browse rice news, quick stats, latest stats on basmati, downloads and a lot more at one-place!
Thanks & have nice rice news today exploring!
Login here