Vietnam's rice farmers optimises income using technology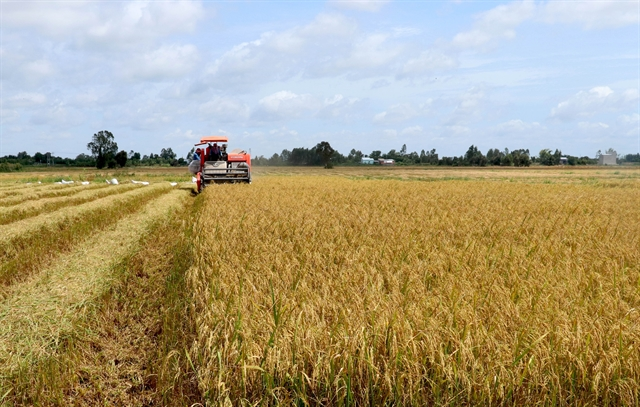 LONG AN (ANN/VIET NAM NEWS) – Rice farmers in Long An Province have increased their efficiency and income by resorting to technology and developing linkages with other stakeholders in sales of produce.
The Mekong Delta province has nearly 47,200 hectares of hi-tech rice farming areas, meeting 79 per cent of the target for 2025, according to its Department of Agriculture and Rural Development.
The yield in the hi-tech areas is 7.2 to 7.5 tonnes per hectare per crop, about a third of a tonne higher than from traditional methods, and the farmers have outlets guaranteed by signing contracts at prices slightly higher than market ones.
Mai Văn Rết of Tân Hưng District's Hưng Thạnh Commune said yields used to be inconsistent and prices were often pushed down by traders.
But since he switched to hi-tech farming, yields have been stable and he sells his rice through a contract for higher and steady prices, he said.
He now uses technology on all six hectares he owns, he said.
Rice farmers and co-operatives in the province have increased mechanisation.
The Hương Trang Service, Production, Trading and Agriculture Co-operative in Mộc Hoá District uses machines for all processes from tilling and tending to harvesting and post-harvest preservation for all of its 600 hectares of padi.
Trần Văn Sữa, its director, said the co-operative produces rice on a commercial scale and has close links with companies to guarantee outlets for its members.
The province has identified restructuring agriculture and the use of hi-tech as one of three breakthrough strategies to develop rapidly and sustainably.
Nguyễn Thanh Truyền, director of its agriculture department, said advocacy activities would be strengthened to enhance farmers' awareness of hi-tech farming.
The department plans to expand farming models that have linkages between stakeholders to guarantee outlets and steady prices, and to increase the use of mechanisation, he said.
The province has around 514,000 hectares under rice and hopes to harvest more than three million tonnes of paddy, including more than 1.8 million tonnes of high-quality varieties, this year.
The department encourages farmers to grow varieties that suit local conditions and dovetail with agricultural restructuring plans and market requirements.
It encourages companies to link up with rice farmers and guarantee outlets for their produce.
In the 2022-2023 winter-spring rice crop, 12 companies had signed purchase agreements with 847 households who pooled 14,160 hectares of land to create 190 large-scale rice fields.
Households who participated earned profits of VNĐ2 to 4 million per hectare per crop higher than those who did not participate.
https://borneobulletin.com.bn/vietnams-rice-farmers-optimises-income-using-technology/
Published Date: October 10, 2023
More Farmers Place