Selling rice straw a lucrative venture for farmers in Thái Bình
Selling rice straw a lucrative venture for farmers in Thái Bình.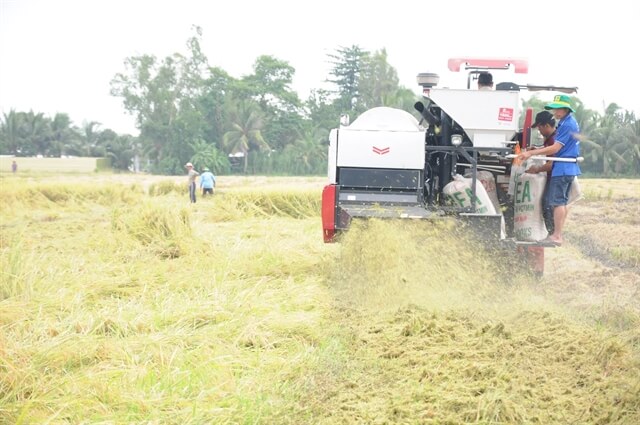 A harvesting machine shreds rice straw into fertiliser. Photo nongnghiep.vn
THÁI BÌNH – In the bustling agricultural landscape of Thái Bình, a 100-hectare rice field has recently added a significant source of income for farmers: the sale of rice straw. This innovative approach has brought a sense of joy and financial prosperity to the farming community.
Earning Millions from Rice Straw Sales
Leading the way in this new venture is Trần Thị Lanh, the Director of the Quang Lanh Agricultural Service Cooperative in Bình Minh Commune, Kiến Xương District. Lanh, a pioneer in large-scale farming, decided to invest in a straw baling machine for experimental straw collection beyond the paddy fields.
In contrast to the previous practice of leaving straw and rice husks in the fields after harvest, Lanh's cooperative now employs a modern approach. Traditionally, rice straw was either burned in the fields or soaked in water before being ploughed back into the soil.
This traditional method not only wasted straw but also contributed to environmental pollution, emitting smoke and dust that affected rural areas. Over the years, government agencies in the Red River Delta region issued advisories during the harvest season, urging residents to limit field burning to protect the environment.
In preparation for this year's harvest, Lanh decided to invest in a small straw baling machine for experimental straw collection. She explains, "This small machine, attached to a tractor, was an investment by the cooperative to experiment with baling rice straw. If successful, we plan to upgrade to a larger capacity machine for the next harvest season."
This year, Lanh's cooperative harvested 2,000 bales of straw. To accommodate this, they had to prepare an open area covering thousands of square metres. The straw bales were covered with tarpaulins to shield them from rain, and during sunny days, the tarps were removed to allow the straw to dry.
Although it was the first season implementing the straw baling method, Lanh successfully sold 1,000 bales at a price of around VNĐ20,000 (US$0.82) per bale, equivalent to VNĐ20 million (US$820). Every day, trucks transport the straw to the cooperative for purchase and onward distribution.
"People buy the straw as raw material for mushroom cultivation and animal feed, particularly for dairy cows. With the increasing popularity of organic mushroom farming, there is a high demand for straw. Even small-scale pig farms are considering returning to the practice of using straw as bedding material for manure production, making straw and rice husks valuable commodities," Lanh explains.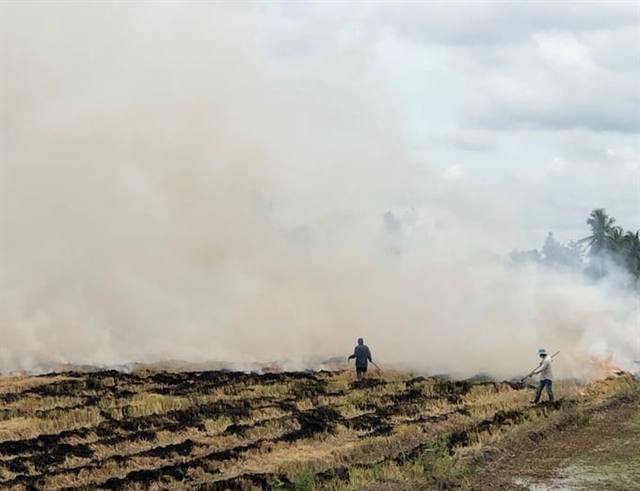 Local authorities have issued warnings and prohibitions against burning straw and other agricultural residues to protect the environment. Photo nongnghiep.vn
Reviving the Countryside and Mitigating Environmental Pollution
According to agricultural experts, one hectare of rice yields approximately 10 tonnes of rice straw. If processed using biological products, this can produce about four tonnes of organic fertiliser. Considering the national ratio of 45 million tonnes of rice straw, processing it could yield nearly 20 million tonnes of organic fertiliser. This not only saves farmers from spending money on chemical fertilisers but also contributes significantly to the environment.
Rice straw plays a crucial role in soil fertility. In some areas, the latest combine harvesters cut and chop the straw into small pieces, spreading it directly onto the fields. After a short period, microbial activities break down the straw into valuable organic fertiliser.
In northern provinces, the practice of collecting rice straw has not received much attention. Farmers traditionally burn the straw in the fields, causing environmental pollution. In response to this, local authorities have issued warnings and prohibitions against burning straw and other agricultural residues to protect the environment. The Ministry of Natural Resources and Environment (MONRE) has also urged provinces to enhance measures to control air pollution in the Red River Delta region.
Environmental experts believe that, in addition to well-known causes such as dust and emissions from transportation, construction and industrial activities, which contribute significantly to air pollution, the annual practice of burning straw and agricultural residues by farmers in northern rural areas is another substantial factor. So far there is no effective solution to comprehensively address this persistent activity.
To control and minimise air pollution, MONRE recommends that provincial authorities coordinate efforts to discourage spontaneous waste burning and straw burning after rice harvest. Farmers' unions, women's unions and youth organisations are encouraged to have their members, farmers and households pledge not to burn straw.
Furthermore, local authorities should develop projects and guidelines to help farmers implement effective measures for maximum collection, processing and utilisation of straw and agricultural residues after rice harvest.
Learning from the Mekong Delta Experience
Triệu Quốc Dương, Deputy Head of the Technical Department at the Agricultural Promotion Centre in Hậu Giang Province, shared insights from the Mekong Delta. For years, farmers in the region have earned a considerable income from selling rice straw harvested directly from agricultural waste.
A single bale of dried straw can be sold in the fields for over VNĐ20,000 (US$0.82), weighing up to 40 kilograms when fresh. Harvesting straw in this way facilitates soil preparation for subsequent seasons, as the straw does not decompose quickly and becomes an obstacle during land preparation for new rice crops.
Trần Văn Triệu from Vị Tân Commune, Vị Thanh City, Hậu Giang Province, spends tens of millions annually to purchase straw for mushroom cultivation. After using the straw for mushroom cultivation, he recollects it to produce organic fertiliser, closing the loop to regenerate the soil. "Utilising agricultural residues in farming helps reduce production costs, enhances soil nutrition organically and has environmental benefits," Triệu remarked.
The innovative approach of selling rice straw not only brings economic benefits to farmers but also contributes to environmental protection and sustainable agricultural practices. As the Government and local authorities continue to promote these initiatives, it is anticipated that the adoption of such practices will increase, bringing positive changes to the agricultural landscape of northern provinces like Thái Bình. VNS
https://vietnamnews.vn/society/1636749/selling-rice-straw-a-lucrative-venture-for-farmers-in-thai-binh.html
Published Date: November 18, 2023
More Farmers Place