Food security? Global rice market set for govt deals as India's ban curbs supplies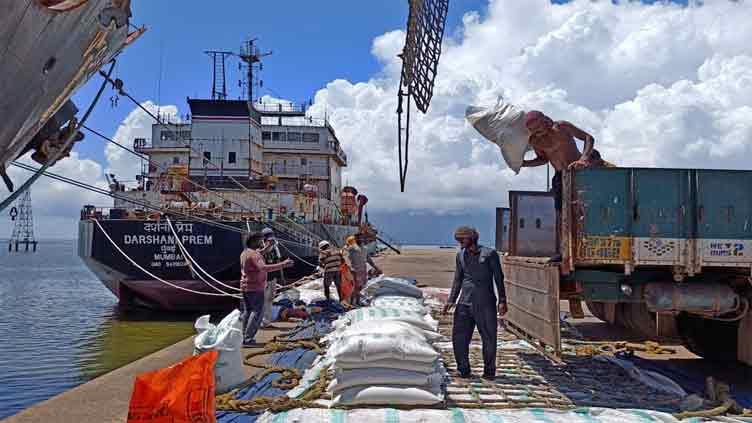 SINGAPORE (Web Desk/Reuters) – As Pakistan has already been witnessing a continuous rise in the prices of all rice prices despite sufficient production locally and being a major exporter, Reuters in a latest report says importers around the world are likely to seek direct deals with governments in exporting countries as India's ban on shipments of a key variety is squeezing supplies and igniting concerns over food security.
Buyers from Africa to Asia are likely to scramble for rice shipments as supplies tighten in coming months following India's decision last week to ban non-basmati white rice exports.
The ban will cut availability of the staple on world markets by about a fifth, traders and analysts said, and could lead to importers seeking more government-to-government deals to overcome shortages and tame spiralling prices, says Reuters.
"Export restrictions inherently reduce trust in the dependability of international trade," said Shirley Mustafa, rice market analyst at the UN's Food and Agriculture Organisation (FAO).
"Thus, they could result in importing countries looking at government-to-government deals to ensure supplies."
While announcing its export ban last week, India has left the door ajar for such deals, saying that it will consider meeting the requirements of countries in need of rice supplies.
India's government deals
Last September, India banned exports of broken rice in a bid to cool domestic prices, but since then official data shows the country approved sales of around one million metric tons of broken rice to Indonesia, Senegal, Gambia, Mali and Ethiopia.
"The current ban excludes government-to-government sales, and it remains within the government's prerogative," said BV Krishna Rao, president of the Rice Exporters Association.
"A decision will be made based on the needs of importing countries and the supply situation in the local market."
African buyers are likely to approach the Indian government for rice sales, and Asian importers such as Indonesia and the Philippines could sign government-to-government contracts with the region's top exporters Thailand and Vietnam, traders said.
Indonesia has signed an agreement with the Indian government to potentially import one million metric tons of rice if the El Nino weather pattern hits its domestic supplies.
India last month approved wheat and broken rice exports to a few countries that had requested shipments of grains.
Indonesia's National Food Agency (NFA) said that deals the country has made since end of last year are sufficient for now, while the National Food Authority in the Philippines can import rice upon approval by the president in an emergency situation.
India has ample stocks as of now to meet such requests, while Vietnam is due to start harvesting its main crop, analysts said.
"India's government stocks of non-basmati rice are ample, standing at around 41 million tonnes on July 1," FAO's Mustafa said. "So, they could service the needs of both domestic public distribution and government level trades."
Why rice prices are high in Pakistan?
The prices of all varieties of Pakistan has been on the rise because of the higher cost of production thanks to the expensive inputs. In fact, this trend applies to all crops.
However, the area under rice cultivation is also shrinking because of land development and urbanisation as the belt famous for rice production has fallen prey to the expansion of cities or affluent suburbs.
For example, the areas like Gujranwala, Gujrat and Sialkot are home to a large population dependent on family members living in European and other foreign countries. Meaning they have money to change their lifestyle and build large houses which is directly affecting the rice crop.
https://dunyanews.tv/en/Business/742629-Food-security?-Global-rice-market-set-for-govt-deals-as-India\%27s-ban-curb
Published Date: July 26, 2023
More News