China proposes sustainable perennial rice farming to Bangladesh
'If Bangladesh wants to further enhance bilateral cooperation in this field of food production, we're ready to extend our cooperation'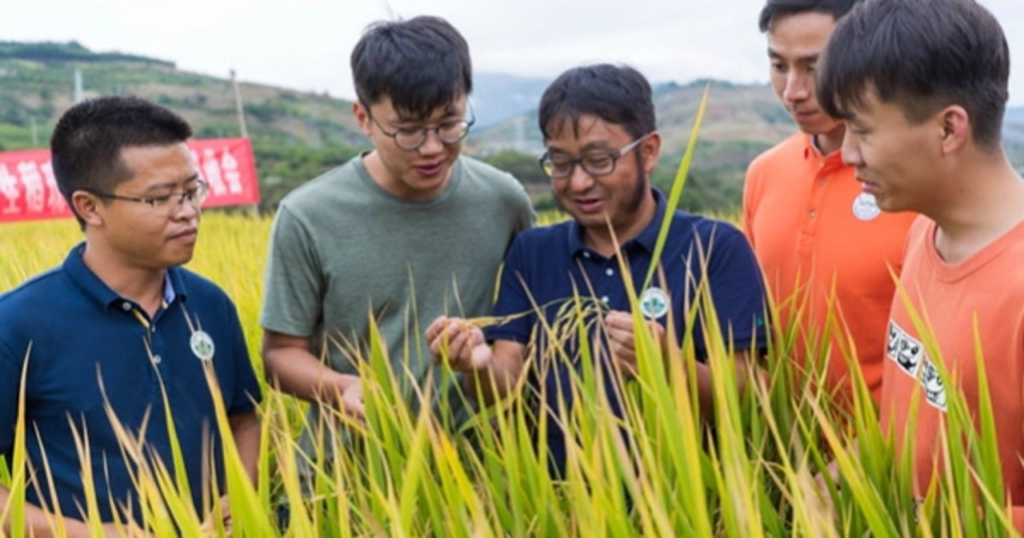 Bangladesh can adopt the Chinese perennial rice farming method to reduce both cost and labour – it is a sustainable crop production system whereby the crop does not need to be seeded every production cycle, said a deputy mayor of Menghai county in Yunnan province. 
"If Bangladesh wants to further enhance bilateral cooperation in this field of food production, we're ready to extend our cooperation," Kong Yang, deputy mayor of the Menghai county of China's Yunnan province recently told a group of visiting Bangladeshi journalists, reports UNB. 
A research institute of China's Yunnan University invented the perennial rice farming technology a few years back and it was approved by Yunnan Crop Veracity Approval Committee in 2018 — selected as an International Agriculture Innovation Technology by Food and Agriculture Organization (FAO) of the United Nations.
According to the Rice Research Centre for Perennial Rice Engineering and Technology, School of Agriculture of Yunnan University, the perennial rice technology consists of varieties developed by utilizing the rhizome trait of the wild rice species, Oryza longistaminata, and the related crop management techniques.
This technology enables the farmers to plant rice only once but continuously harvest for 3 to 5 years, during which there is no need for several common agricultural practices, such as purchasing seeds, seedling nursery, ploughing fields and transplanting.
"Therefore, this technology represents an efficient and sustainable rice production strategy, which is characterized by its environment-friendliness and cost effectiveness. Research on this technology is of theoretical innovation and thus is a cutting-edge field," the research centre said in its brochure.
Explaining the comparison between the seasonal and perennial rice production methodology, the Chinese officials said the production process of seasonal rice is complicated including steps like ploughing, hoeing, seeding, transplanting, harvesting, and requires laborious field management.
On the other hand, the perennial rice production process is straightforward. In the next season, as only crop management is needed before harvesting, labour input is greatly reduced, thus lowering the production cost.
"Seasonal rice production requires re-ploughing the fields every season, which needs a large amount of water and may cause serious soil erosion. Purchasing new seeds and seedling nursery are also necessary every season; both the production cost and labour input are high.
But, perennial rice production can largely conserve water; therefore, it is especially ideal for fields where planting rice is only suitable after the wet season. It may save about 30 percent of water consumption compared to traditional rice production.
"In perennial rice production, the fields are constantly covered with rice plants, which can enlarge the carbon sink and reduce soil erosion. Thus it is a sustainable rice production strategy," said an official of the Digital Agriculture Museum of Menghai Manxiang Yuntian Agriculture Development Company Ltd.
The official informed that beyond China, trials of perennial rice technology have started in Laos, Myanmar, Cambodia, Vietnam, Thailand, Bangladesh and other South and Southeast Asian countries since 2018.
The technology has shown a positive trend of development in countries belonging to the Belt and Road Initiative (BRI), he added.
About the perennial rice production technology, ASM Masuduzzaman, chief scientific officer of Bangladesh Rice Research Institute (BRRI) in Gazipur, confirmed the Chinese technology's success in perennial rice production in Bangladesh.
He said the technology, in which he has advanced research, could be very effective for Bangladesh, especially, in the coastal areas and some Haor areas in Sunamganj district.
He claimed that he had found in his research that the lifetime of the perennial rice plants could be extended for more than 5 years while farmers don't need to go far any further plantation even in 10 years.
"Only disadvantage is that the farmers will get two productions in a perennial field while in many areas they can get three productions in a year from traditional or seasonal rice," he told UNB.
He also informed that he had already submitted a research paper to the International Rice Congress (IRC), to be held on October 16-19 in Manila, Philippines
"The IRC invited me to make a presentation on my advanced research on perennial rice production in the event where more than 1000 scientists will join from across the globe," the chief scientific officer of Bangladesh Rice Research Institute added.
https://www.dhakatribune.com/business/2023/07/23/chinese-province-ready-to-help-bangladesh-with-new-rice-farming-tech
Published Date: July 23, 2023
More Sustainable Rice