Wild rice grows again in the St. Louis River. The problem now is geese
Canada geese are gorging themselves on the once-polluted river's environmental success story.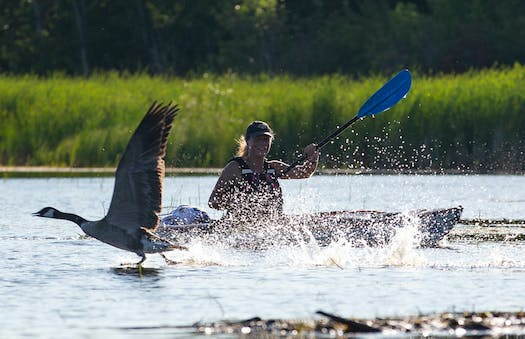 Wild Rice Monitor Katie Marsaa gently paddled towards a flock of geese to scare them away and out of the St. Louis River estuary The St. Louis River Alliance is working hard to keep stands of wild rice healthy in the estuary near Duluth. Canada geese love to eat the wild rice once it's bloomed which destroys it throughout the estuary.
In a stark turnaround that's one of the state's great environmental successes, the St. Louis River can now produce bountiful bays of wild rice. Or it would, if the geese would leave it alone.
"They're like little lawn mowers," said Terry Perrault, lead technician for the Fond du Lac Band of Chippewa. "They don't fly, they wade in with their little goslings and just feed. We have to keep chasing them, but they just jump to a bank and hide. They come right back. They're very smart and hungry."
The restoration of relatively large and self-sustaining pockets of wild rice is one of several benchmarks to remove the St. Louis River from one of the Midwest's most ignominious lists — as a federal area of concern along the Great Lakes. After hundreds of millions of dollars spent and 36 years of dredging and removing toxic soils and waste, a finish line is in sight for the northeastern Minnesota waterway.
But first, wild rice has to grow. The water is finally clean enough for it to thrive. The slow-moving bays are an ideal depth for sunlight to find the seeds buried on the river-bottom. The main things keeping rice from taking hold are honking hungry waterfowl, according to state and federal scientists.
The Fond du Lac and the 1854 Treaty Authority have tried predator decoys, and scaring the birds away. They keep coming back. In recent summers, the U.S. Department of Agriculture and Wisconsin Department of Natural Resources have led targeted roundups — capturing and killing several hundred of the birds to give the rice a chance to establish itself.
The geese are at their worst during late springs and early summers, when goslings are growing and adults are molting. They eat down the rice just as it starts to stand out of the water, and long before the seeds are ready to fall to the river bottom to repopulate the annual plants for the next year.
The geese roundups have helped, said David Grandmaison, St. Louis River wild rice and habitat coordinator for the Wisconsin DNR.
The rice grew to be about twice as dense on the river's Allouez Bay after 90 geese were removed in 2021, he said.
"That suggests that it's working," he said. "But what we want to do is get to a point where we don't have to do removals. Where the rice is dense enough that it can actually bring all these habitat benefits for geese, waterfowl and blackbirds. We just have to get over this initial early stage."
The best hope may be in simple mesh fences, set up into 100-by-20-foot rectangular enclosures. Even though the fences are not covered from the top, the birds don't seem to want to go inside them. Most promisingly, they also avoid wading or swimming near the enclosures and rarely go between two of the rectangles if they are close enough together, said Darren Vogt, resource management division director for the 1854 Treaty Authority.
"They don't like those tight spaces, and seem to want good visibility," he said. "So if we can be strategic about where we put these, they seem to stay out and browse on more open water."
The St. Louis River once produced more than 3,000 acres of wild rice, according to the Minnesota Pollution Control Agency. The hope now is to restore about 250 acres. Since 2015, agencies and tribes have planted about 70,000 pounds of seeds in certain quiet and slow bays, where the water stays about 2 to 4 feet deep.
Some of the rice bays were on the verge of being harvestable last year, Vogt said.
"We are getting darn close," he said.
After smaller efforts showed promised, the tribes set up 49 fenced enclosures along the St. Louis this summer.
Nobody will know how well it worked until harvest time in the fall. But as of mid-July, the young foot-tall reeds of rice looked promising. The mesh fences have started to disappear behind the green reeds of growing rice, looking more like a field of grass than a river, with blades so close together that a goose wouldn't want to venture too far inside.
https://www.startribune.com/wild-rice-grows-again-in-the-st-louis-river-the-problem-now-is-geese/600291638/
Published Date: July 22, 2023
More News