We have the means to produce more rice, says economist
Subsidies on imported rice are seen as a waste of money when technology can double the current yield of local rice production.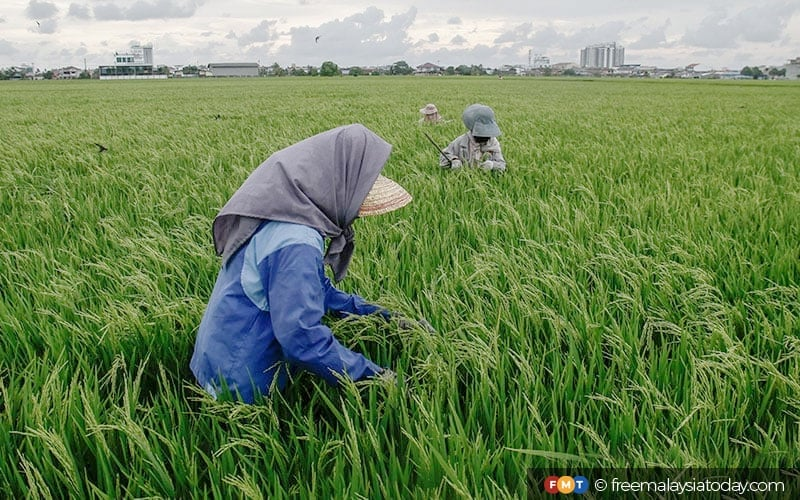 An economist says continuous rice production, instead of two harvests a year, could help to end the need to import rice.
PETALING JAYA: An economist says subsidies on imported rice would be a waste of money because Malaysian rice producers can double their yields through new farming methods.
Barjoyai Bardai of Universiti Tun Abdul Razak said claims of a shortage of local rice were exaggerated. He said any shortfall in local rice production could be met within six months through the use of new techniques.
Continuous farming could ensure ample rice production within just three to four months, he said. Malaysia's rice farms currently harvest rice twice a year.
Barjoyai said the government's recent move to subsidise imported rice merely tackled the symptoms and not the problem of rice supplies.
The government announced last week that 5kg packs of imported rice would be sold at RM14 a bag to low-income households, as part of the Rahmah rice sales scheme.
Barjoyai said concerns about Malaysia's food security were raised a decade ago, but successive governments failed to deal with the problem.
He said Indonesia had adopted a technique developed by Cornell University which had the potential to yield more than 15 tonnes of rice per hectare, more than double Malaysia's current yields of five to six tonnes per hectare.
"I proposed this technology to the Kedah state government. Initially, they agreed, but the then minister of agriculture eventually rejected the plan," he told FMT.
However, it was adopted in Kelantan for a pilot project that yielded about 12 tonnes of rice per hectare.
"We have the technology and capability. Yet we have been content with producing 62% locally and importing the remaining 38%. It is this 38% that's causing the problem now," Barjoyai said.
He said a new technology developed in Kedah could produce more than 10 tonnes per hectare and local supply shortfalls would be solved within half a year with this approach.
"The government should not waste money unnecessarily on subsidies because it would have to adjust and reallocate funds from other areas, and that's not right," he said.
"As long as we continuously farm, we can produce enough rice. Basically, we need to change the people's perception that we are short of rice, even though there is a potential crisis globally."
Mydin hypermarket managing director Ameer Ali Mydin was sceptical about resolving the rice supply problem.
He said there was limited availability of supplies for distribution across every constituency. "Given the vast number of people, demand is bound to exceed supply," Ameer said.
He said the price of rice should be determined by the market. "While this may impact the B40 group, the issue can be addressed by providing them with the Sumbangan Tunai Rahmah cash aid," he said.
https://www.freemalaysiatoday.com/category/nation/2023/09/24/we-have-the-means-to-produce-more-rice-says-economist/
Published Date: September 24, 2023
More News