Waitrose stocking sustainable brand Nice Rice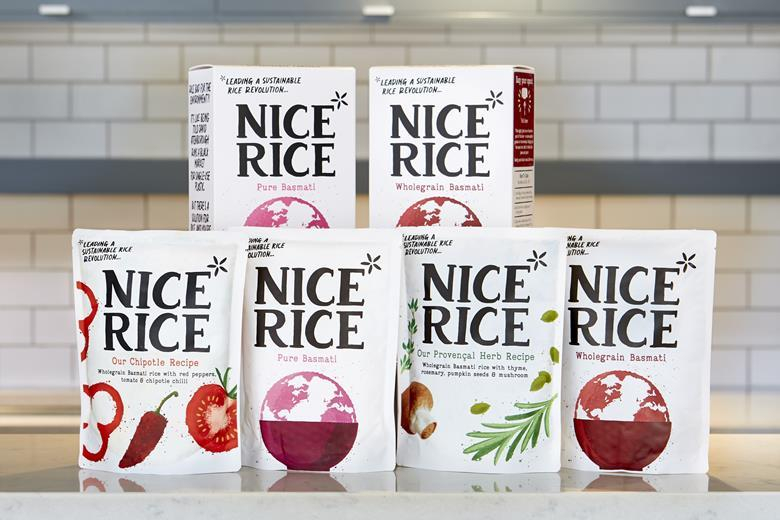 A sustainably farmed rice brand is set to make its retail debut.
Called Nice Rice, it makes use of the alternate wetting and drying method, which allows paddy fields to dry out during the growing season, aerating the soil and disrupting methane-emitting bacteria.
It has secured Waitrose listings for its quartet of cooked rice pouches.
They are: Pure Basmati, Wholegrain Basmati, Chipotle and Provencal Herb (rsp: £1.95-£2.15/250g).
All four SKUs will roll into 259 of the retailer's stores on 21 May.
Pure Basmati and Wholegrain Basmati are also available in a 1kg dry rice format via the brand's webstore (rsp: £5.95).
The brand is the brainchild of former Pipers investment director Fergus O'Sullivan.
O'Sullivan enlisted a team of advisers – including Erika Styger, director of climate resilient farming systems at Cornell University – and spent two years researching and building a traceable supply of rice from farmers in North India.
In 2022, the farmer group achieved a 49% reduction in CO2-equivalent emissions per tonne of rice compared with the national average, a saving of 1.23kg CO2-equivalent per kilo of rice, according to the brand.
This method also reduced the water used for irrigation by 3,300 litres per kg of rice while improving the farmers' yield by 10%, it claimed.
"Conventional rice farming has a shocking sustainability problem that no one is talking about, while the rice market itself is dominated by uninspiring brands and products in desperate need of innovation," said O'Sullivan.
"Our goal is to inspire people to be part of a positive change for the planet, by connecting pioneering farmers with people looking for more sustainable ways to enjoy their food."
https://www.thegrocer.co.uk/new-product-development/sustainable-rice-brand-nice-rice-launches-into-waitrose/679264.article
Published Date: May 18, 2023
More Sustainable Rice