VN's rice is most expensive in world: a good sign or a warning?
Surpassing other major exports, Vietnam's rice has become the most expensive in the world. However, experts have warned that overly high prices may pose risks to export companies.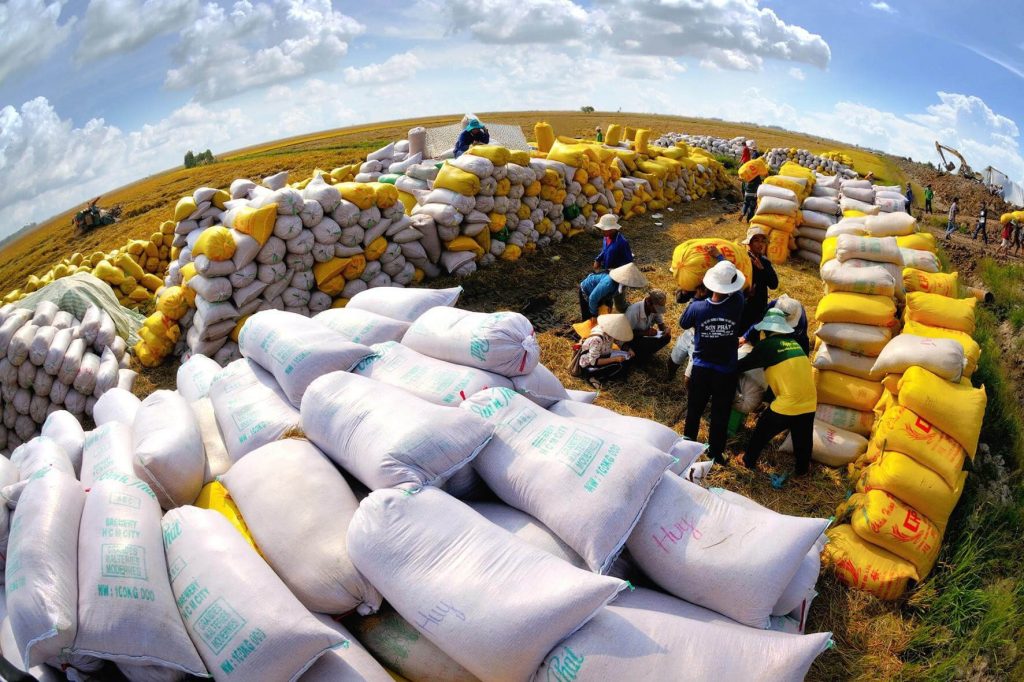 The Vietnam Food Association (VFA) reported that Vietnam's 5 percent broken rice was traded at $653 per ton on November 8, higher than Thailand's ($565 per ton) and Pakistan's ($568).
Vietnam's 25 percent broken rice was priced at $643 per ton, higher than Thailand's ($526) and Pakistan's ($488).
Prior to that, at the trading session on November 2, Vietnam's rice prices soared to the new peak of $663 per ton for 5 percent broken rice products and $648 for 25 percent broken rice.
Vietnam's rice prices have far exceeded the products of the same kinds from Thailand and Pakistan, and have become the most expensive in the world.
In the domestic market, VFA's updates (October 26 – November 2) showed that the unhusked paddy prices are on the sharp rise. Farmers sold normal paddy at VND8,757 per kilogram at fields and VND10,033 per kilogram at warehouse.
Meanwhile, first-class white husked rice was traded at VND15,775 per kilogram, 5 percent broken rice VND15,636, 15 percent broken rice VND15,408 and 25 percent broken rice VND15,033 per kilogram.
Observers commented that the prices have climbed to a record high in the history of Vietnam's rice farming, and will continue to escalate as inventories are no longer plentiful.
Vo Tong Xuan, a rice expert, said it is understandable why Vietnam's rice has become the most expensive. Export companies grasped the opportunity to boost exports, supply is always stable, and the quality of Vietnam's rice has improved significantly.
He said that the price increases prove the high quality of Vietnam's rice in the world market. The incomes of rice farmers have improved.
However, Do Ha Nam, VFA's vice president, said high prices don't always mean an advantage. If Vietnam's rice prices become too high, importers may place orders with other exporters instead. For example, importers may seek rice from Thailand, and if so, Vietnam may lose the fragrant rice market (DT8, OM 5451…etc).
Recently, nearly all Vietnam rice exporters have failed bidding packages invited by Bulog (Indonesia) because domestic prices have become too high. Meanwhile, the supply of 5 percent broken rice, which Bulog wants, is in short supply.
According to Nam, rice price increases are attributed to influences of parties of supply chains. In general, Vietnam's export companies sign futures contracts with deliveries after 1-3 months. When they collect rice from farmers to implement the contracts, the domestic rice prices become too high.
A senior executive of a large rice export company said exporters are facing high risks. If the prices become unbearable for clients, Vietnam will lose these customers.
The Institute of Policy and Strategy for Agriculture and Rural Development (IPSARD) estimated that Vietnam will export 8 million tons of rice with turnover of $4.5 billion this year. This will be the highest figure so far.
The institute believes that there are opportunities for Vietnam to increase rice exports next year. The rice export prices have been standing high and there is no possibility of the prices falling to below $640-650 per ton. Rice shortages exist globally, and countries want to import more rice to ensure food security.
According to Xuan, other rice granaries in Asia have been affected by climate change (drought, floods) which has caused a rice output drop.
Vietnam still can have three rice crops a year and has a 1.5 hectare growing area unaffected by climate change.
Other rice growing areas in Mekong Delta are affected by drought and salinity intrusion, but Vietnam has short-term rice varieties and past experiences dealing with drought and salinity intrusion. This means that Vietnam will have plentiful supply in 2024 to export rice at good prices.
The Ministry of Agriculture and Rural Development (MARD) reported that in the first 10 months in 2023, Vietnam exported 7.12 million tons of rice with value of nearly $4 billion.
https://vietnamnet.vn/en/vn-s-rice-is-most-expensive-in-world-a-good-sign-or-a-warning-2214525.html
Published Date: November 17, 2023
More News