Vietnam to earn over $4B from rice exports this year: ministry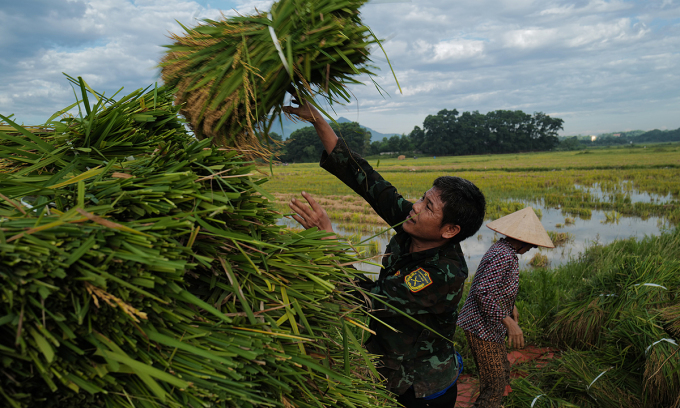 Farmers harvest rice in Hanoi in June 2022. Photo by VnExpress/Ngoc Thanh
The Ministry of Agriculture and Rural Development has forecast that Vietnam's rice exports will reach about 7.2 million tonnes in 2023, bringing home more than $4 billion.
Deputy Minister of Agriculture and Rural Development Tran Thanh Nam said India's rice export ban brings an opportunity for Vietnamese rice export at the end of the year.
According to the Vietnam Food Association, in July, Vietnam's rice exports continued to post significant growth.
In the first seven months of this year, the country exported more than 4.48 million tonnes of rice, getting a turnover of nearly $2.4 billion, up more than 17% in volume and 28% in value over the same period in 2022.
Rice export turnover increased sharply because of a sharp increase in Vietnamese rice prices from nearly $490 per tonne last year to more than $530 per tonne now.
According to the association, this year, rice exports have the most favorable conditions when domestic production grows positively as most of the rice-producing regions have converted to high-quality and high-value varieties.
Moreover, in the world market, the demand for rice has increased sharply.
According to the General Statistics Office, in 2022, Vietnam's rice exports reached 7.1 million tonnes with a value of $3.46 billion, an increase of 13.8% in volume and 5.1% in turnover compared to the previous year.
https://e.vnexpress.net/news/business/industries/vietnam-to-earn-over-4b-from-rice-exports-this-year-ministry-4635446.html
Published Date: July 29, 2023
More News