US farm technology can help our rice production: Philippines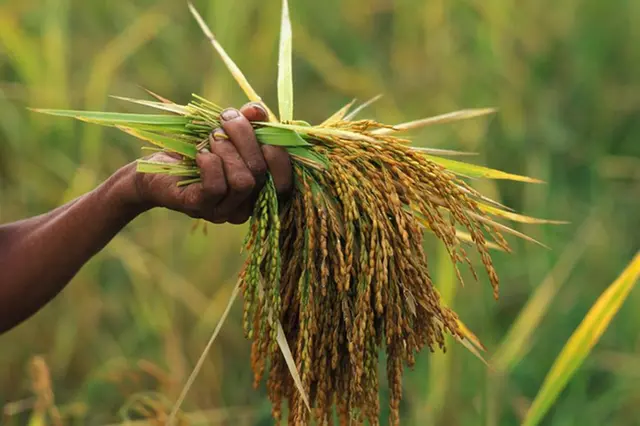 The recent typhoons locally named Falcon and Egay have already caused billions worth of damage to agricultural crops that include rice and corn
The decision of President Ferdinand Marcos Jr. to put a cap on the price of rice nationwide – effective immediately – is definitely welcome news to many Filipinos, especially the most vulnerable. But we all know these are temporary measures that need long-term solutions to cope with the soaring prices of the household staple.
Agricultural group SINAG (Samahang Industriya ng Agrikultura) expressed support for the President's imposition of the price ceiling of P41 per kilogram for regular milled rice and P45 per kilogram for well-milled rice, saying that traders and retailers will not go bankrupt as the farmgate price of the current rice stocks are from P20 to P23.
Based on the statement of the Department of Agriculture during the recent House committee on appropriations hearing and from their own computation, the country should have no rice shortage, according to SINAG executive director Jayson Cainglet. However, a statement from the National Food Authority a couple of weeks ago that they only have two weeks' worth of buffer stock may have triggered a sense of panic – with unscrupulous traders taking advantage of the situation to manipulate the price of rice and make them skyrocket.
There are several factors why the price of rice has continued to skyrocket, especially in the past few weeks. Obviously, one of the reasons is price manipulation by the rice cartels as well as the practice of hoarding by opportunistic traders, as seen in the discovery of some 154,000 sacks of imported rice worth P431 million being hoarded in several warehouses in Bulacan during a surprise inspection jointly conducted by government agencies that include the Bureau of Customs.
The recent typhoons locally named Falcon and Egay have already caused billions worth of damage to agricultural crops that include rice and corn. Global prices of rice and other staples have also been impacted by the war in Ukraine, especially after Russia decided to end an agreement that allowed Ukraine to export its grain to the rest of the world through the Black Sea.
The situation was also exacerbated by the decision of India to ban the exportation of rice, sending shock waves across the world, triggering panic buying and causing prices to soar to a near 12-year high, according to the UN Food and Agriculture Organization. India is the largest exporter of rice and accounts for some 40 percent of the global trade in 2022, with exports totaling 22 million tons to 140 countries that include the Philippines.
India does not have a rice shortage and has around 41 million tons of buffer stock in their government warehouses, and yet their domestic price for rice as well as other food prices has been rising. India's imposition of the rice ban, however, has raised fears that other countries such as Thailand and Vietnam, which also supply rice to the Philippines, would follow suit because of the El Niño dry spell expected to hit next year.
But the biggest culprit in our current rice dilemma is the land reform program which was, in many people's view, a big failure. It had so many loopholes that enabled big hacienderos to go around the program by converting or reclassifying agricultural land into residential and commercial areas. Hacienda Luisita was a glaring example of how the flaws in the Comprehensive Agrarian Reform Program was taken advantage of because it was exempted from the coverage, with farmers given a stock distribution option instead of land.
The land distributed to farmer-beneficiaries was also limited to five hectares, making it difficult to make the farmland productive. For a farmer to be productive, he should be able to expand his land to 10 hectares at the very least. Sadly, many of the beneficiaries also ended up selling the land as they had no money to pay for tractors to make farming more efficient, buy seeds, fertilizers and other farming necessities.
There is no question that we should all be very concerned about the issue. Aside from going after smugglers, hoarders and price manipulators, the President is looking for ways to resolve our rice dilemma, among them the use of hybrid, climate-resilient rice varieties to boost production and improve rice yields. Another is the use of modern technology and innovation to transform agriculture in the country and modernize the rice sector.
'It's up to us now in the Philippine government to make sure those technologies, those products go down to the grassroots,' the President had said.
We have had several offers of help from our friends in Washington, DC to improve our rice production through modern farming technology as well as knowledge transfer and cooperation on agricultural innovation and food security.
I had dinner the other night with Paul Taylor, the commercial attaché of the US embassy. He informed me there will be a large group of about 15 to 20 US agricultural technology companies coming to Manila early next month – an offshoot of the President's visit to Washington, DC last May when he met with US Agriculture Secretary Thomas Vilsack.
These American companies are ready to help the Philippines achieve its food security agenda through digital and precision agriculture to efficiently reduce water use; improve production and reduce crop losses; drone technology; crop protection solutions; automated post-harvest facilities and many others. We are arranging for them to meet with the President during their visit.
I am extremely pleased that all the good work put in by our embassy in Washington, DC, especially in the area of food security, is clearly moving in the right direction.
https://www.zawya.com/en/world/china-and-asia-pacific/us-farm-technology-can-help-our-rice-production-philippines-cngkk200
Published Date: September 4, 2023
More News