Unplanned shrimp farming blamed for abandoned rice fields in Quang Tri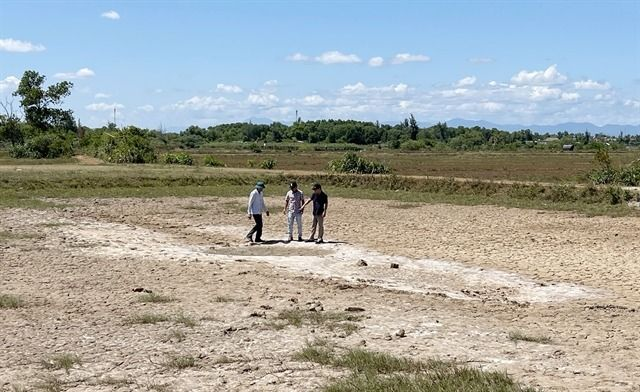 A rice field abandoned due to salinisation, triggered by spontaneous shrimp farming in Trieu An Commune, Trieu Phong District in the coastal central province of Quang Tri. — VNA/VNS
QUANG TRI (Vietnam News/Asia News Network): Salinisation has led to the abandonment of numerous rice and crop fields in Trieu An Commune, Trieu Phong District of the coastal central province of Quang Tri.
The unplanned shrimp farming activities of local farmers are responsible for this issue.
Tran Van San, leader of Tuong Van hamlet, mentioned that their fields were previously fertile and abundant.
Throughout the year, local farmers typically cultivated rice and short-term crops, including luffa, cassava, potatoes, chilli, and other vegetables, he noted.
But the rise in unscheduled shrimp farming has seen local farmers either drilling wells to draw salt water or pumping it directly from the sea. This, he explained, has caused the land in the hamlet to become saline.
Initial figures indicate that 38 of the hamlet's 80ha of rice fields have been left unused.
Tran Van San warned that if this trend persists, there would be a shortage of land for agricultural purposes.
Furthermore, the salinisation resulting from ad-hoc shrimp farming has rendered the water sources of many households salty and unfit for use.
Nguyen Thi Bong, from An Xuan hamlet, stated that her family, along with 194 other households in the hamlet, are now grappling with a scarcity of fresh water.
Bong mentioned that her family tried and failed to find fresh water by drilling wells at three separate spots in their garden.
She resorted to drawing saline-contaminated water from a well and then filtering it for bathing and washing purposes.
For drinking and cooking, she has to purchase bottled water. She shared that it costs her VNĐ30,000 (US$1.2) daily to buy this bottled water.
"The most urgent wish of the local people is that the administration will consider and create conditions for local people to soon have a stable, long-term source of fresh water for daily life," she said.
Ngo Van Hai, another local from the hamlet, shared that his family spends VNĐ150,000 ($6) daily purchasing a cubic metre of clean water.
He emphasised that this expense is significant for his family to bear every day.
Moreover, he highlighted the environmental pollution caused by the discharge of untreated wastewater from shrimp ponds into the local canals.
Despite repeated appeals to the local authorities, the problem persists, he noted.
The People's Committee of the commune reported that there are roughly 67ha dedicated to white-legged shrimp farming in the commune. The majority of these shrimp farming ponds are established on agricultural land across five villages.
Hoang Chau, chairman of the People's Council of the commune, noted that many patches of agricultural land turned saline due to unplanned shrimp farming.
Consequently, the local authorities are collaborating with relevant departments to devise several solutions.
Chau explained that shrimp farming initially provided a stable income, leading to a surge in local farmers taking up the practice.
Even though the local administration had cautioned the farmers about the risks of salinisation, many disregarded the advice, resulting in salinated agricultural areas.
The provincial Department of Agriculture and Rural Development highlighted that this trend of ad-hoc shrimp farming began in the province around 2000.
Nguyen Huu Vinh, the deputy director of the department, stated that this unplanned shrimp farming disrupted established plans and failed to meet regulations.
The department is now partnering with concerned bodies to reinforce management and prevent the expansion of shrimp farming areas. Vinh added that the department has directed these agencies to strictly address any violations.
https://www.thestar.com.my/aseanplus/aseanplus-news/2023/09/19/unplanned-shrimp-farming-blamed-for-abandoned-rice-fields-in-quang-tri
Published Date: September 19, 2023
More News