UAE rice ban after major exporter India spikes global supply fears
The UAE was the world's 16th-largest importer of rice in 2021 and the majority of it came from India.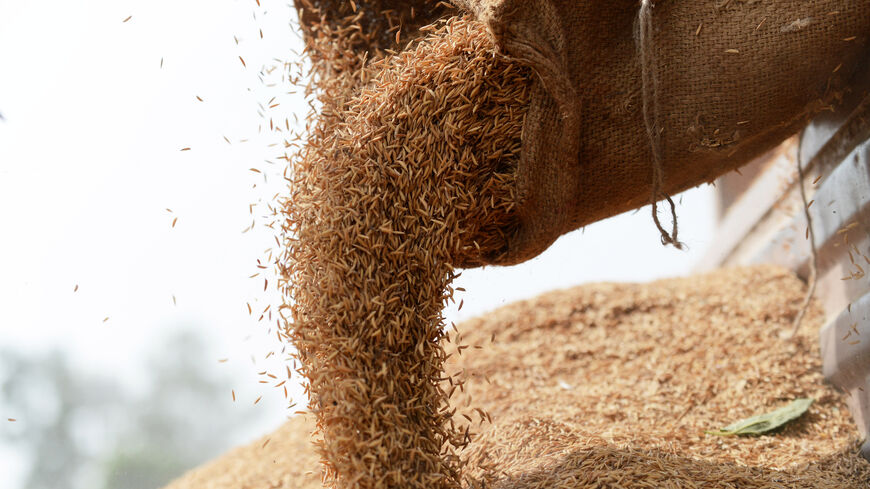 A bag of rice is unloaded from a truck at an Indian grains depot near New Delhi, Aug. 27, 2013. – ROBERTO SCHMIDT/AFP via Getty Images
DUBAI — The United Arab Emirates' rice exporting ban issued Friday comes about a week after India issued its major prohibition on non-basmati rice exports, heavily affecting the local markets of the Gulf country that imports 90% of its food.
The UAE was the 16th-largest importer of rice in the world in 2021, according to the Observatory of Economic Complexity, importing $484 million in rice that year. It also imported the majority of its rice from India ($301 million) and is therefore critically impacted by the new Indian policy.
What happened: The UAE Ministry of Economy announced on Friday a temporary suspension of rice exports and reexports to foreign markets for four months.
The ban covers "various types of rice and their products that do not originate from India," the ministry said in a statement.
Those who wish to export, or reexport non-Indian rice must submit an application to the ministry to obtain special permission, it continued. It was not specified why only Indian products aren't part of the temporary ban.
The UAE rice ban follows one issued less than two weeks before from India, which saw the South Asian country and leading global rice supplier completely prohibit the export of non-basmati white rice on July 20. This is an amendment to a 20% export duty tax imposed on non-basmati white rice in September 2022.
The complete ban with immediate effect was issued "in order to ensure adequate availability of Non-Basmati White Rice in the Indian market and to allay the rise in prices in the domestic market," stated the press release from India's Ministry of Consumer Affairs, Food and Public Distribution.
Domestic rice costs are increasing in India, with retail prices rising 11.5% from July 2022, and 3% from June to July this year, according to the ministry.
Why it matters: India's rice export ban is a major hit on the global rice market, causing supply fears, especially among major importing countries like the UAE that imports 90% of its food.
Over the last 15 years, India has risen to become the world's largest producer of rice in 2023, according to the International Food Policy Research Institute (IFPRI), producing an estimated 40% of global rice exports from 2022 to 2023.
The international research center said that the global rice market saw prices increase up to 20% since September 2022. Yet import control measures by India during periods of high global prices are common, it continued, especially today with rising interest rates, inflation and the ongoing effects of the Ukraine war. Even as prices soared for other cereals during the conflict, Indian rice exports reached a record high of 22.3 million metric tons in 2022.
The latest ban by India threatens an already vulnerable market increasingly affected by the economic slowdown and also the effects of climate change "may send those numbers falling, posing risks of higher global prices and heightened food insecurity," reported IFPRI in a blog post last week.
Middle East countries are directly impacted by India's July ban on basmati rice and also increasing prices. Iran, Saudi Arabia and the UAE were the leading importers of basmati rice from India from April to December 2022, according to the Trade Promotion Council of India.
India had exported basmati rice worth $3.33 billion during that period, and its top importer Iran spent $777.78 million, followed by Saudi Arabia with $666.91 million, and the UAE with $236.13 million on basmati rice imports from India, reported the government council.
Eight days after India's ban on non-basmati rice, the UAE Ministry of Economy issued its temporary ban on exporting and reexporting various types of rice and their products that do not originate from India.
Local suppliers and food stores in the UAE are expecting prices to temporarily rise, reported Reuters citing local media reports. Some local media reported that the domestic UAE market expects to see a 40% increase in overall prices as a result of the Indian ban.
https://www.al-monitor.com/originals/2023/07/uae-rice-ban-after-major-exporter-india-spikes-global-supply-fears
Published Date: August 1, 2023
More News