Tina leads rice rescue operations into Takeo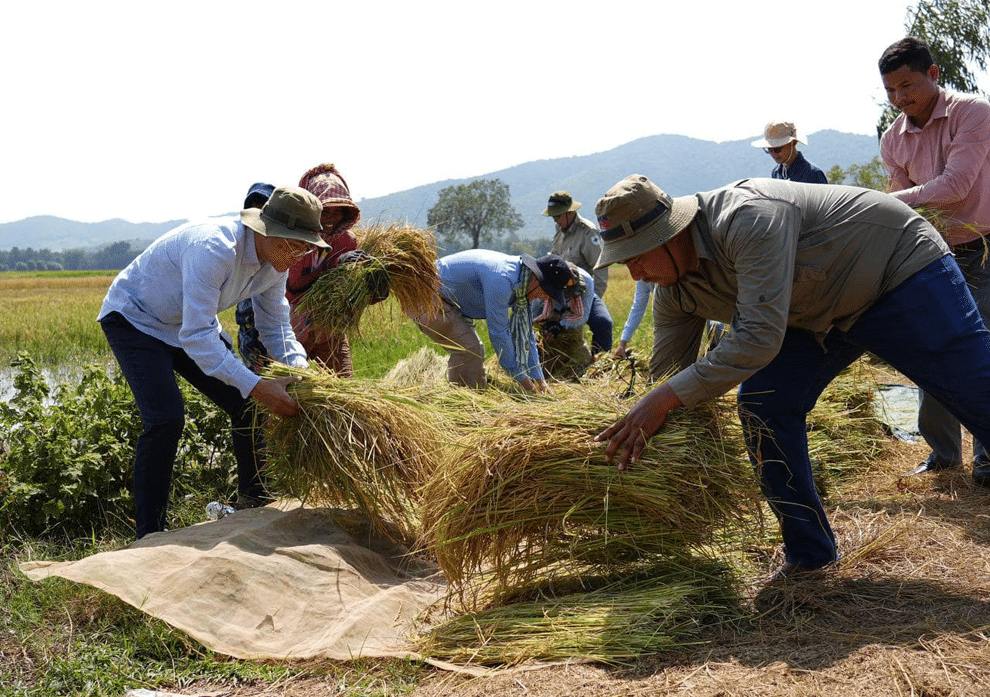 Agriculture ministry officials and local authorities help farmers harvest their rice in Takeo province on November 12. MAFF
Initial estimates are that the operation will take at least ten days. Tina met with officials from the ministry, as well as local authorities, military and law enforcement personnel, in the province's Kiri Vong district on November 12, to support local residents with their rice harvest.
"We will collaborate with the Ministry of Water Resources to drain floodwaters, so rice harvesting machinery can enter the affected area. More than 2,000ha of rice is due to be harvested. Our forces will continue to assist the farmers, for as long as it takes," he said.
He explained that because of heavy rains, the rice binders are unable to enter the rice fields. The agriculture ministry, in collaboration with the pertinent authorities, had made the decision to act quickly and ensure the rice would not be spoiled.
"We are focused on supporting farmers through any challenges they face, whether due to climate change, market risks, a capital crisis or a lack of technique. We aim to ensure that all farmers and their communities will benefit from our policies, and that their livelihoods are improved," he said.
Tina added that on November 20, Prime Minister Hun Manet is due to introduce a new policy which will focus on shoring up the agricultural sector. The move aims to maintain price stability through price chain concessions and the deployment of agricultural officials to communes throughout the Kingdom.
Takeo provincial governor Ouch Phea joined the minister on his November 12 inspection. In Kiri Vong district's Kok Prech and Ang Prasat communes alone, nearly 400 ha of rice paddies had been inundated by heavy rains, he added.
Phea said on November 13 that in addition to his field visit, Tina had instructed local authorities, especially the military and law enforcement, to stand ready to assist the farmers with their harvest as soon as it is viable, in order to ensure that their rice is not spoiled.
"The provincial authorities have set a 10-day deadline to harvest the rice paddies. We have alerted many rice mills, so they are standing by and will be available to dry and mill the harvested rice as quickly as possible. We have already helped many farmers to gather their harvests," he added.
The National Committee for Disaster Management (NCDM) reported that so far this year, 12 provinces have been affected by floods. The affected area includes 63 towns and 253 communes in Banteay Meanchey, Kampong Thom, Siem Reap, Preah Vihear, Pursat, Battambang, Kratie, Kampong Cham, Tbong Khmum, Pailin, Kandal and Kampong Speu provinces.
Nearly 60,000 families were affected, with 2,250 of them – or 9,000 people –requiring evacuation.
More than 30,000 houses were damaged, along with over 150 schools and 39 pagodas and almost 550km of roads.
The NCDM has distributed 454 tonnes of rice seed to the impacted areas.
https://www.phnompenhpost.com/national/tina-leads-rice-rescue-operations-into-takeo
Published Date: November 14, 2023
More News