Thai, Vietnamese prices hit over decade highs on India curbs rice export
India parboiled rice rates jump to 5-1/2 year-high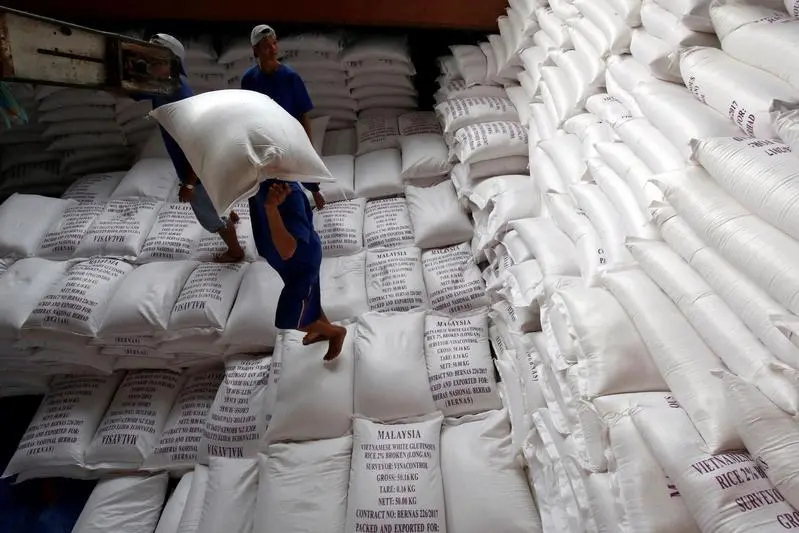 Men load rice bags to a ship for export at a rice processing factory in Vietnam's southern Mekong delta, Vietnam July 6, 2017. REUTERS/Kham – RC1707079DE0
Prices of rice exported from Vietnam and Thailand soared to their highest in more than a decade this week, as India's export curbs sparked worries about supply of the staple.
India, which accounts for 40% of world rice exports, ordered a halt to its largest export category last week to calm domestic prices, which climbed to multi-year highs in recent weeks as erratic weather threatened production.
Vietnam's 5% broken rice prices rose to $550-$575 per metric ton – their highest since 2011, from a range of $515-$525 a week ago.
"Exporters are anticipating prices to increase further after India's move to curb its exports, and therefore it is risky for them to sign new export contracts now," a Ho Chi Minh City-based trader said.
Thailand's 5% broken rice prices surged to an 11-year peak at $605-$610 per metric ton versus last week's price of $545.
"Exporters were shocked over the ban pushing prices up and also, there hasn't been additional supply," said a Bangkok-based trader.
The ban on exports of non-basmati white rice pushed prices for India's parboiled variety to their highest in 5-1/2 years, at $445-$450 per metric ton versus $421-$428 last week, even as demand was subdued.
India imposed the ban after retail rice prices climbed 3% in a month after late but heavy monsoon rains caused significant damage to crops.
"Demand is dull due to duty uncertainty following the ban on white rice exports. Exporters are cautious and not selling," said Himanshu Agarwal, executive director at Satyam Balajee, an exporter.
Neighbouring Bangladesh, which was also struggling to cool domestic prices of the staple in domestic markets, was not planning to import the grain because of good yield and reserves, a senior official at the Food Ministry said. (Reporting by Rajendra Jadhav in Mumbai, Khanh Vu in Hanoi, Chayut Setboonsarng in Bangkok, and Ruma Paul in Dhaka; additional reporting by Brijesh Patel; Editing by Varun H K)
https://www.zawya.com/en/world/indian-sub-continent/thai-vietnamese-prices-hit-over-decade-highs-on-india-curbs-rice-export-mmwaofga
Published Date: July 28, 2023
More News