Surging Rice Prices Batter Bonds in Major Importer Philippines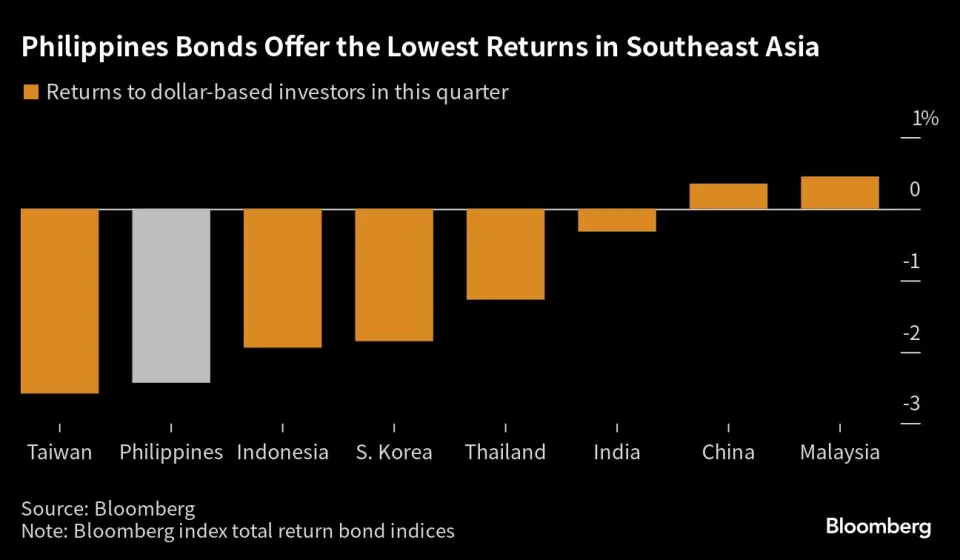 Surging Rice Prices Batter Bonds in Major Importer Philippines
(Bloomberg) — The highest rice prices in 15 years are threatening to worsen inflation in the Philippines and pummel the nation's local bonds that are already underperforming regional peers this quarter.
Investors have withdrawn $13 million from Philippine bond exchange-traded funds in the four weeks ended Sept. 8, after an inflow of nearly $9 million in the preceding one-month period. That's after inflation in August surged as India's rice export curbs pushed up purchase costs for the Philippines, which is one of the world's top buyers of the staple grain.
A Bloomberg index of Philippine bonds handed dollar-based investors a loss of 2.3% this quarter, the worst returns in Southeast Asia. The bonds are being weighed as rice inflation in the nation increased at the fastest pace in almost five years in August. The Asian rice benchmark remains near the highest level since 2008, which increases the risk that Bangko Sentral ng Pilipinas may resume policy tightening after keeping rates on hold since March.
"Higher local rice prices, as well as higher global oil prices and storm damage on agriculture would be major variables on the inflation trend for the coming months," said Michael Ricafort, chief economist at Rizal Commercial Banking Corp., adding that "local currency bond markets will be honing in on local policy and Federal Reserve rate trajectory."
The Philippine Stock Exchange Index has slid by 4.3% in the three months to September, and losses are seen extending amid concerns over a hawkish central bank. The Philippine peso is already the worst performing currency in Asia this quarter with a loss of more than 2.6% versus the greenback.
BSP said last week it's prepared to resume monetary policy tightening, if needed, to combat inflation. The central bank's next rate decision is due Sept. 21. Bloomberg Economics sees room for a BSP rate hike at that meeting, economist Tamara Henderson wrote in a Sept. 5 note. However, the BSP governor cautioned on Thursday that rates may be held steady next week if there are no further supply shocks.
While other emerging Asia central banks are not expected to recalibrate their policy stance in the face of high food prices, "one central bank that warrants monitoring is the BSP which has repeatedly stressed that they are ready to act, if the need arises," said Sanjay Mathur, an economist with Australia & New Zealand Banking Group Ltd.
Philippines is the most vulnerable to rising rice prices within Southeast Asia as the commodity makes up 8.9% of the nation's CPI basket, according to an Oversea-Chinese Banking Corp. note last week.
–With assistance from Karl Lester M. Yap.
(Updates prices in 5th paragraph and BSP governor comments in 6th paragraph.)
Most Read from Bloomberg Businessweek
https://finance.yahoo.com/news/surging-rice-prices-batter-bonds-000105277.html
Published Date: September 14, 2023
More News