Strategy on rice export market development until 2030 approved
Deputy Prime Minister Le Minh Khai has signed a decision approving the Strategy on Development of Viet Nam's Rice Export Markets until 2030.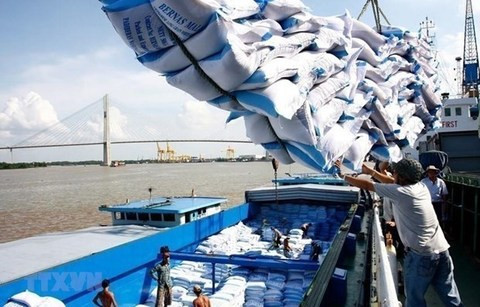 Rice loaded for export. Viet Nam eyes the export of high-quality rice and rice-based products. — VNA/VNS Photo
Under the strategy, Viet Nam will consolidate traditional and key export markets and develop new and potential ones, and those with which it has signed free trade agreements (FTAs). The country also targets increasing the market share of Vietnamese rice in markets, especially in developed countries.
Viet Nam will also associate the export markets with domestic production according to value chains, ensure the quality and safety of exported rice, increasing the presence of Vietnamese rice and products processed from rice in direct distribution channels in markets.
The country also eyes the export of high-quality rice and rice-based products, increase their values, ensure sustainable exports, and affirm the prestige and brand of Vietnamese rice.
Specific goals are increasing added value, improving the value of exported rice, and reducing export volume by 2030 to about 4 million tonnes with a turnover of about US$2.62 billion. The average export growth rate will decrease by about 2.4 per cent in 2023-25 and 3.6 per cent in 2026-30.
Between 2023 and 2025, the proportion of low- and medium-grade white rice will not exceed 15 per cent; high-grade white rice will account for about 20 per cent; fragrant rice, japonica rice and specialty rice 40 per cent; sticky rice 20 per cent; rice products with high added value such as nutritious rice, parboiled rice, organic rice, rice flour, rice-processed products, rice bran and some other rice by-products 5 per cent; and rice with brand names 20 per cent.
The respective figures for 2026-30 are 10, 15, 45, 20, 10 and 40 per cent.
About 25 per cent of exported rice is expected to bear the brand name of Vietnam rice by 2030.
By 2025, the Asian market will account for about 60 per cent of the country's total rice export turnover, Africa 22 per cent, the Middle East 4 per cent, Europe 3 per cent, America per cent, and the Oceania 4 per cent.
The respective figures for 2030 are 55, 23, 5, 5, 8, and 4 per cent. — VNS
https://vietnamnet.vn/en/strategy-on-rice-export-market-development-until-2030-approved-2148307.html
Published Date: May 29, 2023
More News