Rice, vegetable prices up amid rains, floods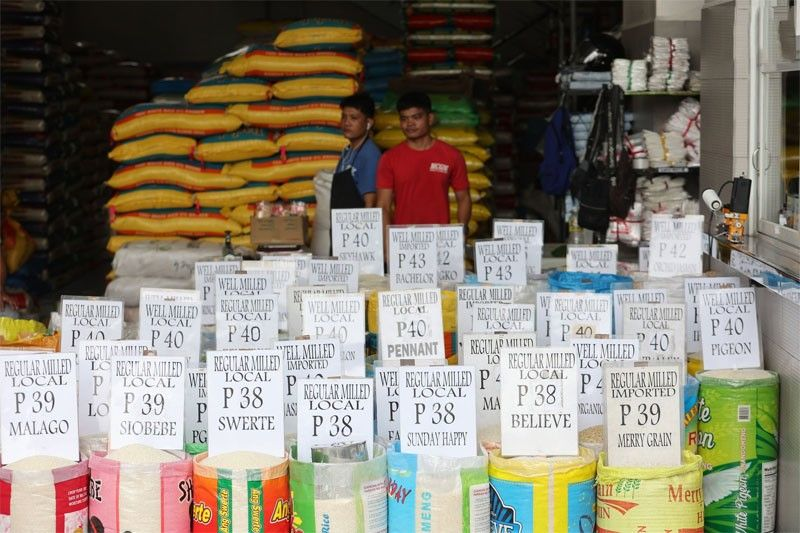 MANILA, Philippines — A spike in prices of rice and vegetables following typhoons and the southwest monsoon has pushed the Department of Trade and Industry (DTI) to implement a price freeze in certain areas of Luzon hit by calamity.
Local rice prices, however, are expected to rise in the next few days as the supply of local palay continues to decrease.
Bulacan traders at the Intercity Industrial Estate and Golden City Business Park yesterday said that current palay prices are P28-P29 per kilo, compared to P20 per kilo in March.
The wholesale price of vegetables in the Nueva Vizcaya trading post has already doubled, particularly for tomatoes, carrots, potatoes and cabbage, Agricultural Terminal general manager Gilbert Cumila said in a radio interview.
Price freeze on basic necessities is being implemented in more areas in the Central Luzon region which declared a state of calamity due to Typhoon Egay, Typhoon Falcon and the enhanced southwest monsoon, according to the DTI.
Mountain Province, Ilocos Norte, Ilocos Sur, Cavite, Dagupan City in Pangasinan, Sanchez Mira in Cagayan and Sablayan in Occidental Mindoro have earlier implemented a price freeze.
Pampanga, Bulacan, Bataan, Zaragosa in Nueva Ecija and Camiling and Paniqui in Tarlac have also implemented a 60-day price freeze after declaring a state of calamity.
Jun Cid, a palay classifier, told The STAR that unhusked rice is priced at P28-P29 per kilo due to the diminishing arrival of palay stocks from the rice crop-producing provinces in Luzon.
Tony Santos, a rice trader, said that palay prices might go beyond the P30 range in the next days.
Roderico Sulit, another rice trader, said he did not expect sugar prices to rise.
The retail price of commercial rice might rise to P55 per kilo, according to Federation of Free Farmers national manager Raul Montemayor.
Montemayor noted that prices might continue to rise in September as traders and millers fight over limited stocks while the price of imported products increases and supplies dwindle.
"The spike in the retail prices of rice will go on since (President Marcos), despite being the secretary of the Department of Agriculture (DA), did not act to control the prices (of rice)," Bantay Bigas spokesperson Cathy Estavillo said in a text message to The STAR.
For her part, Agriculture Undersecretary for Policy, Planning, and Regulations Mercedita Sombilla gave assurance that the country still has 39 days of rice stocks despite the agriculture damage caused by the typhoons.
Based on monitoring of the DA on Wednesday, the retail price of local regular milled rice reached as high as P44 per kilo; local well-milled rice at P49 per kilo; local premium rice at P55 per kilo and local special rice at P62 per kilo.?Imported well-milled rice reached as high as P48 per kilo; imported premium rice at P52 per kilo and imported special rice at P58 per kilo.
Based on monitoring of the DA in Metro Manila markets, the retail prices of carrots and Baguio beans reached as high as P200 per kilo; pechay tagalog and potatoes at P180 per kilo; ampalaya at P170 per kilo; tomatoes and cabbage at P160 per kilo; eggplant, pechay Baguio and ginger at P150 per kilo; squash at P60 per kilo; chayote at P75 per kilo and chili at P300 per kilo.
At least P235.6 million worth of high-value crops covering 1,874 hectares were damaged due to the flooding brought by the typhoons and southwest monsoon.
"We are currently in close coordination with our Regional and Provincial Offices within the affected areas to monitor the situation of our kababayans and to ensure the stability of prices and availability of supply of products under our jurisdiction," Trade Secretary Alfredo Pascual said earlier.
"We also activated our monitoring teams to check if establishments are complying with the price freeze. The DTI will take immediate action against those who will be caught doing unfair and unjust sales practices," he added.
Republic Act No. 7581 or the Price Act penalizes businesses that will violate the price freeze.
Areas that declare a state of calamity will automatically freeze the price of basic necessities at their prevailing prices for 60 days.
Pascual urged consumers to avoid panic buying and report to the DTI issues related to overpricing, hoarding and other unfair and unjust sales practices.
Minimal impact
The recent typhoons that hit the country will have minimal impact on inflation and the national economy, according to the National Economic and Development Authority (NEDA).
"I think the damage is not that substantial. And so, I do think that the impact on the overall national economy is not serious at this point," NEDA Secretary Arsenio Balisacan said in an interview with ANC yesterday.
While the data on the impact of the typhoon is still incomplete as the southwest monsoon continues to bring significant rainfall, Balisacan hopes the effect on the agriculture sector would not be as bad as in previous episodes of monsoon rains.
"So far, in the case of basic commodities like rice, we have adequate stocks. I think that a lot of the imports came in the first half of the year and that I think allows us to have that buffer," he said.
Meanwhile, headline inflation eased for the fifth straight month to 5.4 percent in June from 6.1 percent in May, primarily due to the slower increases in food prices.
This brought the average inflation rate to 7.2 percent in the January to June period.
Balisacan noted the government is still expecting to hit the six to seven percent economic growth target for this year.
The Philippine Statistics Authority is scheduled to release second-quarter gross domestic product data on Aug. 10. — Bella Cariaso, Louella Desiderio
https://www.philstar.com/headlines/2023/08/03/2285839/rice-vegetable-prices-amid-rains-floods
Published Date: August 3, 2023
More News