Rice prices soar, fanning fears of food inflation spike in Asia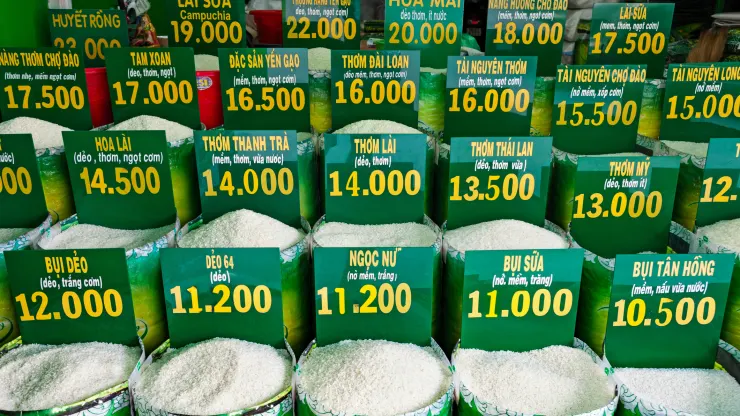 An undated stock photo of a market stall with piles of many varieties of Vietnamese rice in Ho Chi Minh city grocery. Vietnam is one of the largest exporters of quality rice, Asia's most important staple food.
A perfect storm may be brewing in Asia.
Rice prices surged to their highest in almost 12 years, after India's rice export ban and adverse weather conditions dented production and supplies of Asia's primary staple food, according to the UN's food agency.
"The price of global rice prices is particularly worrying," Qingfeng Zhang, a senior director from the Asian Development Bank, told CNBC. "What seems to be clear is that food price volatility will continue in coming months."
Other than India, food inflation has been relatively tame in Asia so far this year.
But a confluence of factors is stoking fears that shortage of rice supplies could mark a return to a broad increase in the prices of other food commodities in Asia.
Among them: extreme climate from global warming, along with the onset of El Niño for the first time in seven years, Russia's withdrawal from the Black Sea grain initiative and protectionist food policies in the form of trade restrictions.
El Niño is a weather phenomenon triggered by warming of water temperatures in the eastern and central equatorial Pacific Ocean, which brings wild weather conditions that have wreaked havoc globally.
At the height of the 2010-2012 food price crisis, the Asian Development Bank estimated that a 30% hike in international food prices in 2011 translated to a 10% rice in food prices for developing Asia, and stripped 0.6 percentage points off gross domestic product growth for some food-importing countries in the region.
Underscoring how higher food prices erode purchasing power, ADB suggested at that time that a 10% rise in domestic food prices in developing Asia would push 64.4 million into poverty, based on the $1.25-a-day poverty line. It would have meant increasing the poverty rate from 27% to 29% during that time.
Rice stockpiles
To be sure, most Asian countries will be able to withstand a supply shock in rice alone.
"Prices have definitely spiked, and that's contributing to alarm and also, anecdotal stories of people panic stocking," said Erica Tay, an economist with Maybank covering Thailand and China. "But if you look at the overall supply and demand numbers, Asian countries are in a very position to ride out this price and supply shock in the rice market."
Nations are realizing that whether it's trade shocks or agricultural supply shocks, they need to be prepared to ride out these disruptions.

Erica Tay

She pointed to the fact that a few countries in the region — such as Thailand, Vietnam, Myanmar and Cambodia — are net exporters. China, the biggest rice market in the world, imports only 1% of its rice needs from largely Vietnam and Myanmar, so it is "very minimally hit" by any supply shortage from India, Tay added.
Moreover, this spike in rice prices is happening amidst widespread lower food prices. Food prices on the whole, according to the United Nations' FAO food price index, have come down about 23% from a peak last March, according to Tay.
Rice supplies in China were under threat after flood alert levels were raised for three provinces, which typically account for nearly a quarter of the country's rice output. However, Tay pointed to the country's rice stockpile, which minimally stands at eight months of its annual needs.
"This is one of the legacies of Covid," Tay said. "Nations are realizing that whether it's trade shocks or agricultural supply shocks, they need to be prepared to ride out these disruptions. They have actually learned from the last three years to pile up formidable stockpiles."
China has also been doubling down on food security. President Xi Jinping sees the need to import food as a source of national security risk.
"But I think further out, we are on the lookout for El Niño weather patterns," Tay said. "And when that happens, as predicted in the second half of this year, there might be some more widespread disruptions to agricultural supplies."
The main concern, Tay said, is that not only are rice supplies hit, but overall farm output may also be adversely affected. "That might lead to a more upside risk to consumer price inflation," she added.
Most vulnerable people
In a note dated Aug. 3, Morgan Stanley said elevated global food stocks, particularly in Asia, help insulate production volatility and minimize the economic impact from a consumer standpoint.
Consequently, the U.S.-based investment bank expects volatility around El Niño to first manifest through inflation, and then through net trade balances.
This is particularly because food accounts for a large share — about 30% to 40% — of the consumer price index basket for most of emerging Asia.
Excluding Australia, India and Thailand, most countries in Asia-Pacific are net food importers. Singapore and Hong Kong depend on imports for 100% of their rice consumption needs.
Over the long term, I think we need to accept that climate-related disruptions will be more and more frequent.

Erica Tay

ECONOMIST, MAYBANK
Nomura said this renders Asia-Pacific economies "highly exposed" to a global rise in food prices — though its impact may not fully materialize in inflation figures until months later.
The delay is likely as a result of government measures, such as price controls and subsidies, that will be employed to soften the impact of rising food prices in domestic markets. But this will likely also exacerbate global food price pressures.
"The lags differ across countries but, on average, we find a six-month lag between global food price inflation and CPI food inflation in Asia," Nomura's economists Sonal Varma and Si Ying Toh wrote in a note dated Aug. 11. They predict that these lags could range from three months in Indonesia to nine months for South Korea.
This means any spikes in food prices will only translate to food inflation toward the end of this year or early 2024.
Nomura identified the Philippines as the country "most vulnerable" to a surge in food prices, due to the high share of food in its consumer price inflation basket at 34.8% — rice alone accounts for 8.9% of its basket.
Low-income households will be undoubtedly the ones hardest hit, whether or not they are in developed or developing countries, said Paul Hughes, S&P Global's chief agricultural economist and director of research.
"These households tend to spend a larger percentage of their income on food. When prices go up, they have no choice but to cut back on spending elsewhere if possible," Hughes said in an email.
Most vulnerable crops
Market watchers are keeping their eyes peeled on some food categories.
The dry conditions that El Niño is expected to bring to much of Asia later this year will impact rice crops. Already, Thailand — the world's second largest exporter of rice — is encouraging its farmers to plant less of the crop in a bid to save water.
The same dry conditions would also affect the production of palm oil in Malaysia and Indonesia — a key ingredient for cooking oil — as well as Australian wheat and barley, according to S&P Global's Hughes.
The "dynamic relationship" between wheat and rice prices also underscores the need to watch wheat prices closely, said ADB's Zhang. He also identified corn and fertilizer prices.
"Rising wheat prices in countries [like Pakistan and Uzbekistan] encourage consumers to shift to rice, putting upward pressure on domestic rice prices," he said.
Underscoring the impact of adverse weather on vegetable prices, India is facing a tomato crisis as prices have skyrocketed more than 300% after flooding in major tomato producing states like Andhra Pradesh, Maharashtra, Karnataka.
"Over the long term, I think we need to accept that climate related disruptions will be more and more frequent," said Maybank's Tay.
"And actually, scientists have been rolling out more climate resilient rice varieties, and also, trying to encourage farmers to adopt more climate resilient farming methods," she added.
"So I think as adoption takes off, this should return some semblance of predictability to agricultural supplies as well as to farmers livelihoods."
https://www.cnbc.com/2023/08/22/asia-food-inflation-fears-rise-as-rice-prices-surge.html
Published Date: August 22, 2023
More News