Rice price defies global downturn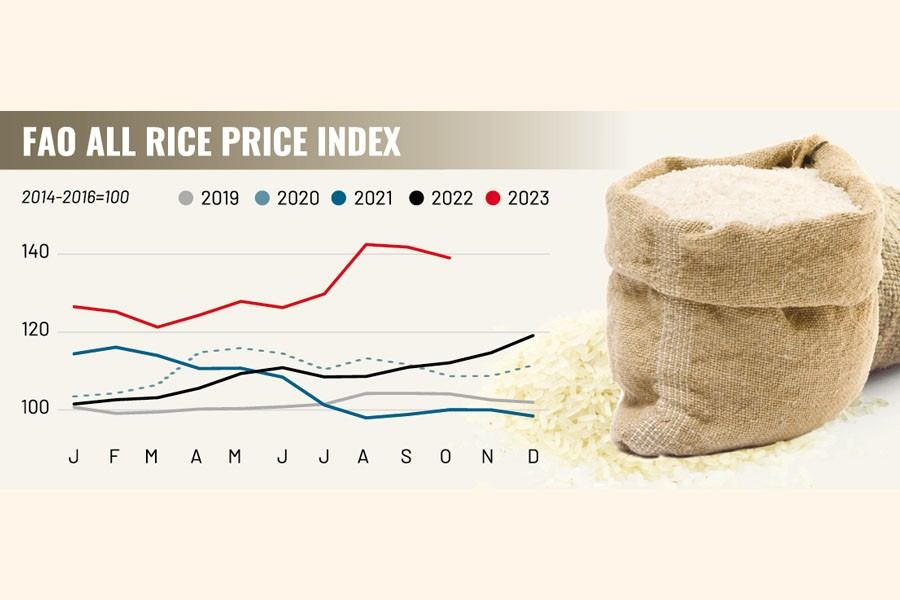 Poorer sections of people get less on their platters as rice price in Bangladesh defies global downturn in October upswing, disproportionately to FAO indices, market surveys show.
Prices of the staple started increasing last month in veritable defiance of the global trend which showed a decline in October, sources said, adding to consumer hardship already created by general price rises.
The FAO All Rice Price Index averaged 138.9 points in October 2023, down 2.0 per cent from its September level, though 24.0 per cent above its year-earlier value.
Export quotations declined in all the major market segments in October, says the latest monthly report of the UN Food and Agriculture Organisation (FAO).
In Asian markets of Indica rice, the index climbed downward to 149.2 in October from 151.8 in September.
Substantial October deals were largely confined to continued purchases by Indonesia's Bulog and India's approval for a 1.0-million- tonne export quota to seven nations, as an exception to its ban on Indica white rice exports.
However, as buyers otherwise continued to refrain from making substantial purchases, export quotations fell across much of Asia.
In Thailand, the sustained weakness of the baht against the US dollar added to the weak offshore demand, as did new crop arrivals in Pakistan, where they helped defy the upward influence of a rebound in the value of the Rupee on prices.
Importable rice price in India was US $421 to $ 440 while in Pakistan, Thailand and Vietnam it was $456 to $ 547 a tonne.
However, the condition of global market was defied by Bangladesh market in October as, after remaining stable for the last five months, the price of coarse and medium varieties of rice increased, adding to low-income people's woes further.
Prices of the coarse varieties increased to Tk54-56 per kilogram and medium varieties to Tk62-65 a kg, marking a rise by Tk 3.0-5.0 a kg in October from September rates.
According to groceries, rice price increased by 6.0-10 per cent in October though the Trading Corporation of Bangladesh (TCB) says it was 2.0-2.5 per cent.
Farid Uddin, manager of Bismillah Store at West Dhanmondi, said prices of medium-variety BRRI dhan-28 rice increased by Tk130-140 a 50 kg sack.
Coarse hybrid and guti swarna rice prices also increased by Tk 150-180 a sack. "Groceries were selling BRRI dhan-28 rice at Tk 62-65 a kg, up from Tk 58-60 earlier," he said.
However, prices of the finer rice remained static at their previous highs, said grocers.
Finer-varieties of rice like miniket, najirshail and shampa katari were selling at the rate of Tk72-85 a kg in the groceries.
Leading companies were selling those varieties in packet at Tk 78-95 a kg.
Directorate-General of Food (DGoF) Md Shakhawat Hossain says they had purchased above 1.57 million tonnes of rice in Boro season, almost near their target.
The public warehouses have a handsome 1.47 million tonnes of rice and 0.15 million tonnes of wheat now that indicates a "safer stock".
"We have already offered a competitive price for Aman crop which would help achieve the procurement target of 0.7 million tonnes of rice and paddy," he told the FE writer.
Offer for paddy is Tk 30 a kg and for rice it is Tk 44 a kg.
Consumers Association of Bangladesh (CAB) vice-president SM Nazer Hossain says the prices of rice is showing a hike at a time when the costs for almost all types of vegetables, fish, meat, eggs, onions, potatoes are going through record highs.
"The government has totally failed to make the prices of most of essential commodities rational," says the rights campaigner.
He notes that millions of people would cut in their food intake further due to such skyrocketing hike in the prices of essentials when their income would show hardly any rise.
He has urged the government to expand its market operation of subsidised rice sale.
Mr Hossain also recommends initiating timely import policy to tackle any volatility on the staple market.
Food ministry's data show both the government and private sector have yet to import any rice so far in the first four months of the current financial year (FY'24).
In FY'23, a total of 1.05 million tonnes of rice were imported.
However, the government has fixed a target to get above 15 million tonnes of rice from the Aman harvest that started at few places in the country.
https://thefinancialexpress.com.bd/trade/akhtaruzzaman-chowdhury-babu-a-very-far-sighted-and-prudent-politician
Published Date: November 4, 2023
More News