Rice market in turmoil as India curtails exports
Rice prices have soared to the highest in a decade as India limits exports and erratic weather wreaks havoc on Asian rice fields. This is likely to worsen food insecurity in many countries that rely on rice as a staple.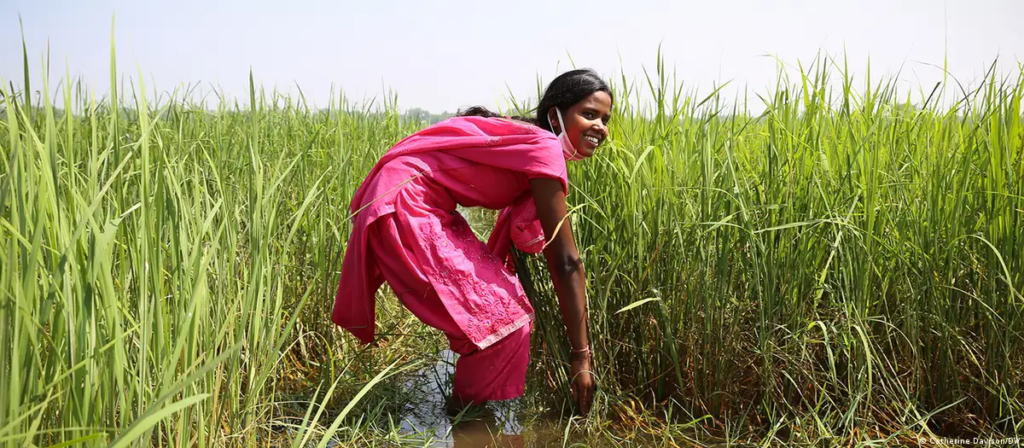 In July, India imposed an export ban on its non-Basmati rice, the varieties widely consumed in poorer nations
Rice prices have seen a sharp surge in recent months as major producers curtail their trade and supplies. This could impact millions of consumers around the world, with Asian and African countries expected to bear the brunt.
Thailand, the world's second-largest rice exporter, is urging its farmers to reduce rice cultivation as part of an effort to conserve water.
"The cumulative rainfall is approximately 40% below normal levels, posing a high risk of water shortage," said Surasri Kidtimonton, secretary-general of the ONWR, in a statement released by Thailand's National Water Administration on July 31. Kidtimonton encouraged farmers to consider planting crops that require less water and have faster harvesting cycles.
The world's top exporter of rice, India, imposed an export ban on non-Basmati white rice last month, with the government saying its aim was to help lower rice prices at home and secure domestic availability. 
Rice market faces uncertainty
The United Arab Emirates, a major importer and re-exporter of Indian rice, followed suit, restricting sales of its rice supplies to other countries.
Thai and Vietnamese exporters reacted by pushing to renegotiate the prices on sales contracts for around half a million tons for August shipments, Reuters news agency reported on August 1.
The recent developments come as the global food markets are grappling with the repercussions of Russia's withdrawal from the Black Sea grain deal, which terminated an agreement allowing safe export of Ukrainian grain via the Black Sea amid Moscow's invasion of its neighbor. Russia has also ramped up its military attacks on Ukraine's port and grain facilities.
This has fueled concerns that disruptions in the global rice trade could worsen the already endangered food security situation in many countries.
Why are rice prices increasing?
Rice prices have surged to their highest levels in a decade, marking a 14% increase since last June. The situation is primarily caused by warmer, drier weather and erratic rainfall damaging rice production throughout Asia. In the past months, torrential rains and floods in northern India, for example, have damaged many rice fields.
Additionally,rising fertilizer and fuel prices have contributed to increased production costs.
The ongoing war in Ukraine and the termination of the grain deal have also constrained the global supply of wheat and corn, raising the demand for rice as an alternative staple.

Adding to concerns is the return of El Nino, which could negatively impact the harvest and lead to further rises in grain prices in the future. Rice, being a water-intensive crop, is particularly vulnerable during El Nino conditions, which typically bring reduced rainfall to key rice production areas in Asia.
The ban will primarily affect poorer buyers
Rice is one of the world's primary staple food items, feeding about half of the world's population. Around 500 million metric tons (551 million US tons) of rice are produced every year. In many countries, it serves as the main source of caloric intake.
Last year, India exported about 22 million tons of rice to 140 countries, comprising roughly 40% of the global cereal trade. Thailand accounted for approximately 15% of the global market demand, while Vietnam contributed 14%.

According to data released by the Indian government, nearly 80% of the country's rice exports consisted of non-Basmati varieties, which are more affordable and in high demand in economically challenged nations such as Bangladesh, Nepal, Senegal, Benin and other parts of sub-Saharan Africa. India's export prohibition on non-Basmati rice is likely to exacerbate food insecurity for many of these countries, as they heavily rely on the country as their primary rice supplier.
There have been no changes in India's export policy for parboiled rice and Basmati rice, which are shipped to countries such as China, the United States and Saudi Arabia.
On August 3, two Indian government sources told the Reuters news agency that India's rice stocks had reached nearly three times the targeted amount at the beginning of August, dispelling fears of a potential supply shortage and raising hopes that the authorities might consider lifting the ban.
However, the potential impact on global prices remains unclear, as the Southeast Asian nation has been grappling with high inflation rates on food items, and the government is facing pressure to control these prices.
Edited by: Timothy Jones
https://www.dw.com/en/rice-market-in-turmoil-as-india-curtails-exports/a-66444438
Published Date: August 6, 2023
More News