Rice importation steady – Philippines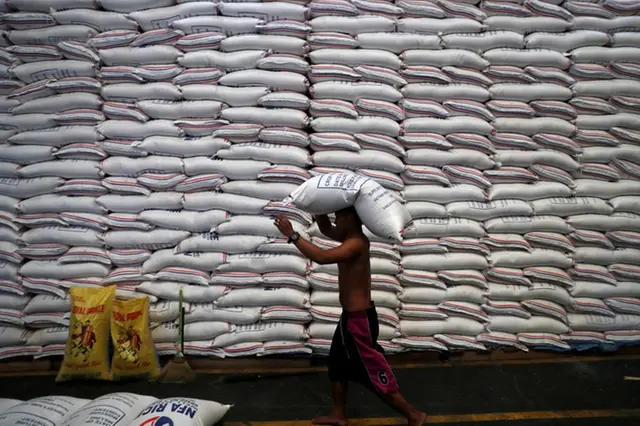 FILE PHOTO: A worker carries on his head a sack of rice inside a government rice warehouse National Food Authority in Quezon city, Metro Manila in Philippines, August 9, 2018. Picture taken August 9, 2018. REUTERS/Erik De Castro/File Photo
The importation of the country's main staple is steady even amid global supply problems
The importation of the country's main staple is steady even amid global supply problems and the threats of El Nino, according to the Bureau of Customs.
BOC assistant commissioner and spokesperson Vincent Philip Maronilla said the country's second largest revenue collecting agency is recording the same volume of rice imports.
This came even amid the challenges in the global supply following export bans on some countries, as well as the projected lower volume due to the looming El Niño in many rice-producing countries including the Philippines.
Global prices were also on an uptrend in the past months due to supply constraints stemming from various policy actions of rice-producing countries.
'We were tapped by [President Marcos] to look into certain warehouses where rice is supposedly stored and look into the issues on smuggling and hoarding, if there are some that we might see,' Maronilla said.
'And by the looks of it, there are supplies, and importations are steady,' he said.
Maronilla said this is also evident in the tariff collections from rice imports.
'I think we are close to about P20 billion,' he said.
The collection is above the mandated annual appropriation of P10 billion to fund programs for farm mechanization, seed development, propagation and promotion, credit assistance and extension services.
Any excess in tariff revenues due to the Rice Tariffication Law (RTL) are allocated for financial assistance to rice farmers, titling of agricultural rice lands, expanded crop insurance program and crop diversification program.
'Ever since the law began, we have met P10 billion. It's just a matter of how much surplus (we will have),' Maronilla said.
'We have been averaging about P13 billion to P15 billion. I think we will reach a new high this year,' he said.
The RTL, which opened the floodgates for cheap rice imports, affected local producers as the Duterte administration scrambled to manage the country's headline inflation.
Further, the RCEF is on top of the regular programs of the Department of Agriculture and other government agencies for the rice industry.
https://www.zawya.com/en/world/china-and-asia-pacific/rice-importation-steady-philippines-e82r9qrs
Published Date: November 3, 2023
More News