Rice hub struggles to boost production
No new variety developed despite ample resources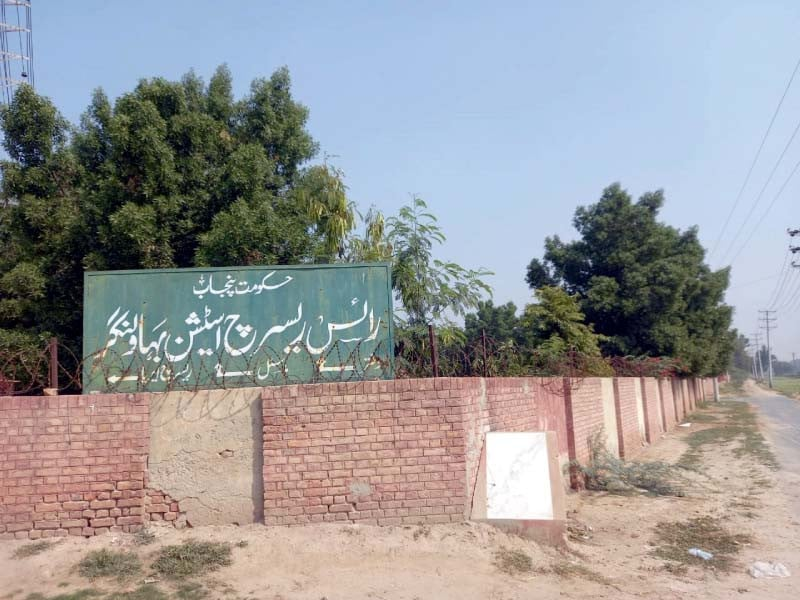 A rice research station in Bahawalnagar stands despondent as no new breakthroughs have been made. Photo: Express
BAHAWALNAGAR:
The Bahawalnagar Rice Research Station stands as an imposing structure, equipped with ample resources, yet it has failed to introduce any new rice varieties despite being located in a region known for rice production.
The research station, inaugurated in 2012 at a cost of Rs148 million, was established to develop extra-long grain rice varieties for South Punjab and provide high-quality rice seeds.
It was meant to encourage modern production techniques, host seminars, and provide training to benefit farmers and the local rice industry.
Despite its substantial investment and comprehensive infrastructure, the research station has not introduced a single new rice variety since its establishment.
Twelve years have passed, but the main objective of bringing innovation and modern technology to Pakistan's rice industry remains unmet.
Dr Ijaz, a scientist at the research station, said the institution was currently working on two national-level seed varieties, which are expected to be available in the market in 2 to 3 years.
Despite the lack of progress, the team has introduced six varieties in collaboration with the Kalashah Kaku Research Centre since 2019. However, severe staff shortages and inadequate facilities, including a malfunctioning vehicle, have hindered their efforts to increase rice quality and production.
Paddy farmer Sajjad expressed the frustration shared by many local farmers, stating that they have never received quality seeds or guidance. When farmers begin cultivation, they must purchase fertilisers, seeds, and chemicals at double the market rate, with the hope of obtaining a good return on their crops.
"Unfortunately, the market rates do not cover the production costs, leaving farmers financially strained," he remarked.
The owner of a local rice factory explained that Bahawalnagar houses around 200 rice factories, and its parboiled rice enjoys international recognition.
The region produces a significant portion of Pakistan's parboiled rice, amounting to 60% of the national total.
However, local administration has provided limited assistance, mainly adding to the problems faced by rice farmers and the industry.
The once-promising Rice Research Station, meant to lead the way in rice innovation, remains an unfulfilled promise.
https://tribune.com.pk/story/2444052/rice-hub-struggles-to-boost-production
Published Date: November 1, 2023
More News