Rice Edges Lower as Key Asian Buyers Seek to Build Stockpiles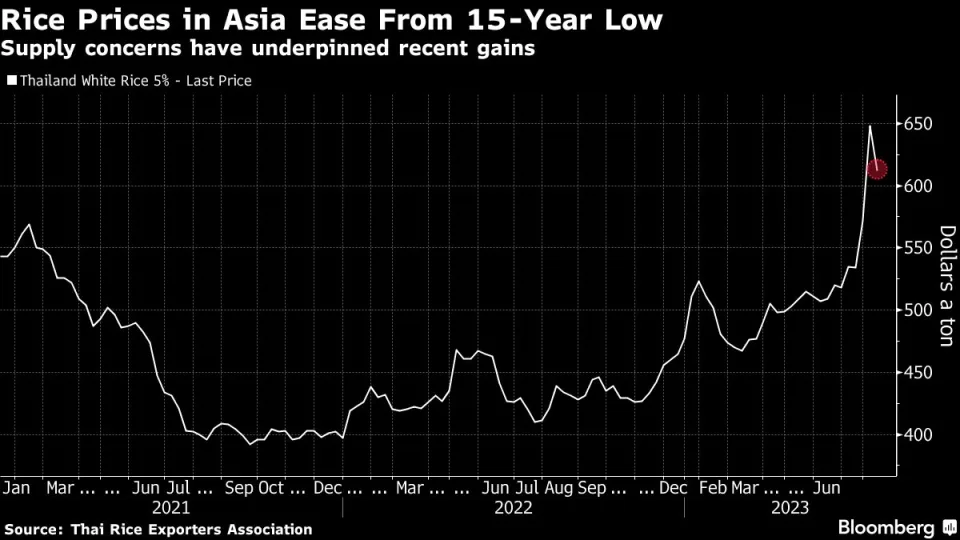 Rice Edges Lower as Key Asian Buyers Seek to Build Stockpiles
(Bloomberg) — Rice prices in Asia edged lower after rallying to the highest level in almost 15 years last week as major buyers seek to build domestic stockpiles amid persistent concerns over global supplies.
Thai white rice 5% broken — an Asian benchmark — slipped to $612 a ton on Wednesday, according to data from the Thai Rice Exporters Association. Prices are still up 20% this year after surging to the highest since 2008 last week.
The Philippines, the second-biggest rice importer, is in talks to ship the grain from Vietnam and India to boost its buffers and lower prices, while Indonesia is speeding up inbound shipments to build stockpiles. Rice is vital to the diets of nearly half of the world's population, particularly in Asia and Africa.
Read More: Myanmar Eyes Surge In Rice Exports After India Curbs Supply
Supply concerns escalated after India banned some exports and Thailand urged farmers to switch to crops that require less water as the nation grapples with drier conditions. The countries are the world's two biggest shippers of the grain. The onset of El Niño also threatens global output.
Vietnam's rice exports to Indonesia have surged around 1,500% over the first seven months of 2023, compared with same period last year, customs figures show. Shipments to China are also higher, while those to the Philippines are marginally lower. However, purchases by Manila jumped in July from June.
–With assistance from Mai Ngoc Chau and Patpicha Tanakasempipat.
https://finance.yahoo.com/news/rice-edges-lower-key-asian-084655024.html
Published Date: August 16, 2023
More News