Rice-eating West Africa longs for the Indian grain 
Following New Delhi's curbs on the cereal's exports, prices up by 30% in Cote d'Ivoire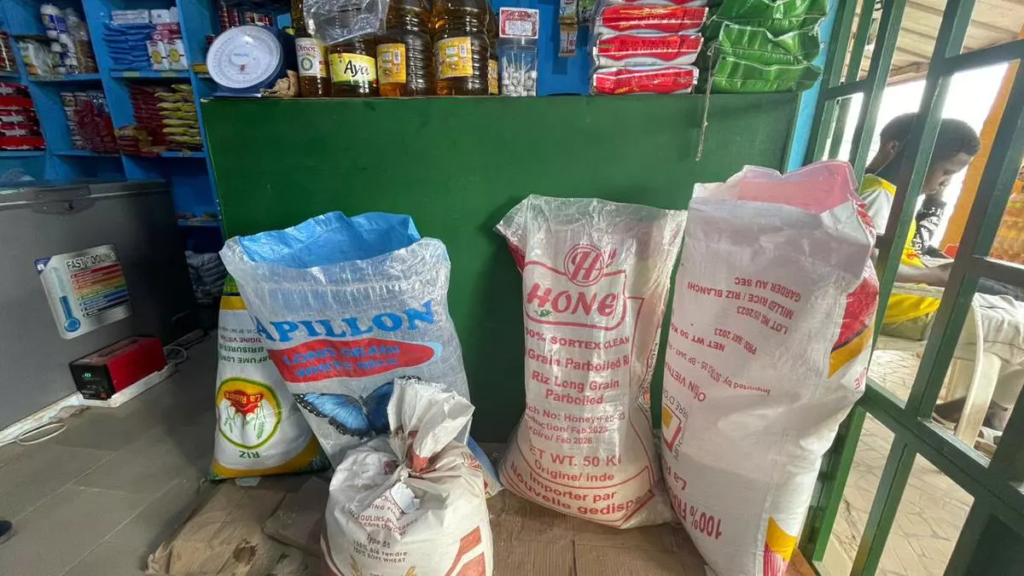 Rice bags at a grocery shop in Azadje, a village 40 km away from Cote d'Ivoire. Prices of different grades of rice have gone up after India's curbs on rice exports. The West African country is the fourth largest importer of Indian rice
If you chance upon a random person in a conference or in a hotel in Abidjan, the capital of Cote d'Ivoire (which is also known as Ivory Coast), and introduce yourself as someone visiting from India, the first question that confronts you will be – "when is your country lifting the ban on rice exports?"
There is a reason for their anticipation. Prices of rice in the country with a population of 29 million have shot up by 25-30 per cent ever since India curbed rice exports a few months ago. Though it is predominantly an agricultural country, its focus is entirely on cocoa, rubber and coffee, with rice being grown only in 6 per cent of the country's arable land.
While India banned exports of white rice on July 20, it imposed a 20 per cent export duty on parboiled rice from August 26.
4th largest importer
"It is not just about Cote d'Ivoire; it holds good for all of the West African bloc and some other African countries. We hope we get Indian rice sooner," a person involved in agricultural trade said.
The rice-eating Cote d'Ivoire, like some of its African peers, depends on rice imports, mainly parboiled, to meet its domestic demand. That Cote d'Ivoire is the fourth largest importer of Indian rice shows how dependent it is on India. It contributed to 6.6 per cent of India's total non-basmati rice export of 18 million tonnes in 2022-23. The aggregate value of its rice imports from India was $420 million.
"The increase in rice prices in the city is as high as 30 per cent after the ban (on white rice). A 25-kg bag is being sold at 19,000CFA francs (XOF in currency market) against 14,000 francs before theban on exports early this year," Isabelle (name changed), a homemaker, said. (One Indian rupee fetches you around 7.5 local francs.)
Used to Indian rice
"We eat it three times a day and we don't produce rice. It's cheaper for us to import it rather than growing it here. Though there are other alternatives such as China, Thailand and Vietnam for importing rice and substitute the imports from India, we are hooked to the taste of Indian rice," said.
The US Department of Agriculture in its mid-September 2023 said the sharp increase in rice prices (following India's export ban) "is expected to disproportionately impact countries in import-dependent Sub-Saharan Africa".
Three of the top five India's export markets are in Sub-Saharan Africa – Benin, Senegal, and Cote d'Ivoire – with each receiving more than one million tonnes of Indian rice in 2022. India is, by far, the largest supplier to these countries and many others in the region. Cote d'Ivoire imported 1.2 million tonnes from India in 2022-23.
According to an IFPRI (International Food Policy Research Institute) blog, India's rice market share in 2022 exceeded 80 per cent for several African countries, reflecting the heavy dependence on Indian rice.
N'Khoh Abroise, a cocoa farmer from Abey Benigni village, which is a two-hour drive from the country's capital, said Indian rice is popular in Cote d'Ivoire. "It's costlier growing rice here than getting it imported from outside. The northern and western parts of the country consume rice," he said.
https://www.thehindubusinessline.com/economy/agri-business/rice-eating-west-africa-longs-for-rice-from-india/article67371485.ece
Published Date: October 3, 2023
More News