Punjab millers say Centre's curbs on basmati rice export will favour Pakistan market
In India, only 2%-3% of the total basmati grown is consumed within the country. Hence, basmati is primarily grown for export.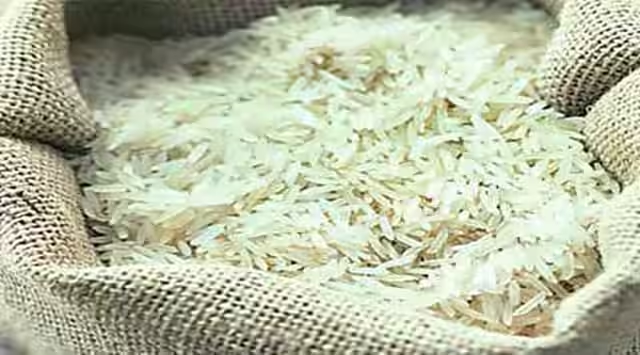 Indian basmati rice exports play a crucial role in the country's economy as 4.5 million tonnes of the rice was exported last year with an estimated value of Rs 38,000 crore. (Representational/File)
Worried over the recent export curbs imposed by the Central Government on basmati rice, millers of Punjab said that the move will deal a heavy blow to Indian farmers and will consequently favour the Pakistan's export industry.
On August 25, 2023, the Indian government has imposed a Minimum Export Price (MEP) of US$ 1200 per Metric Tonnes (MT) on basmati rice exports, which is $350 higher than the average export price of approximately $850 per tonne.
As per the directive, the $1,200/tonne floor price restriction for exports is to "remain effective till 15.10.2023 and the situation reviewed in the first week of October 2023". But that period, from mid-September to mid-October, is considered to be the peak marketing season for the 90-100 days' basmati varieties.
This move is seen to restrict 70 per cent of India's basmati rice exports from India, as it significantly exceeds the prevailing market export price of basmati rice.
The severity of the problem lies in the fact that in India only 2%-3% of the total basmati grown is consumed here. Hence, basmati is not procured by the government but by the traders and exporters as it is primarily grown for export.
Irked over the move, the Punjab Rice Millers and Exporters Association has written to Punjab Chief Minister Bhagwant Mann, urging him to take up the matter with the Union Government and advocate for a review of the MEP, suggesting it be lowered to a range of US$ 850-900 per Metric tonne (MT). They argued that a higher MEP will adversely affect Punjab's growing economy.
The association further highlights basmati rice exports data from the past four months (April to July), where approximately 71.40% of the rice fell within the price bracket of USD 700-1200 per MT. This trend has been consistent, with a majority of exports occurring in the range of $700 and $1,200 per MT in April, May, June and July.
In addition, they pointed out that at the International Food Fair in Istanbul, Turkey, on September 6 Indian rice exporters faced difficulties as international buyers turned to Pakistan due to the recent MEP imposition.
Millers say that the MEP decision will effectively halt basmati rice exports, benefiting Pakistan, which produces 1.5 million tonnes of the rice. Indian exporters are expected to lose their customer base, and regaining lost share in the market may prove challenging, they said.
Agricultural experts said that the Centre's export curbs would have a negative impact on farmers, particularly those who have expanded basmati cultivation this year due to flooding in Punjab. The increase in cultivation area, particularly for short basmati varieties 1509 and 1847, was driven by the destruction of standing paddy crops in floods. This year, approximately 41per cent of the basmati area in Punjab is expected to be dedicated to these short varieties.
This year due to the floods, Punjab's basmati cultivation area has increased by one lakh hectares from last year's 4.94 lakh hectares, according to the Punjab Agriculture department. In Punjab nearly 2 lakh farmers are engaged in basmati rice cultivation.
The association stated that with an indirect ban on exports, exporters may refrain from purchasing Basmati rice from farmers, impacting their income.
"As why would exporters purchase from farmers when there is no export order," said Ashok Sethi, the director of the association.
Lastly, they raise concerns about hybrid Basmati varieties introduced by agricultural universities and institutes, which offer higher yields and disease resistance but do not command the same prices as traditional Basmati rice. These hybrid varieties constitute a significant portion of Indian Basmati rice exports.
The millers pointed out the Punjab government's initiative of promoting quality basmati for international export. Over 3,600 farmers in 42 villages of Amritsar's Chogawan area who took up the initiative may be at risk due to the MEP decision, they said.
Indian basmati rice exports play a crucial role in the country's economy as 4.5 million tonnes of the rice was exported last year with an estimated value of Rs 38,000 crore.
They said that this decision may not effectively control inflation, because the total production of basmati in India is 6 million tonnes and the total production of non-basmati rice is 135.54 million tonnes for the year 2022-23. On one hand, there is no restriction on the export of non-basmati parboiled, which means it is exported at $ 300 per metric tonne with a duty of 20%. Whereas, 1509 basmati parboiled rice, a higher-priced variety of rice, is not allowed to be exported. If lower-priced varieties of rice will go out of India and higher price will be restricted, then the agenda of controlling prices will fail, they pointed out.
https://indianexpress.com/article/cities/chandigarh/basmati-rice-punjab-millers-centres-curbs-favour-pakistan-market-8941267/
Published Date: September 15, 2023
More News