Philippines may extend reduced import tariffs on rice, commodities
Supply constraints and El Nino impact seen warranting current levy rates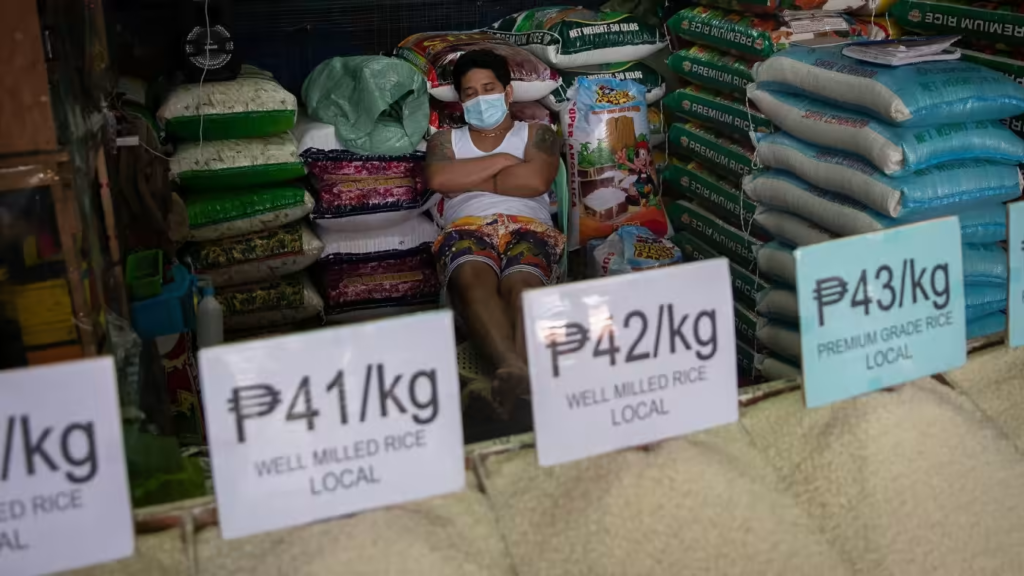 A rice stall at a public market in Quezon City in January 2021. The Philippines, one of the world's top rice buyers, is encouraging private traders to ramp up imports.   © Reuters
MANILA (Reuters) — The Philippines may extend reduced import tariffs on rice and other commodities beyond 2023 to ease pressure on inflation, which remained above target last month, officials said.
The lowered tariffs, also applying to corn and pork imports, are due to expire by the end of the year.
But supply side challenges, including a potential limit on rice shipments from Vietnam — the country's biggest supplier — and the impact of El Nino dry weather on the local harvest, may warrant keeping tariffs where they are.
"We're reviewing the possible extension," Finance Secretary Benjamin Diokno told reporters on Friday in comments embargoed for publication until Sunday night.
Under a modified scheme introduced in 2021, tariffs on rice imported from outside Southeast Asia fell to 35% — in line with the rate for suppliers from inside the region, including Vietnam — from a previous range of 40%-50%.
The "comprehensive" review of tariffs also covers other commodities that could potentially fuel inflation, said Zeno Abenoja, undersecretary and chief economic counselor at the Department of Finance.
Annual headline inflation eased for a sixth straight month in July to 4.7%, still above the official 2%-4% target range, while food inflation fell to 6.3%.
The Philippines, one of the world's top rice buyers, is encouraging private traders to ramp up imports, though it is worried about supply from Vietnam as other buyers crowd in.
Diokno said the government will expedite measures to mitigate the impact of El Nino on agricultural production and food security.
Such measures could help lessen pressure on the central bank to resume hiking interest rates, said Bangko Sentral ng Pilipinas (BSP) Governor Eli Remolona, who joined Diokno's briefing.
The BSP, which next meets on Aug. 17 to review monetary policy, on Friday said it was ready to resume tightening as necessary to tackle price pressures.
https://asia.nikkei.com/Economy/Trade/Philippines-may-extend-reduced-import-tariffs-on-rice-commodities
Published Date: August 7, 2023
More News