Pakistan and India face record low August rains as rice, cotton crops are threatened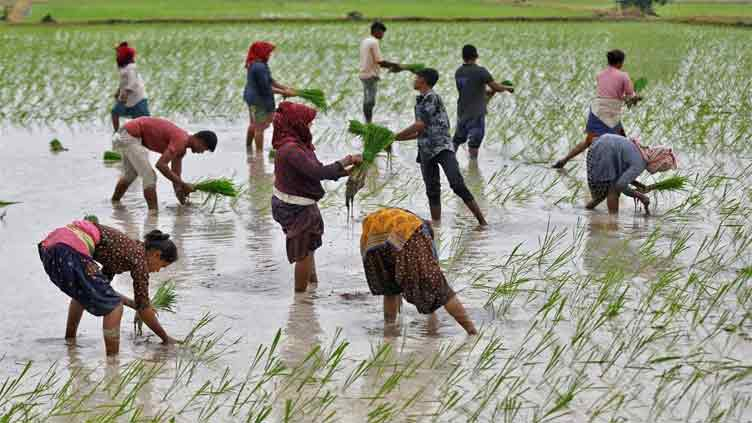 Global warming caused unprecedented floods last year in Pakistan
LAHORE/MUMBAI (Web Desk/Reuters) – Weather is extremely hot and humid across Pakistan this month, as there has been no or very little rain in different parts of the country with extreme weather affecting South Asia and other parts of the world amid global warming.
Global warming or climate change caused unprecedented rains and floods in 2022 in Pakistan [and that too in Sindh and Balochistan which are not supposed to have such a huge amount of rains] while it is expressing itself this year in one of the driest monsoon or August in the country's history.
The unusual dry weather with high temperature during the monsoon – the main rainy season – is an alarming development and may have devastating effects on the cultivated crops like cotton, rice and maize.
While cotton is the mainstay of Pakistan's economy due to the textile sector, rice is the second biggest staple food after wheat. Thus, the negative consequences will affect not only the overall economy but also food security as the country is already experiencing record-high food prices and inflation.
This development is reported by Reuters in a latest story which says India is heading for its driest August in more than a century, with scant rainfall likely to persist across large areas, partly because of the El Nino weather pattern.
August rainfall, expected to be the lowest since records began in 1901, could dent yields of summer-sown crops, from rice to soybeans, boosting prices and overall food inflation, which jumped in July to the highest since January 2020.
The monsoon, vital for the $3-trillion economy, delivers nearly 70 per cent of the rain India needs to water farms and refill reservoirs and aquifers.
"The monsoon is not reviving as we had expected," said a senior official of the India Meteorological Department (IMD), who sought anonymity as the matter is a sensitive one.
"We are going to end the month with a significant deficit in the southern, western, and central parts."
India is on course to receive an average of less than 180 mm (7 inches) of rainfall this month, he added, based on rains so far and expectations for the rest of the month.
The weather authorities are expected to announce August totals of rainfall and the forecast for September on Aug 31 or Sept. 1.
India received just 90.7 mm (3.6 inches) in the first 17 days of August, nearly 40pc lower than the normal. The month's normal average is 254.9 mm (10 inches), he said.
Earlier, the IMD had anticipated a rainfall deficit of up to 8pc in August. The lowest August rainfall on record was in 2005, with 191.2 mm (7.5 inches).
Monsoon rainfall is expected to improve over the next two weeks in the northeast and some central regions, but dry conditions in north-western and southern states are likely to persist, said another IMD official.
It means the dry conditions in north-western India will lead to a similar situation in upper Punjab and Khyber Pakhtunkhwa as well as Kashmir – the very region which is expected to receive the largest chunk of rains during the monsoon season.
"Normally, we experience a dry spell of five to seven days in August," said the official, who also spoke on condition of anonymity.
"However, this year the dry spell has been unusually prolonged in southern India. The El Niño weather pattern has begun to impact the Indian monsoon."
El Nino, a warming of waters that usually stifles rainfall over the Indian subcontinent, has emerged in the tropical Pacific for the first time in seven years.
This monsoon has been uneven, with June rains 10pc below average but July rains rebounding to 13pc above average.
Summer rains are crucial as nearly half of India's farmland lacks irrigation.
Farmers typically start planting rice, corn, cotton, soybeans, sugarcane and peanuts, among other crops, from June 1, when the monsoon begins to lash the southern state of Kerala.
The lengthy dry spell has led to extremely low soil moisture, which could inhibit growth of crops, said Harish Galipelli, director of trading firm ILA Commodities India Pvt Ltd.
"Crops are in dire need of rainfall," he added. "Any further delay could lead to reduced yields."
https://dunyanews.tv/en/Business/748408-Pakistan-and-India-face-record-low-August-rains-as-rice,-cotton-crops-ar
Published Date: August 20, 2023
More News