Pakistan aims to export 5 million tonnes of rice amid India ban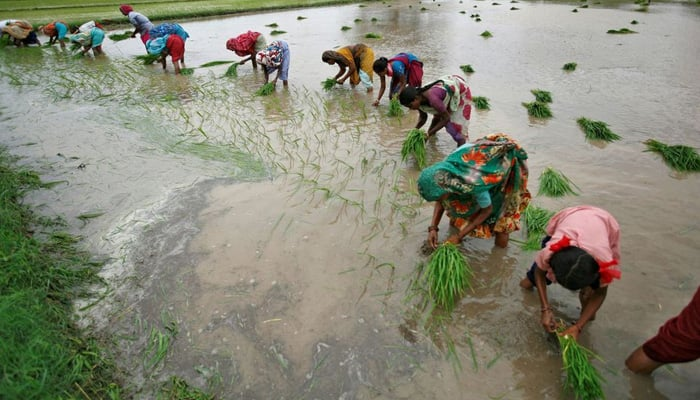 KARACHI: Pakistan's rice exports are projected to rise in the current fiscal year due to the Indian ban on rice exports and the exploration of new markets in Russia and Mexico, the Rice Exporters Association of Pakistan (REAP) said, according to The News.
REAP Chairman Chela Ram Kewlani said Pakistan exported 3.7 million tonnes of rice valued at $2.14 billion in the previous fiscal year, despite facing various challenges.
"Despite devastating floods, crop shortage and many other challenges, we exported 3.7 million tonnes amounting to $2.14 billion," he said.
The REAP chief was optimistic about Pakistan achieving its goal of 5 million tonnes of rice worth $3 billion in the current fiscal year, which began in July.
"India's ban on rice exports will have significant impacts on global rice trade dynamics. This will give a good opportunity for Pakistan to fill the supply gap and expand its market share in major rice-buying countries."
India, the world's biggest rice exporter, banned exports of non-basmati rice last month to ensure domestic supplies amid rising food inflation. Kewlani said Pakistan could benefit from higher export volumes and increased revenues as a result of the ban.
"Overall, the ban may create a favorable trade environment for Pakistan's rice exports." Industry officials said Pakistan's basmati rice prices soared to $500 per tonnes in the international market, up almost $100 from a month ago, as demand surged after the export ban by India.
Pakistani rice is enjoying a premium for its superior quality and could rise further to $600 per tonnes in the coming months, one trader said. "Pakistan has a golden opportunity to boost its rice exports and earn valuable foreign exchange as India has banned its rice exports due to drought." he said.
Pakistan is the world's fourth-largest rice exporter after India, Thailand, and Vietnam. Kewlani said Pakistani non-basmati rice, which was selling at $450 per tonnes before the ban, had also jumped to $500 per tonnes as buyers shifted to alternative sources.
He also said that Russia had registered 15 more Pakistani companies to export rice to the country and 12 more were in the process of registration. "This opportunity will also be beneficial for generation of extra foreign exchange for our country, as Russia is a big and potential market for Pakistani rice."
Kewlani added that a recent visit by Mexican technical experts had gone well and they were satisfied with the compliance of standard operating procedures by Pakistani rice exporters. He hoped that Mexico would soon lift a ban on Pakistani rice and resume imports.
He said Pakistan expected a bumper rice crop this year, with an annual output of around 9 million tonnes. "We hope that we can easily achieve our target of 5 million tonnes worth $3 billion this year."
https://www.geo.tv/latest/502787-pakistan-aims-to-export-5-million-tonnes-of-rice-amid-india-ban
Published Date: August 2, 2023
More News