Paddy fields vanishing fast, how rice-loving Kerala is staring at a crisis
The area under paddy cultivation has shrunk by 39 per cent over the past two decades while rice production is down 20 per cent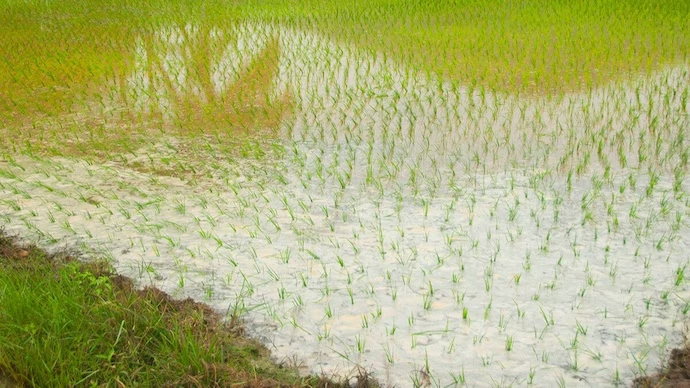 The area under paddy cultivation in Kerala has dropped 39 per cent over the two decades to 2022; (Representational photo: C.R. Shelare)
Kerala loves its fish but a fish meal is unthinkable in the state without rice. Kerala, with 33 million people, produces 3.65 lakh tonnes of rice every year while consuming around 40.68 lakh tonnes. The state depends on neighbouring Tamil Nadu and Andhra Pradesh to bridge the shortfall, but over the years this gap has only been widening.
According to state agriculture ministry data released in March 2023, the area under paddy cultivation in Kerala decreased from 3.22 lakh hectares in 2001-02 to 1.95 lakh hectares in 2021-22—a 39 per cent drop over two decades. In effect, the state lost 1.27 lakh hectares of paddy fields. This was despite the government spending hugely to promote paddy cultivation. During the period, rice production fell by 20 per cent, from 7.03 lakh tonnes in 2001-02 to 5.62 lakh tonnes in 2021-22.
Paddy crop constituted only about 7.69 per cent of the total cultivated area of 25.69 lakh hectares in the state in 2021-22. In 2020-21, the area under paddy was 2.02 lakh hectares.
Kerala produces rice in three seasons—autumn (Virippu), winter (Mundakan) and summer (Puncha). Over the years, productivity has declined across the seasons. Alappuzha and Palakkad districts accounted for 78 per cent area of the Virippu crop in 2022. While the Virippu and Mundakan crops were the dominant produce in Palakkad, it was Puncha in Alappuzha.
In 2022, Palakkad (39 per cent), Alappuzha (18.8 per cent), Thrissur (12 per cent) and Kottayam (9.1 per cent) accounted for about 79 per cent of the total area under paddy cultivation, thereby contributing 82 per cent to the state's rice kitty. In 2021-22, all districts, except Malappuram and Wayanad, recorded a decline in the area under paddy as compared to 2020-21.
"Paddy cultivation in Kerala is labour-intensive and not profitable. Most landowners prefer to cultivate pineapple instead. Floods and drought affect the paddy crop and the small and micro farmers get only limited insurance cover," rues Jaffy M. Varghese, a paddy farmer in Angamaly near Kochi.
Kerala has an estimated 250,000 paddy farmers. To promote paddy, the state government extends an input assistance of Rs 5,500 per hectare. Local self-governments also support paddy cultivation by providing Rs 25,000 per hectare. Other incentives for paddy farmers include a paddy production bonus of Rs 1,000 per hectare per season and free electricity. Since 2022-23, the government has also been providing 'royalty' to farm owners for conserving paddy lands at Rs 3,000 per hectare.
"We have tried to encourage farmers to cultivate rice to ensure food security and also introduced government procurement of rice produced in the state. The shrinking paddy fields and rice cultivation pose a threat to the state in the years to come," agriculture minister P. Prasad told INDIA TODAY.
The way the shrinking paddy fields are resulting in a drastic fall in rice production every year, Kerala may have to depend fully on neighbouring states or Punjab for rice supplies. While the Left Democratic Front government has increased the budgetary allocation for agriculture and taken steps to promote rice production, farmers are abandoning paddy fields and moving towards other profitable agricultural products or tropical fruit production.
https://www.indiatoday.in/india-today-insight/story/paddy-fields-vanishing-fast-how-rice-loving-kerala-is-staring-at-a-crisis-2431375-2023-09-05
Published Date: September 6, 2023
More News