Noncompliance of EU export standards
Over 55 interceptions in rice and food items risk Pakistan's future exports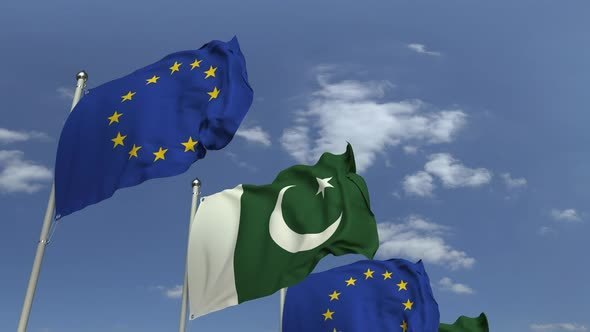 ISLAMABAD: Pakistan's foreign trade faces a critical challenge with the detection of over 55 interceptions, primarily mangoes with fruit fly and without treatment, in various shipments of rice and food items destined to the European Union (EU) this year. These interceptions not only sully Pakistan's international standing regarding food safety measures but also pose a grave threat to its exports to the EU, should these issues persist unresolved.
Recent documents obtained shed light on the severity of the situation. A letter, dated October 4, 2023, from Pakistan's mission in Brussels, addressed to the Ministry of Commerce and other pertinent authorities, underscores the alarming extent of the problem. The letter revealed that 39 interceptions were reported in rice consignments imported from Pakistan, with an additional 16 interceptions in non-rice food products. This interception rate of Pakistani food goods to EU member countries is very high and if these are not reduced with appropriate sanitary and phytosanitary measures, these may lead to a ban on the import of Pakistani rice in EU member countries, similar to India, which is already facing similar challenges on similar interceptions. The EU has placed Pakistan and India on the list for an increased frequency of controls on aflatoxins in rice under provisions of Regulation (EC) 669/2009.
The interceptions in rice consignments were attributed to various factors including aflatoxins, pesticide residues, chlorpyrifos, acetamiprid, hexaconazole, imidacloprid, the presence of metal and plastic, migration of mineral oil saturated hydrocarbons (MOSH) from packaging material, and document discrepancies. These issues were identified in multiple EU member states, with Germany and Italy witnessing the highest number of interceptions.
Aflatoxins, toxic secondary metabolites produced by Aspergillus flavus and Aspergillus parasiticus, were identified in the rice consignments. Aflatoxins are genotoxic and carcinogenic, posing acute and chronic health risks to humans. Pesticide residues were also found in these shipments, which can cause both acute and chronic health effects.
According to sources, the EU has set maximum aflatoxin levels due to B1 @ 2 µg/kg and sum of B1, B2, G1, and G2 @ 4 µg/kg for imported rice and food items in EU member countries, in contrast to the Codex Alimentarius limit of 15 ppb. Additionally, EU accepts a maximum residue limit (MRL) in food items @ MRL of 0.01 mg/kg.
However, a study of maximum aflatoxin levels in food items in Pakistan shows that Pakistani food items mostly contain aflatoxin levels above 30 µg/kg due to poor storage conditions, inappropriate packing, and defective supply chains. The food also comprises a high level of MRL due to the harvesting of crops by farmers before the recommended post-harvest interval of pesticides. This issue is further exacerbated by the expansion of pesticide labels onto other food crops like rice, maize, and vegetables without scientific justification, as well as the absence of proper regulation and standardization of pesticides by provincial agricultural departments.
Insiders informed that the Ministry of National Food Security and Ministry of Commerce has also restricted the Department of Plant Protection from checking Aflatoxin and MRL of rice shipments exportable to EU member countries prior to the issuance of a phytosanitary certificate. Both ministries have not coordinated with the Punjab and Sindh agriculture departments and food safety authorities to arrange awareness campaigns among farmers to harvest rice crops after the recommended post-harvest interval of pesticides and improve storage and packing of food items. Instead, both ministries have facilitated rice exporters to implement food safety measures on their own without the intervention of the relevant department.
Importantly, these interceptions did not stem from a single exporter. Six interceptions were linked to M/s Zubair Enterprises, while M/s Sarwar Foods and M/s Rice Expert each accounted for 3 interceptions. M/s Modem Rice & General Mills and several other exporters also faced scrutiny. The Department of Plant Protection, as a regulator, is responsible for restricting these exporters for further export to EU member countries until corrective measures and good manufacturing practices are implemented from farm to destination.
Apart from rice consignments, 16 interceptions were reported for non-rice food products, including herbs, spices, nuts and seeds, mixed supari, milk and milk products, meat products, and confectionery. These interceptions were documented across various EU countries, with Germany registering the highest incidence, followed by Sweden, Slovenia, the Netherlands, Spain, France, Italy, Poland, and Portugal.
To address this pressing issue, the letter by Pakistan's mission in Brussels, proposes a series of strategic recommendations. These include engaging and sensitizing relevant regulatory bodies and exporters regarding European food safety regulations, advising exporters to ensure stringent compliance, and urging a reduction in the use of pesticides and fertilizers that lead to elevated levels of certain substances in rice intended for export to the EU.
Furthermore, the letter advocates for collaborative efforts between the Ministry of Commerce, the Ministry of National Food Security & Research, and the Rice Exporters Association of Pakistan. However, this matter cannot be resolved without involving the Department of Plant Protection, which currently lacks the necessary technical officers. The aim is to compile a comprehensive report detailing the corrective measures implemented to prevent rice interceptions in the EU. This report, once compiled, will be shared with EU authorities to underscore the quality and safety of Pakistani rice for human consumption in the EU market.
The Pakistani mission in Brussels has committed to monitoring the progress of these recommendations closely and will provide regular updates to the relevant authorities. The gravity of this situation cannot be overstated; it not only imperils Pakistan's trade relations but also casts a shadow over its reputation in the global food export market. Efforts to rectify these issues must be swift and comprehensive to safeguard Pakistan's exports and restore confidence in its products on the international stage.
Experts believe that the absence of experts and relevant officials in key positions in concerned government departments is also contributing to the mess being created in the country's exports.
https://profit.pakistantoday.com.pk/2023/10/27/noncompliance-of-eu-export-standards/
Published Date: October 28, 2023
More News