Nett Lake rice crop looks promising this year
Crop appears on the rebound after last season's cancellation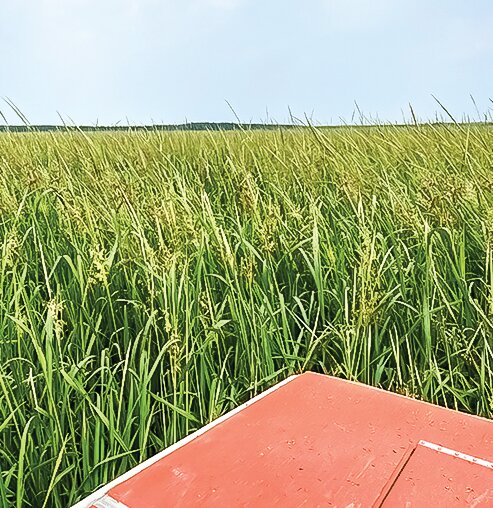 Thick rice is growing on parts of Nett Lake this year, a marked improvement over last year.
David Colburn
NETT LAKE- After a disastrous 2022 wild ricing season in which the Bois Forte Band had to cancel the harvest on Nett Lake due to extremely poor conditions, the 2023 harvest is looking much more favorable.
The band's Conservation Committee is responsible for assessing lake conditions and making recommendations to the Tribal Council for the wild rice harvest, and they jointly agreed to last year's cancellation.
But according to a report posted on the Band's website, assessments of conditions on Aug. 8 by Tracey Dagen and Doris Isham, who toured the lake by airboat, and Squidg (David Jr.) Morrison and Jenna Porter in a traditional canoe provided rosy news about the prospect of a good harvest this year.
"There is going to be a lot of rice this year, barring any bad weather," they reported. "Both Mallard and Lost River Bay are full of rice, and even though the water level is low it is still high enough for a boat to go through with a pole."
They estimated that ricing could begin at the end of August or beginning of September, depending on when the rice is fully ripened.
"This is only a guess since the rice can ripen quicker or longer depending on the weather," they said. "We will be watching it closely as the time gets nearer and reporting to the Conservation Committee."
Conditions are good enough that the Band has plans to hold a Wild Ricing Learning Event at Nett Lake in September, although a Saturday date has not yet been chosen. Participants will need to have a ricing permit and will receive instruction from experienced ricers in knocking, parching, jigging, and winnowing. The cost is $10-15 for adults and $1 for students and elders. Questions about the event may be directed to Payton Counts at 218-248-2430 or pkcounts34@gmail.com.
The Conservation Committee was scheduled to meet Tuesday at the tribal government office at Nett Lake.
http://www.timberjay.com/stories/nett-lake-rice-crop-looks-promising-this-year,20547?
Published Date: August 24, 2023
More News