NEDA: Cap on rice prices only temporary to address high costs, hoarding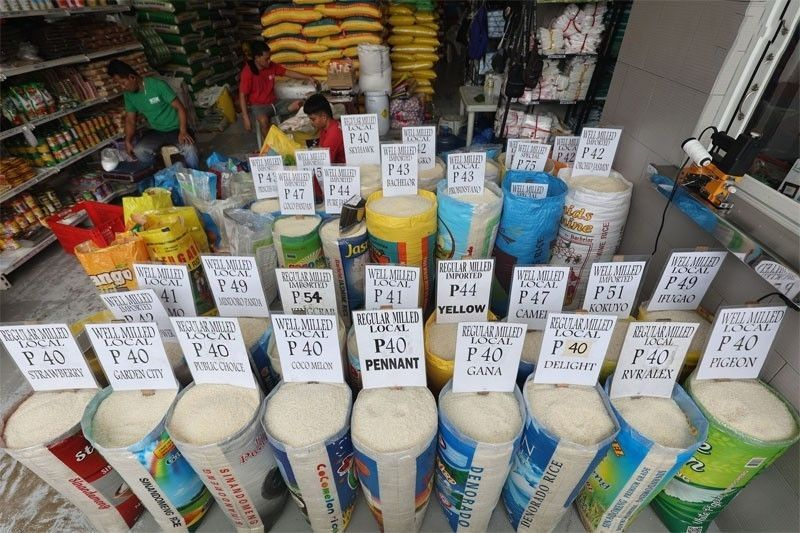 Rice dealers display rice and their prices at New York Street, Cubao, Quezon City on April 16, 2023.
MANILA, Philippines — The imposition of a price cap on rice is only a "temporary measure" aimed at reducing the retail prices of the grain and discouraging hoarding, the National Economic and Development Authority said Sunday.
President Ferdinand "Bongbong" Marcos Jr. set the maximum retail price of regular milled rice at P41 per kilogram and P45 for well-milled rice in a move that could have detrimental effects on farmers and consumers. The new ceiling will take effect on Tuesday.
NEDA said the imposition of a price ceiling on the basic staple "will immediately reduce the price of rice, and it penalizes and consequently discourages hoarding, further decreasing the price of rice."
"We are confident that the imposition of a price ceiling is only a temporary measure. We expect the rice harvest to commence soon and anticipate that other initiatives will produce the desired result," NEDA said, adding that law enforcement authorities continue to crack down on individuals who hoard, smuggle, or participate in rice cartels.
According to NEDA, the rice inflation rate increased to 4.2% in July from only 1.0% in January.
"We note that the price of rice has been sharply increasing over the past weeks, which is inconsistent with the apparent supply and demand situation. This implies that some are manipulating the expected impact of the El Niño Southern Oscillation to depict a shortage at this time," the agency said.
NEDA added that the country has enough rice for the end of the year due to the start of the harvest season in September and additional import orders.
Farmers' group AMIHAN earlier said the price ceiling should not be used to create false expectations, similar to Marcos' campaign promise of lowering rice prices to P20 per kilogram. — Gaea Katreena Cabico
https://www.philstar.com/headlines/2023/09/03/2293567/neda-cap-rice-prices-only-temporary-address-high-costs-hoarding
Published Date: September 3, 2023
More News