Minister distributes new superior rice seeds to anticipate drought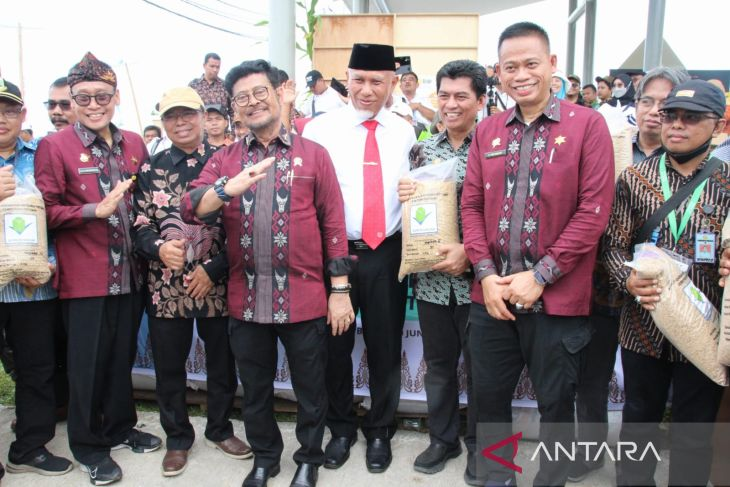 Minister of Agriculture Syahrul Yasin Limpo during rice seeds distribution in Padang, West Sumatra, on Saturday (June 10, 2023). ANTARA/HO-Kementan/FR
Jakarta (ANTARA) – Minister of Agriculture Syahrul Yasin Limpo handed out four tons of new superior rice seed varieties that can adapt to drought as part of the efforts to anticipate El Niño-induced drought.
"Indonesia will be confronted with drought because of El Niño," he noted in a statement on Sunday.
"Because of this, we have to take real actions to maintain agricultural productivity amid the global food crisis," he affirmed.
The minister symbolically handed over the seed assistance while attending an event in Padang, West Sumatra.
The four tons of rice seeds were distributed to several provinces of South Sumatra, Lampung, Banten, West Java, Central Java, East Java, South Sulawesi, and West Sumatra.
The distributed rice seed comprises several varieties: Inpago 9, Inpago 12, Inpago 13 Foriz, Cakrabuana, and Inpari 42.
These superior varieties are resilient to the lack of water availability, have a long age, and can produce above eight tons per hectare of rice.
The seeds are stock seeds (SS) and extension seeds (ES) produced by Rice Instrument Standard Testing Center's (BBPSI Padi's) Source Seed Management Unit (UPBS), Bengkulu Instrument Standard Implementation Center, and Riau Instrument Standard Implementation Center.
In a bid to increase the number of superior quality rice seeds, Acting Head of the Agriculture Instrument Standardization Agency (BSIP) Fadjry Djufry stated that his side will provide assistance.
The BSIP has work units in every province that will help increase the number of seeds in accordance with the standards.
Djufry emphasized that the use of superior-quality seeds by farmers should be optimized to boost production and adapt to climate change.
https://en.antaranews.com/news/284805/minister-distributes-new-superior-rice-seeds-to-anticipate-drought
Published Date: June 12, 2023
More News