MC Exclusive: 20% export duty on parboiled rice likely to be extended till end of FY24
The duty had been imposed in August, after headline inflation rose to 7.8 per cent in July due to a surge in prices of food items such as wheat, rice and vegetables
India is the world's biggest rice exporter and accounted for nearly 40 percent of the global rice trade in 2022, exporting 22 million tonnes of the commodity to 140 countries
Government is likely to extend the 20 percent export duty on parboiled rice till the end of financial year 2023-2024, senior government officials told Moneycontrol. "The duty was put in place to dissuade exporters from exporting huge amounts of the commodity as prices increased. Any decision to roll it back was to be based on the size of the upcoming harvest. These export curbs have helped keep prices in check. If any leeway is given now, prices may rise," one of the officials cited above said.
The annual consumption of parboiled rice in India is at a mere 2 million tonnes and it is not part of the Public Distribution system (PDS). Explaining the rationale behind the levy, Anand Chandra, co-founder of Arya.ag, which operates more than 3,000 storage warehouses for wheat and rice across the country, said, "India has imposed a duty on parboiled rice despite limited demand as it hopes to use this as a substitute for other cereals whose prices are rising. It may even be used in PDS if stocks fall low."
Over the past year, amid persistently high inflation, which rose to 7.8 percent in July this year, India has taken several steps to keep retail prices of rice in check. After banning export of broken rice in September 2022 and halting non-basmati white rice exports in July, New Delhi imposed a 20 percent duty on parboiled rice on August 25, effective till October 15.
With prices still remaining firm and rice stocks with the Food Corporation of India at three-year lows along with worries over the kharif output, the duties on parboiled rice are here to stay.
Data from the Ministry of Consumer Affairs shows that as on October 5, the average retail price of rice within India was over 11 percent higher than last year. Inflation remains high and persistent despite the curbs by the government.
On the other hand, paddy sowing this year has remained low, seeing a marginal uptick of only 2 percent on year despite a very low base—paddy acreage fell almost 18 percent last year.
Meanwhile rice stocks are at a three-year low in September, with 232 lakh metric tonnes (mt) in storage, as against 244 lakh mt last year and 268 lakh mt the year before.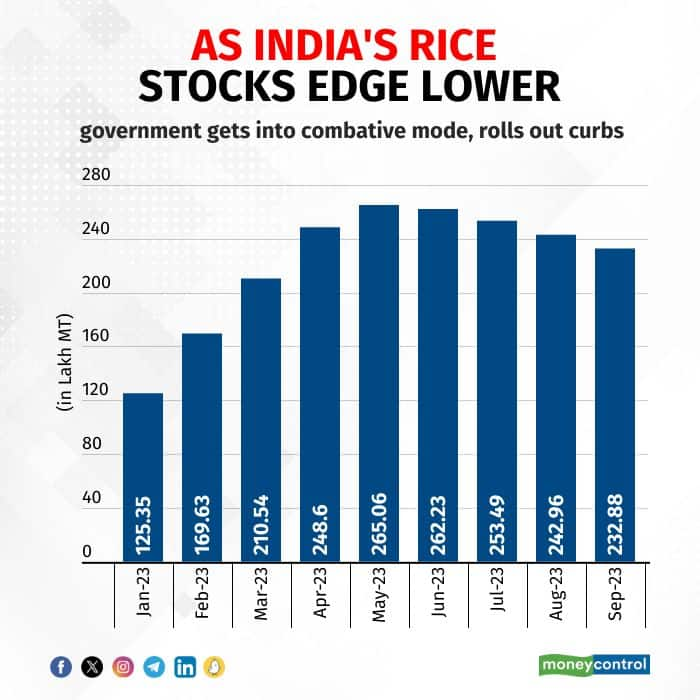 World's largest exporter
India is the world's biggest rice exporter and accounted for nearly 40 percent of the global rice trade in 2022, exporting 22 million tonnes of the commodity to 140 countries. Of this, its exports of parboiled rice stood at 7.4 million tonnes.
According to the United States Department of Agriculture (USDA), India's curbs have restricted an estimated 45 percent of its annual rice exports. A direct consequence of these export restraints has been a steep rise in global rice prices, with the commodity breaking the 15-year price ceiling.
The Food and Agricultural Organization's All Rice Price Index increased by 9.8 percent in August 2023 to reach 142.4 points. At that level, the index stood 31.2 percent above its year-earlier value and at a 15-year nominal high.
PM monitoring situation
Officials said the Prime Minister has been keeping strict tabs on inflation and has strongly advised that prices of basic food commodities should not rise.
"India is a big country with several mouths to feed. We have to keep our domestic interests above anyone else's. Government is taking all steps it can to ensure prices remain stable," another official added.
In his address to the nation on the 77th Independence Day, PM Modi spoke about inflation, stating that the government is committed to taking further measures to alleviate the burden on citizens.
https://www.moneycontrol.com/news/economy/policy/mc-exclusive-20-export-duty-on-parboiled-rice-likely-to-be-extended-till-end-of-fy24-11488861.html
Published Date: October 7, 2023
More News