Malaysia grapples with rice shortage amid global price surge
Government rolls out programs to increase local production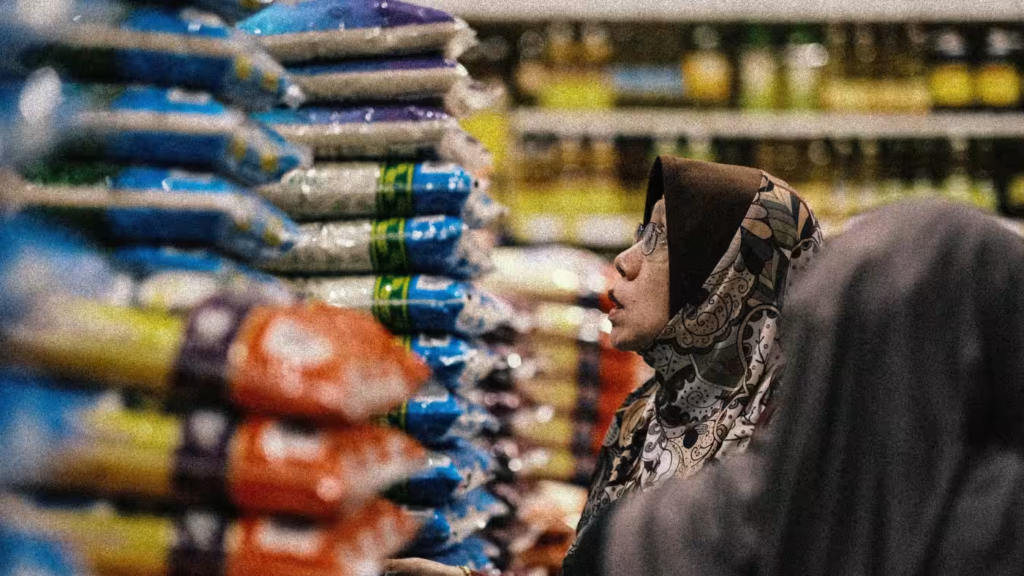 A customer considers her options as she looks at bags of imported white rice at a supermarket in Malaysia. (Photo by Norman Goh)
KUALA LUMPUR — Rising prices for imported rice in Malaysia have consumers flocking to cheaper locally grown products, squeezing the budgets of households that find it difficult to afford higher food prices.
With local rice able to meet only 70% of domestic demand, the Malaysian government has begun implementing programs to increase local production.
These days, many supermarkets and smaller grocery stores often have empty shelves, as 5-kilogram and 10-kilogram bags of locally grown white rice are snapped up by customers as soon as new stocks appear.
Ameer Ali Mydin, managing director of Mydin, a chain of large supermarkets, told Nikkei Asia the shortages are caused by the growing gap in prices between locally produced rice and imported varieties.
"The shortages are happening because people are also panicked when they see the disparity. With panic buying and hoarding, because everybody buys an extra one or two, if a few hundred thousand people buy an extra pack of rice, then a lot of tonnes of that goes out," he said.
In Malaysia, local white rice is a controlled food item whose price is capped at 26 ringgit ($5.54) per 10 kg. Imported rice has generally been pricier than local rice since before the recent global price rises. The country mostly imports white rice from India, Pakistan, Thailand, Vietnam and Cambodia.
But the price gap widened significantly after Padiberas Nasional (Bernas), a Malaysian conglomerate that controls rice distribution, on Sept. 1 raised the retail price of imported rice by 36% to reflect recent global price rises, leading to a surge in demand for cheaper local rice. Imported white rice now fetches between 30 to 70 ringgit for 10 kg.
The Food and Agriculture Organization's All Rice Price Index hit 142.4 in August, 31% up from a year earlier amid a global shortage of white rice and an export ban on the grain imposed by India since July.
Kumaran, 57, a construction worker who was shopping at a supermarket in the city of Subang Jaya in late September, said he has been struggling to get his hands on local white rice. "You can't find any local rice at all. If this goes on, everybody will be affected."
Vani, a 54-year-old housewife, lamented: "[It is] really hard to find cheaper local rice bags in the supermarkets," saying that her family's monthly food bill has increased by 20% to 30% to around 100 ringgit as she also has to pay more for cookies and cooking oil.
Dry weather brought on by El Nino has also affected local rice production this year. Some restaurants and stall owners are absorbing the higher cost of rice to stay competitive, but warned that they may have to raise prices if the crisis continues.
Against this backdrop, the government recently rolled out countermeasures.
On Monday, Chan Foong Hin, deputy minister of agriculture and food security, told the parliament that the government is implementing projects in large-scale paddy fields in several states to increase yield to an average of 7 tonnes per hectare from 5 tonnes per hectare.
"The government has introduced a new initiative to increase paddy production and incomes for paddy farmers, with paddy plantations in five seasons in two years, to increase its yield to achieve the self-sufficiency rate for national rice at 80% by 2030," Chan added. Malaysian rice farmers typically grow two crops a year.
Moreover, the government plans to research and develop new paddy seedlings that can be harvested in 75 days that are more resistant to extreme weather and diseases.
Fakhrurrazi Rashid, a senior analyst at the local think tank Merdeka Center, told Nikkei Asia that the current crisis is a good opportunity for the Malaysian government to review its entire food security policy framework.
"The situation came as a shock to many, particularly among the lower income group, because we have always been dependent on the import of rice to meet our domestic demands. They should not wait for a conflict or crisis to happen to take action, and the government should provide clearer communication strategies as an assurance to the people," he added.
https://asia.nikkei.com/Economy/Malaysia-grapples-with-rice-shortage-amid-global-price-surge
Published Date: September 30, 2023
More News