Malaysia faces looming white rice shortage amid uncertain weather and expensive padi seeds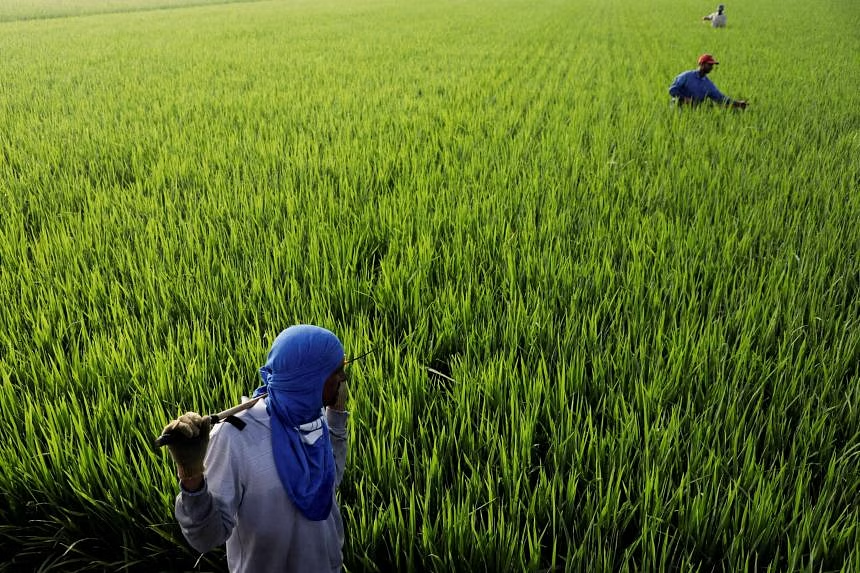 The erratic weather, said to be the result of climate change, has kept most padi farmers on their toes. PHOTO: REUTERS
KEDAH – In five months, Malaysia may face a severe shortage of local white rice because of unpredictable weather and the bloated price of padi seeds.
The erratic weather, said to be the result of climate change, has kept most padi farmers on their toes even though they have switched to a schedule that would allow them to harvest five times every two years.
Another dilemma they face is a shortage in the supply of padi seeds that has resulted in skyrocketing prices.
Describing this as a critical situation, farmers in Malaysia's north fear the future does not bode well not only for them, but also for the supply of local white rice.
Padi farmer Wan Maharuddin Sulaiman, 66, from Pokok Sena, a village in Kedah, said farmers have been struggling to get certified seeds from suppliers, forcing them to hold back their planting season, which was supposed to have started at the end of September.
"Most of us from the Farmers' Area Organisations (PPKs) have already booked our seed supply from the suppliers, but we were told that certified seeds were not available," he said.
"The shortage has affected the staple food's cultivation cycle, and this is not good for the rice yield in the future."
Mr Wan Maharuddin alleged that certain suppliers were trying to manipulate seed prices by hoarding stocks that were supposed to be sold to farmers.
He also claimed that some farmers bought certified padi seeds above the ceiling price set by the government.
Mr Mohd Hashim Ahmad, 60, said farmers who own hundreds of hectares of padi fields in the Muda Agricultural Development Authority (Mada) region were still waiting for the availability of padi seeds.
The padi farmer in Kampung Sena, Perlis, said that in some instances, there was supply, but it came in limited amounts.
He added that the seeds were priced between RM55 (S$16) and RM70 per 20kg, higher than the RM45 ceiling price imposed by the government.
"The relevant government agencies must keep a close watch on the production of padi seeds so that producers and retailers would not dare manipulate the price of seeds," he said.
"More raids should be carried out to weed out irresponsible ones."
Mada chairman Ismail Salleh urged farmers to furnish the authority with evidence and details so that action can be taken against errant suppliers.
"The evidence is vital for us to take action against errant suppliers. So far, all suppliers and retailers, except those from PPKs, sell subsidised seeds above the government-set ceiling price," he said. "The Agriculture and Food Security Ministry has acted against 21 retailers by revoking their licences for not heeding the government ruling."
Datuk Ismail also said private padi seed producers and their 456 agents had refused to sell subsidised seeds to the PPKs for distribution to farmers in Kedah.
In Penang, padi farmers face the same problem as their counterparts in Kedah and Perlis.
Kampung Pelet PPK chairman Mohd Fauzi Hussin, 46, said farmers in Bukit Mertajam, a city in Penang, were unable to get seeds from suppliers.
He said farmers in his area were aiming to cultivate padi in February 2024, but the shortage of seeds had stopped them from planting for the new season that was supposed to start in October.
"We could not get the seeds from the PPK in the state. When we asked the suppliers, they could not answer us," he said, adding that the relevant agencies should monitor the situation and solve the shortage as soon as possible.
Penang agrotechnology, food security and cooperative development committee chairman Fahmi Zainol said that among the measures implemented were stricter supervision and control over the production of rice and padi seeds.
He said it was vital to continuously monitor the supply of seeds in production facilities and ensure there is an adequate supply.
"The ministry should increase the quota of seeds, particularly for producers in Penang," he said.
He added that the state agriculture department could also expedite applications to create established farms in the state to address the shortage of basic seeds.
This would enable the price to be stabilised and ensure enough supply, he said. THE STAR/ASIA NEWS NETWORK
https://www.straitstimes.com/asia/se-asia/malaysia-faces-looming-white-rice-shortage-amid-uncertain-weather-and-expensive-paddy-seeds
Published Date: November 11, 2023
More News