Keep An Eye Out For New Manchurian Wild Rice Infestations After Flooding
Northlanders are being asked to keep an eye out for new patches of Manchurian wild rice grass within a formal 'Eradication Zone' that covers much of the region amid fears the invasive pest plant could have been spread during recent flooding.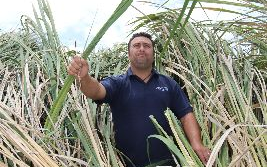 The Northland Regional Council says in Northland, the core rice grass infestation (referred to as the 'Progressive Containment Zone') occurs in the Kaipara District on the banks of the Wairoa River and its tributaries, and on adjacent farmland.
Councillor Geoff Crawford, who chairs the Northland Regional Council's Biosecurity and Biodiversity Working Party, says beyond this core area there are scattered infestations on pasture and cropping land, roadsides, and in and around creeks and farm drains.
"Small infestations also occur near Whangārei, Kerikeri, Mangawhai and Mangakahia areas."
Councillor Crawford says because of the scale of the infestation, total eradication is not possible with current technologies, but the goal is to progressively contain Manchurian wild rice to prevent spread and reduce its distribution.
"Manchurian wild rice (Zizania latifolia) is a Notifiable Organism and is subject to a 'National Interest Pest Response' programme administered by the Ministry for Primary Industries."
The programme – which has been running since 2008 – focuses control efforts on eradicating infestations outside of the mapped Progressive Containment Zone (essentially the rest of Northland).
Councillor Crawford says due to the recent flooding, land in the Eradication Zone which hasn't previously flooded or ever been exposed to rice grass, may end up with rice grass clumps or rhizomes being deposited in flood debris. It needs to be controlled as soon as possible before it spreads.
Manchurian wild rice is a giant grass that grows up to four metres high. Native to Asia, it arrived unintentionally in ship's ballast water near Dargaville more than 100 years ago.
It has harsh, dull green leaves that are one to two centimetres wide and grow in fans.
Councillor Crawford says Manchurian wild rice spreads rapidly and is extremely difficult to kill once established so early detection of new infestations provides the best chance of eradicating it quickly.
"It forms dense stands, with underlying rhizome beds, that displace all other species and can alter natural water systems causing habitat loss and increasing the risk of flooding."
"If left unmanaged, this invasive grass represents a major threat to all river, stream and wetland systems in Taitokerau, as well as to production environments as it also readily invades pasture."
Councillor Crawford says during floods Manchurian wild rice is prone to break off in chunks from the edges of drains and riverbanks and can be deposited elsewhere.
"Where depends on the flow of the water at the time…it's not always downstream as it can be pushed back upstream depending on tides or it can be pushed outwards onto farmland."
Councillor Crawford says due to the urgency of damage control after the recent flooding, machinery hygiene practises may also have slipped.
"Please monitor all areas where contract machinery has come onto site as they might have carried in root fragments of rice grass that can easily establish at a new site."
He urges those in the Eradication Zone whose property has not had rice grass before to stay vigilant and become familiar with the plant.
It should not be confused with raupo, with key differences between the two plants including:
Raupo dies back over winter; rice grass does not
Raupo twists at the end of the foliage, rice grass is pointed.
Raupo has a smooth thick leaf whereas rice grass has a veiny leaf and a thick midrib.
Raupo has a bullrush head when in seed, rice grass has a flower type seed head.
https://www.scoop.co.nz/stories/AK2305/S00472/keep-an-eye-out-for-new-manchurian-wild-rice-infestations-after-flooding.htm
Published Date: May 24, 2023
More News