India's rice export restrictions need multilateral solutions
Much criticism has been levelled against India's July 2023 decision to 'ban' non-basmati rice exports, which previously made up a third of its milled rice exports. Critics have further argued that the move by India, as the world's largest rice exporter, could damage its claim to lead the Global South, falling far from its promises to address global food challenges under its 2023 G20 presidency.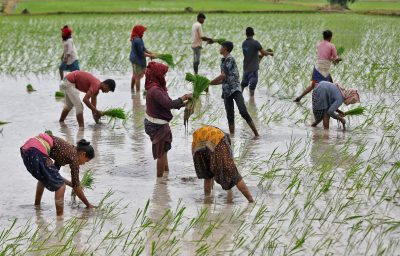 India's export bans can also be seen as irresponsible if driven not primarily by domestic food security, but rather by political reasons. Ahead of the March 2024 elections, there is a need to appease India's urban middle class by reducing mounting food prices.
The Indian government has not yet normalised its rice trade, with the situation worsening by the month. In 2023, New Delhi imposed further constraints on parboiled rice, which accounts for 42 per cent of India's milled rice exports. Rice prices have since spiralled to levels similar to the 2007–08 global food price crisis. As a potential prompt for yet more countries to join the bandwagon, Myanmar has also banned rice exports since August 2023.
A small concession came in late August 2023 when the Indian government announced it would allow for exports to countries facing significant food security challenges such as Bhutan, Mauritius and Singapore, though this has done little to calm international markets.
In any case, a more constructive approach to engaging India — and food exporting states more broadly — should begin by acknowledging the complex balancing act they undertake within the global food order. Food exporting states hold a dual mandate of serving as a reliable supplier in the international food market while also meeting the food security needs of their own populace.
The difficulty of this dual mandate can be gleaned after Russia's invasion of Ukraine, when India stepped up to fill the gap in international wheat exports created by the conflict. India increased wheat exports to over 1.4 million tonnes in April 2022 — roughly five times the exports from April 2021. But increased wheat exports led to domestic shortages and a surge in domestic and international wheat prices, culminating in India's wheat export ban in May 2022, which continues into 2023.
Apart from banning wheat exports, India also rolled back its massive COVID-19 food distribution program, Pradhan Mantri Garib Kalyan Anna Yojana, on 1 January 2023. The program had previously allocated additional grains for public distribution to poorer consumers, but the government decided to reallocate these grains to domestic markets to quell inflation and appease the urban middle class.
India's recent rice export bans can be better understood as an extension of the problems faced by its wheat sector. As wheat and rice are substitutes in India's grain stockpiles, wheat shortages feed into the rice shortage. This cycle led to a fast rise in domestic food prices in mid-2022 and the need for a minimum rice export price restriction by September 2022. India's food price inflation continued to increase by 11.5 per cent in July 2023, causing the government to enact the recent rice export restrictions.
Rather than pressuring India into normalising its rice trade, a more effective approach would be to address the 'double burden' that lies at the core of its export restrictions. A multilateral approach could be a potential 'middle way' to curb the escalation of an international food price crisis. This approach would involve providing international capital assistance to bridge India's financing gaps in domestic subsidisation, ensuring affordable prices for both its poorer and middle class populations. These subsidies could help supplement the real incomes of its population, keeping food prices lower and removing the need to ban grain exports.
A multilateral approach would also allow India to continue exporting rice internationally, premised on the support it expects to receive in exchange. This solution would compensate India for its role as net food exporter in the current global food order. Implementing this multilateral approach could build on the Global Food Import Financing Facility proposed by the UN Food and Agriculture Organization to the International Monetary Fund. This facility aims to support poorer food importing countries facing balance of payments constraints or budget shortages and can potentially be extended to include India, as well as other lower-income food exporting countries.
Should the Indian rice ban extend, countries that depend on rice trade for revenue, imports and consumption might begin to speculate on prices as they seek to maximise profits and minimise costs, potentially triggering a situation akin to the 2008 global food price crisis. Though global grain prices would still increase with a multilateral solution, the prospects for a worse crisis could be mitigated.
If an international price crisis were to occur as a result of an extended Indian export ban, this would no doubt lead to further price instability. Exploring multilateral solutions is therefore critical for an already embattled global food supply chain, amid Russia's war in Ukraine and projected reductions in crop harvests during the El Nino season.
https://www.eastasiaforum.org/2023/10/18/indias-rice-export-restrictions-need-multilateral-solutions/
Published Date: October 18, 2023
More News