Indian exporters fear Pakistan could seize control of basmati rice market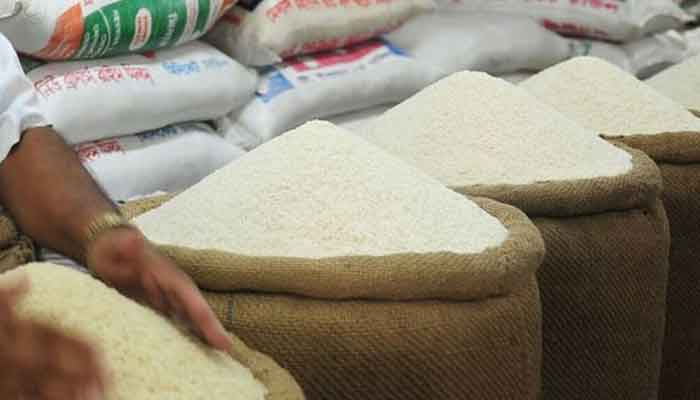 This picture shows an Indian shopkeeper selling basmati rice. —Indian news agency/File
India maintains $1,200 a ton MEP for basmati rice.
Millers fear decision will hamper overseas sales.
India and Pakistan are the only growers of basmati rice.
---
NEW DEHLI: Indian exporters have criticised their government for maintaining the current floor price for basmati rice, saying the move will allow Pakistan to capture the market.
India and Pakistan are the only growers of basmati rice. New Delhi exports more than 4 million metric tons of basmati – the premium long-grain variety famed for its aroma – to countries such as Iran, Iraq, Yemen, Saudi Arabia, the United Arab Emirates and the United States.
New Delhi set a floor price, or minimum export price (MEP), of $1,200 a ton in August. It was expected to cut this MEP but the government on Saturday said it would maintain the floor price until further notice.
"Farmers find themselves in a frustrating predicament," said a leading exporter who asked not to be named.
"We are empowering Pakistan to seize control of the basmati rice market in the short term."
India, the world's biggest rice exporter, has also curbed exports of non-basmati rice varieties in an attempt to keep a lid on domestic prices ahead of key state elections.
"We are staring at massive losses," said Sukrampal Beniwal, who grows basmati varieties in the country's north. "We have harvested our crop, but there are no buyers."
Farmers plant summer-sown rice varieties in the rainy months of June and July and start harvesting their crops in October. As the new harvest trickles in, prices start to fall.
Farmers, millers and exporters had believed the government would lower the MEP, which they consider too steep, as the new-season crop comes to market.
"The decision to continue with the $1,200 MEP is a big blow to us," said Vijay Setia, a leading exporter from the northern state of Haryana, one of India's breadbaskets, adding that the government needed to cut it to $850-$900 a ton with immediate effect.
Basmati rice farmers are struggling to sell their produce because millers and traders have stopped coming to dozens of wholesale markets to buy, Beniwal said.
Paddy prices of basmati varieties have fallen more than 20% since the government imposed the MEP, traders said.
Basmati is not widely consumed in India and the government doesn't buy the variety to build state reserves.
https://www.geo.tv/latest/514863-pakistan-could-seize-control-of-basmati-rice-market-indian-exporter
Published Date: October 17, 2023
More News