Indian export ban sparks surge in global demand for Pakistani rice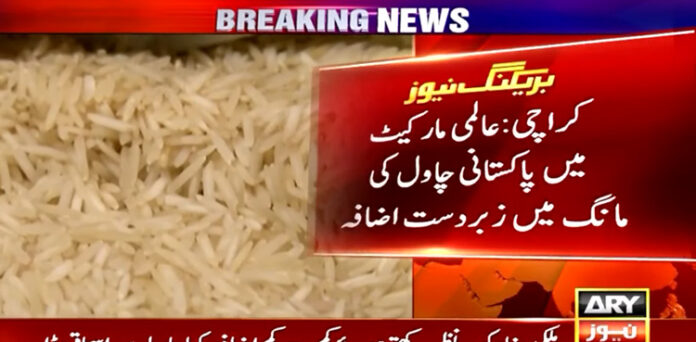 KARACHI: The Indian government's recent decision to impose a ban on the export of non-basmati rice led to a substantial rise in demand for Pakistani rice varieties worldwide, ARY News reported on Tuesday.
According to the details, the Indian government's recent ban on the export of non-basmati rice has led to a significant surge in the demand for Pakistani rice in the global market, after which Pakistan is projected to witness record-breaking rice exports worth over $3 billion this year.
The chairman of the Rice Exporters Association – Chela Ram Kewlani – stated that the price of basmati rice has surged by $100 per ton, reaching $500 in the international market. With the reputation of Pakistani rice for its superior quality, the price is expected to further escalate to $600 per ton, providing a profitable opportunity for rice exporters.
Prior to the ban, Pakistani non-basmati rice was priced at $450 per ton, but the market conditions have quickly elevated it to $500.
Moreover, as many as 27 Russian companies are set to engage in transactions for non-basmati rice with Pakistani exporters. This potential collaboration holds great promise for enhancing Pakistan's rice export volumes to new destinations.
This year, Russia will also purchase rice from Pakistan, Chairman Rice Exporters Association
27 Russian companies will purchase non-basmati rice from Pakistan, Chela Ram
Karachi: Talks are going on for the purchase of Pakistani rice from Mexico, Chela Ram
Chairman Rice Exporters Association, Chela Ram, expressed optimism about the ongoing talks with Mexico for the export of Pakistani rice. This indicates the growing recognition and preference for Pakistani rice in various international markets, establishing the country as a reliable and quality-conscious rice exporter.
https://arynews.tv/indian-export-ban-sparks-surge-in-global-demand-for-pakistani-rice/
Published Date: August 1, 2023
More News