India rice export ban triggers global price hike and food security worries
The South Asian nation's curbs come in the wake of Russia's pullout from the Ukraine grain deal, which has jacked up wheat prices sharply in the past few days.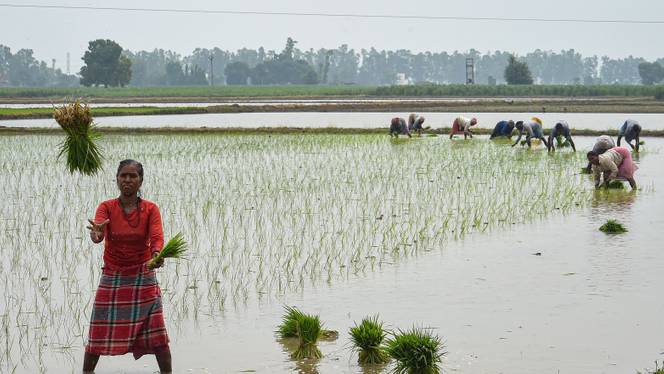 Rice is a staple for more than 3 billion people. / Photo: AFP
Asian rice trade has paused to digest the previous day's ban by India, the world's biggest supplier, of a significant share of its staple exports, with prices expected to climb substantially in the coming days, three traders have said.
India, which accounts for 40 percent of world rice exports, on Thursday ordered a halt to its largest rice export category to reduce domestic prices, which have climbed to multi-year highs in recent weeks as erratic weather threatens production.
"Rice prices are going to go up further in the export market. We expect a minimum gain of around $50 a metric ton and it could be $100 or even more," said one Singapore-based trader at an international trading company.
"Right now, everybody — sellers as well as buyers — are waiting to see how much the market goes up," the trader said.
"We haven't heard of any trades done today but buyers will have to pay higher prices to get cargoes as India's decision has taken out large volumes from the market," the second Singapore trader said.
India's decision to ban rice exports coincides with strong gains in the global wheat market that have sparked renewed concerns over red-hot food prices.
Rice crop at risk as El Nino looms
Global wheat prices jumped more than 10 percent this week, their biggest weekly gain in more than 16 months as Russian attacks on Ukrainian ports raised worries over global supply.
Rice is a staple for more than 3 billion people, and nearly 90 percent of the water-intensive crop is produced in Asia, where the dry El Nino weather pattern is likely to curb supplies.
In Thailand, the world's second-biggest exporter, suppliers were waiting to find out prices before signing new deals.
"Exporters will not want to sell, they won't know what prices to quote," Chookiat Ophaswongse, honorary president of the Thai Rice Exporters Association, told Reuters.
"Some traders expect prices could go as high as $700-$800 per (metric) ton."
Rice prices in top exporting countries had been rising on expectations of India's ban.
https://www.trtworld.com/business/india-rice-export-ban-triggers-global-price-hike-and-food-security-worries-14132684
Published Date: July 21, 2023
More News