India rice export ban causing higher costs, supply issues for some Halifax-area businesses
Ban imposed on July 20 after heavy monsoon rains damages crops in India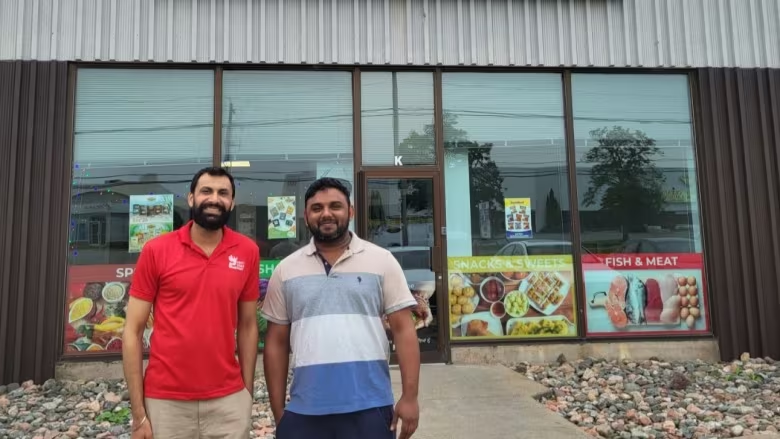 Tajinder Singh, left, co-owner of the South Asian Mart in Dartmouth, N.S., stands with his business partner Vishak Vijayan.
The Indian government's decision to halt its largest rice export category is impacting some local businesses in the Halifax area.
The ban on non-basmati white and broken rice has been in place since July 20, after retail rice prices climbed three per cent in a month following heavy monsoon rains that caused significant damage to crops.
"There is a huge impact, I would say, as a community as a whole and as a store," said Amit Puggal, co-owner of Brothers Indian Grocery Store, which has two locations.
After the ban was announced, his stores had to limit the sale of non-basmati rice to two bags per family, as his customers began buying large quantities.
"But from the different members of the families, they were coming in and they [grabbed multiple] … bags each," he said.
The export ban was put in place to "ensure adequate availability of non-basmati white rice in the Indian market and to allay the rise in prices," the Indian Food Ministry said in a statement.
The ban is also having an impact on the cost of the staple food, with Puggal saying he's seen a wholesale price increase of roughly 35 to 40 per cent for the non-basmati rice his stores order.
Tajinder Singh, co-owner of South Asian Mart in Dartmouth, N.S., has seen increases of about 45 per cent for 20-pound bags and 50 to 55 per cent for 10-pound bags.
As a result, Singh's store has increased prices for customers. A bag of rice that used to be sold for $24.99 is now $10 more expensive.
"We see that inflation is everywhere and now on the top of that, they have to pay … more [for rice]," Singh said.
And although basmati rice continues to be exported from India, Puggal said those prices are also rising because "now people are moving from non-basmati to the basmati rice."
Puggal estimates the wholesale prices of his orders of basmati rice have increased by 10 to 15 per cent. Singh hasn't seen an increase yet on recent basmati orders, however his suppliers have said prices will go up.
With that type of rice being used in dishes like biryani and saffron rice, restaurants are also affected, Puggal said. A Halifax restaurant he owns is currently absorbing the higher costs.
There are also ripple effects on the supply chain. Singh said some suppliers are imposing limits of 20 to 30 bags of non-basmati rice per order.
"So now … we have to source from so many different suppliers just to make sure we have enough product to serve our customers," Singh said. He estimates that roughly 60 per cent of his store's rice sales are for non-basmati rice.
For both Singh and Puggal, sales have cooled down since the initial spike after the ban was announced.
"I know people are concerned and they're worried," Singh said. "There's, I think, enough supplies in Canada itself."
https://www.cbc.ca/news/canada/nova-scotia/india-rice-export-ban-halifax-area-impacts-1.6934124
Published Date: August 14, 2023
More News